Ferris football made the trip to the deep north of Houghton, where there was snow on the ground already, but it didn't stop them from bringing home their first shutout of the season.
The No. 2 nationally ranked Bulldogs defeated the Michigan Tech Huskies 52-0 to make their record a perfect 9-0. The Huskies fell to 4-4 overall, and only 2-4 in GLIAC play. Ferris head coach Tony Annese said the inclement weather didn't faze the Bulldogs entering the matchup, and it clearly showed.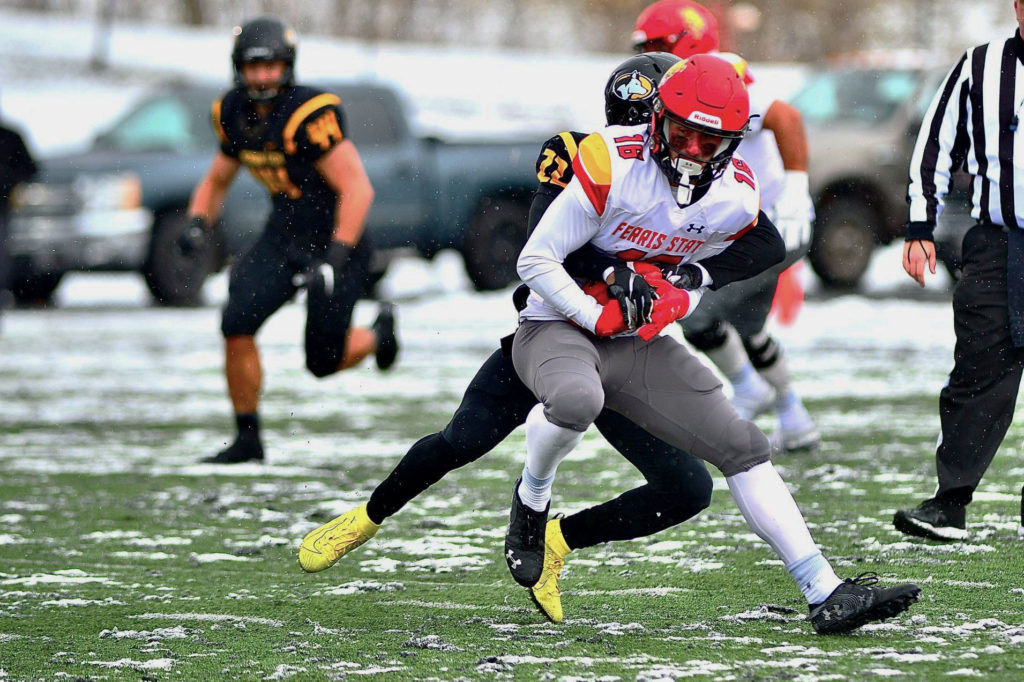 "Everybody says, 'Oh, you're going up to Tech, it might be snowing.' Nobody grinds more than we grind in Big Rapids," Annese said. "We don't practice indoors, we go out in all conditions and our guys are used to it. So when people say you might have snow, our guys celebrate that."
Nobody celebrated the snow that began to fall during warmups more than senior quarterback Travis Russell, who took it upon himself to warmup shirtless in the winter weather.
Whatever it was, it worked for Russell, who took the start after senior quarterback Jayru Campbell sustained a foot contusion against Saginaw Valley State last weekend. The offense didn't miss a beat, and Russell completed 13-of-19 for 323 yards and two touchdowns, nearly matching Campbell's passing stats from last game.
"He's just unbelievable in tough conditions," Annese said. "He had a great game, so very happy to get out of here with not only a win but a very good performance."
Ferris hit the ground running from the kickoff, with Russell running in a touchdown on their first possession. Then at the end of the first quarter, senior defensive back Alex Thomas brought in his third interception of the season and made it a pick six this time.
Thomas' 15-yard return put Ferris up by two touchdowns and gave Ferris all the momentum early in the game.
"We play with a lot of confidence everywhere, truthfully," Annese said. "We got some early scores, which I think was key in this game because when you get a big (lead) it's somewhat demoralizing for the opponent."
The Bulldogs gained more than 600 yards of offense for the second week in a row with 615 total. The team's depth charts typically list two players per position, but the offensive skill players could go three deep, at least.
Looking at the box score, Ferris had eight players contribute to their 234 rushing yards and nine players get receptions for the team's 381 passing yards.
"Everybody just talks about our wealth of talent, so I guess we've just got good players that roll in there with the second and third units," Annese said.
Sophomore running back Jeremy Burrell led the team with 91 yards on seven carries. The three rushing touchdowns came from Russell, junior running back Tyler Minor and redshirt freshman quarterback Dezmin Lyburtus. Sophomore wide receiver Xavier Wade led the way in receiving yards with 134 and a touchdown.
The Ferris defense performed this week yet again, and the Huskies failed to gain a first down on nine of the 14 drives. With two more sacks this week, Ferris is now tied with Michigan Tech leading the GLIAC in sacks.
Sophomore quarterback Evan Cummins got his reps late in the game and went 4-of-6 for 58 yards. Cummins also threw his first passing touch- down of the season, hitting sophomore wide receiver Tahjon McKinney-Cole for his first collegiate score on a 34-yard pass.
This week's matchup is the annual Anchor-Bone Classic against Grand Valley, hosted this year in Big Rapids. The game is scheduled to kick off at 12:07 p.m. Saturday and will broadcast on Fox Sports De- troit.
Annese seemed unconcerned about the match- up despite calling it a "big game" in his post game interview Saturday, saying he really hadn't studied the Grand Valley offense yet at all.
"They're going to come to Big Rapids with the idea that they're going to knock us off to get a share," Annese said. "Quite honestly, I know nothing about them. I haven't watched hardly any film on them other than when they played teams we were prep- ping for. But really haven't studied them and so I know very little about them but I do know our guys will be ready for that game and be very excited."
With this week's win, Ferris secured a share of the GLIAC regular season title and will win it outright with a win this weekend against Grand Valley.