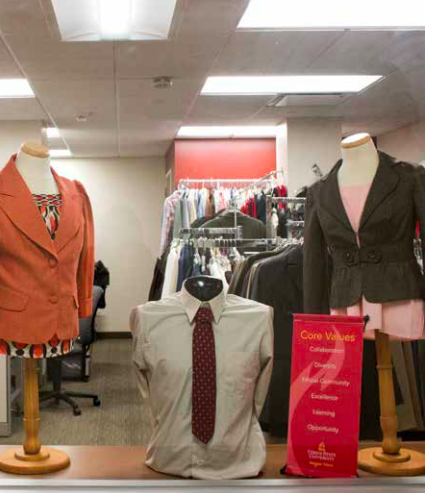 Ferris' First Lady's Attic recognizes how someone dresses can make a huge difference in their chance of landing a job or internship, and they're here to help.
First Lady's Attic, located in University Center 134, provides Ferris students with a full free outfit of business or business casual clothing once per year. The clothing available comes from donations from community members, faculty and staff looking to help out students in need of professional attire.
"With a student ID, you get a free outfit every year. An outfit would be anything you'd wear all at one time. It's totally up to your discretion of whatever you feel most comfortable in," Ferris allied health science senior and First Lady's Attic employee Madison Armstrong said.
"You don't have to get the full outfit all at one time. If you come in and find a blazer you really like, you can come back and get everything you didn't get the first time," Armstrong said. "So you can't get another blazer, but you can come back and still get a shirt and pants if you don't find something that first time. You can collectively build the pieces; you don't have to come in and commit to a full outfit when you first come in."
Affording professional clothing can be a struggle for students, especially for those from a low socioeconomic background. A 2016 study by Student Loan Hero detailed how 15% of all college students use student loans to pay for clothing while they're in college. First Lady's Attic is able to reduce the financial burden many students face by providing outfits for interviews and internship fairs.
"I think it's a really awesome opportunity and it could provide someone a job essentially," Ferris environmental biology senior Ciara Kibby said. "If you don't have anything to wear, it can be really stressful, so it just kind of takes that away from our already stressful student lives. I've gone in there a couple times and a lot of my friends have used it. I know it was swamped with the career fair recently too."
Armstrong said the career fair is definitely one of First Lady's Attic's busiest times of the year as students come to look for professional attire to impress potential internships. While stock is usually low following the career fair, there are still many outfits to choose from.
According to Armstrong, those looking for the best selection of outfits should visit during the first few weeks of a semester as large donations usually come during the summer and following Christmas. Those donations provide students with more options to build their outfits.
"It's pretty generous of the people of Big Rapids to donate. They don't have to, but it helps kids get along in their careers and that's nice," Ferris environmental biology junior McKenna Saunders said. "It provides students with an opportunity to go to an interview and possibly get a job or have a better chance at getting a job or an internship than they would have if they were to go just wearing any old thing."
More information on First Lady's Attic, including hours of operation, can be found on Ferris' website. Those looking to donate business attire can do so at Pete's Cleaners at 115 Hemlock Street in Big Rapids.