It's rivalry week in West Michigan and the weather isn't making preparations any easier on the Bulldogs.
Head football coach Tony Annese didn't expect any inclement weather, but was greeted with an inch of snow on the ground when he walked out of his office for practice Wednesday morning. Physical plant workers plowed off the field at 11:15 a.m. and by the end of practice there was another inch on the ground.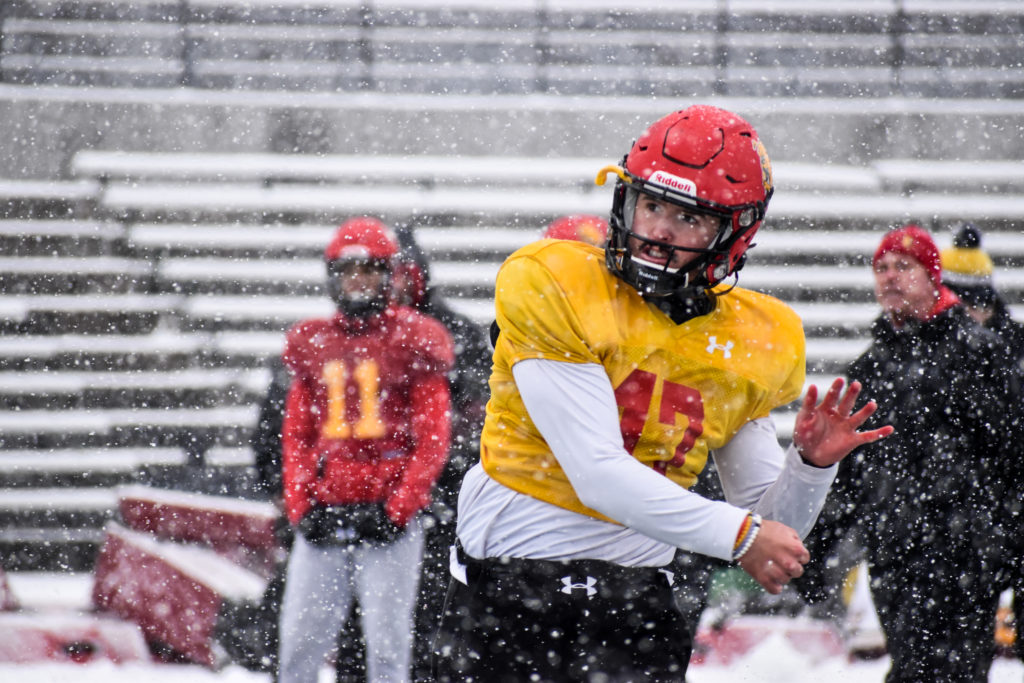 If last game wasn't enough proof, though, Wednesday's practice clearly showed the players don't mind a little snow. Like kids on a snow day, they threw snowballs at each other between drills. The fun did not affect their focus, however, and Annese said his team is hungry as ever after securing a share of the GLIAC title.
"From a mentality standpoint, our work is not done," Annese said. "I jokingly said last week after the Tech game, 'Well we got a share, I mean, that might be good enough for us. What do you guys think, feel like sharing?' and they about attacked me, so there's a lot of motivation for us still."
The Anchor-Bone classic is hosted in Big Rapids this year and with Ferris still undefeated and Grand Valley State University only carrying one loss to Ashland, the game will be a season finale for the GLIAC. In Annese's era as Ferris' head coach, the Bulldogs have only lost to GVSU once in regular season play. The last two meetings, however, have gone down to the wire and Annese acknowledged GVSU is "a great team" this year.
Senior quarterback Jayru Campbell did not practice Tuesday or Wednesday this week and is unlikely to make an appearance this weekend, according to Annese. Campbell took a facemask to the foot in the third quarter against Saginaw Valley State and limped off the field with a foot contusion. Annese said he had previously thought Campbell would play against Michigan Tech last week, but the injury is worse than originally believed.
"I would guess he's doubtful. I wouldn't even say questionable," Annese said. "It's just a matter of, he's had some bad luck with health, man. We'll see how he progresses, he's still trying to fight through some to get ready. But it hasn't been as fast of a rehab as we had hoped."
Whether Campbell plays or not, the Ferris offense seems to have found consistency no matter who's at quarterback. Senior quarterback Travis Russell was named GLIAC Offensive Player of the Week after last game and Campbell was given the honors the week before.
Russell said he's "as healthy as it gets," referencing his previously broken rib that kept him out of several games this season. Though Russell acknowledged they are playing good football right now, he still sees room for improvement.
"We are still trying to play that one lights out game – no points given up, no turnovers committed, no penalties. We're close," Russell said. "Regardless of the opponent, the most important game is the next one. Our next game happens to be Grand Valley and we know they are going to come up here ready to rock and roll. So are we, I think it will be fun."
Annese called the rivalry a "players' game," and said he's more relaxed going into these games, knowing his players don't need any extra motivation.
"This game, it's a big game, so I don't have to worry about our players' psyche," Annese said. "I know they'll be ready. There's times where there's coaches' games where you've got to get your players in the right mentality and make sure they're prepared under all conditions. But when you get games like this, these are players' games, they look forward to it and I know both programs look forward to an opportunity to play each other."
Ferris and GVSU are the only two GLIAC teams ranked nationally, No. 2 and No. 14, respectively. Both are included in the Super Region 3 rankings, with Ferris at No. 1 and GVSU at No. 6.
GVSU may very well be the Bulldogs' toughest conference opponent yet, as both teams lead the GLIAC in yards per game, points per game, yards allowed per game and points allowed per game. Ferris tops GVSU in every stat with the exception of total yards allowed and passing yards allowed per game. But with the Bulldogs averaging 512 total yards of offense per game, the GVSU defense will have its hands full.
The game that decides the GLIAC Champions will be broadcast on Fox Sports Detroit with a 12:07 p.m. kickoff on Top Taggart field.