With 30 seconds left in the Anchor-Bone Classic, it was second down for Ferris, who led 21-16. Senior quarterback Travis Russell's knee touched the ground for a millisecond before he jumped up in elation, having led his team to their second consecutive GLIAC Championship on Saturday, Nov. 9.
That, and they took down rival Grand Valley State University for the third year in a row in front of 7,948 fans. It wasn't necessarily a moment Russell expected to experience, coming back for his last year to start behind Harlon Hill winner Jayru Campbell. But with Campbell still out due to an ankle injury, the No. 2 nationally ranked Bulldogs were lucky to have the loyalty of Russell on their side.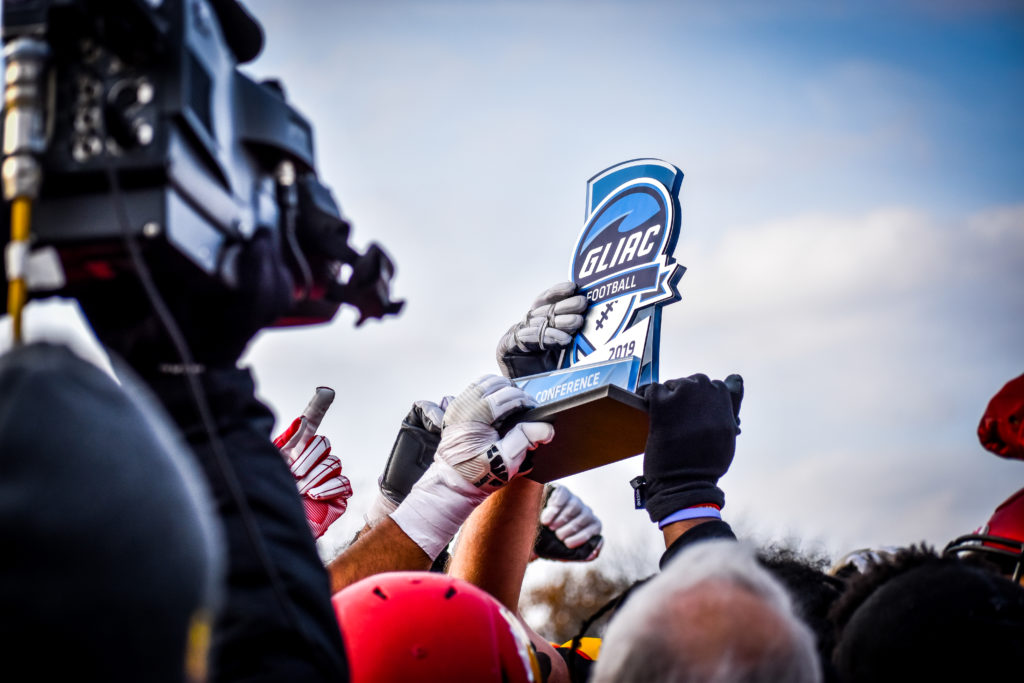 "He had the opportunity to play at a lot of different places and he said to me, 'Coach, I just can't leave my guys,'" head football coach Tony Annese said. "This is playing behind the returning Harlon Hill trophy winner and he obviously knows the circumstances, the realization that Jayru was here, and yet he still chose to come back."
The fact that Russell plays for Ferris against the team he grew up 10 minutes away from is ironic in his eyes. He remembers many Saturdays spent in Allendale with his dad watching the Lakers play. Today's win and the way they played, according to Russell, encompasses everything about why he stayed a Bulldog.
"Just thinking about that last possession, the last run that it took for us to get the first down, just embodies our class and our five years here," Russell said. "We've just grinded, made no excuses, done a lot of things ahead of time we didn't want to do, and made a lot of sacrifices to put ourselves in this opportunity.
"To be able to celebrate that with our coaches, with that senior class and really our whole team, it's as good as I've felt in a long, long time."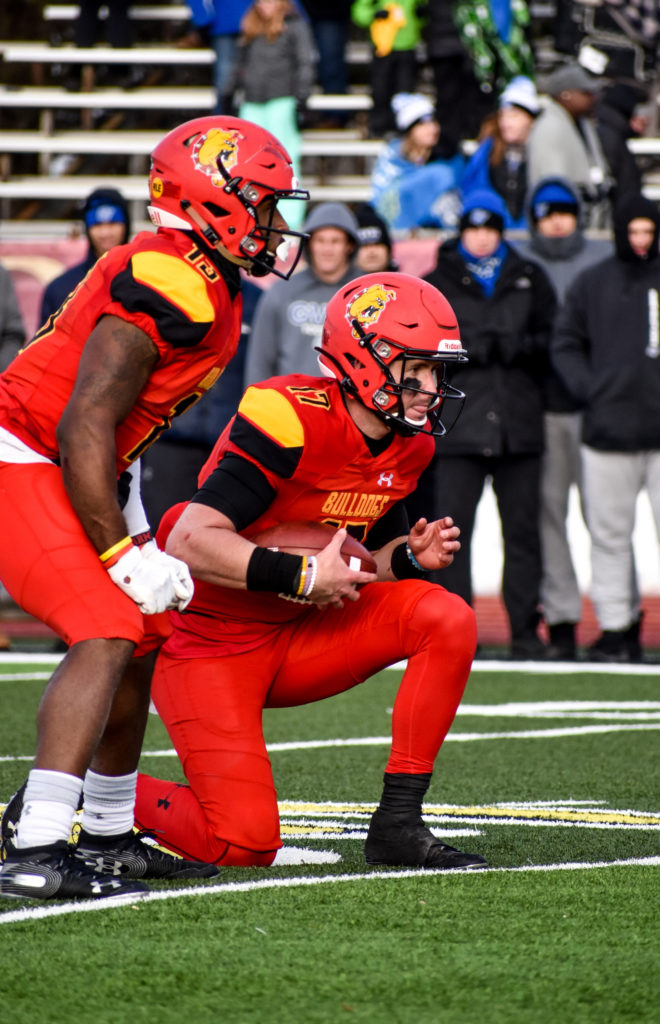 Russell threw 14-for-30 and 287 yards with two touchdowns, one of them a 52-yarder to sophomore slot receiver Marcus Taylor. He also ran for 78 yards on 12 carries, leading the team in rushing. Annese has never doubted Russell's ability and said he could play him in any situation.
"He's the right guy every day," Annese said. "In every circumstance, there's never been a circumstance where I haven't found him to be the right guy."
The matchup was a surprisingly low scoring game, with the teams at a stalemate 0-0 until the end of the second quarter. A touchdown pass from Russell to sophomore wide receiver Xavier Wade—who led the team with 102 receiving yards on five catches—with 19 seconds left in the first half was the Bulldogs' only score in the first half.
The halftime score was 9-7 with Ferris down, despite getting in the red zone four times and generating 285 yards of offense.
GVSU's scores in the first half came from a field goal and a touchdown return after a bad snap at the Grand Valley 16–yard line that led to a fumble. Annese knew the half wasn't pretty, but said it's been that way against the Lakers the past three years.
"They're ahead at halftime, we'll come back out and make some plays in the third quarter and we'll be out ahead and we drove the field," Annese said. "We had 525 yards of offense, that's by far the most their defense has given up. We had 80 plays, we did a lot of things well statistically, we just had some breakdowns and it was pretty much a sinking feeling when their linebacker took it 90 yards for a touchdown. But then you see how our team is, we answer right away."
With touchdowns on back-to-back drives at the end of the third quarter, Ferris shifted the momentum in their favor and the energy change on the field was electric. The Bulldogs held on to the lead in the fourth with the defense forcing a fumble and bringing in their second interception of the day. The "Chain Gang" was in full swing today with interceptions from senior linebacker Delon Stephenson and senior defensive back James Ceasar, his sixth of the season.
The "Chain Gang" is all the defensive backs, according to senior defensive back Omari McCauley, who had 11 tackles on the day. Ceasar and senior defensive back Alex Thomas were also tackle leaders, with seven a piece. McCauley was impressed by the collective stats and said the defensive backs' play was "ridiculous."
"Everybody contributed. That's one thing about our defense, nobody kind of sticks out, everybody contributes," McCauley said. "The energy level for the defense, pretty much every play that we have to step onto the field, we all yell, we all scream at each other. Just to show each other we're still in the game, still a lot of to be played so we just have to try to keep the energy up every time."
Annese called the defense "the key" to their success and said McCauley was at the heart of it.
"He's probably the best vocal leader we've got on the defensive side of the ball and it's just a blessing to have him," Annese said. "Just really proud of him and the guys to just be so committed to themselves and never giving in. Never giving up, never giving in and making the best of every circumstance."
With the win, Ferris improves to 10-0 and 8-0 in conference, claiming the GLIAC Championship outright, a goal that has weighed on Annese the last few matchups. After losing both assistant coach Ryan Brady and offensive coordinator Steve Casula last year, Annese said the way the coaching staff came together this year was miracle work.
"It's 370 games I've coached and that's one of my top all-time games. Not because it's Grand Valley but because, I'm telling ya, I've been stressed to try to be undefeated and win this GLIAC championship outright," Annese said. "To win a GLIAC championship outright when everybody talks about how great this league is, it's just amazing. Undefeated two years in a row in GLIAC play.
"So very proud of the young men I coach. (They're) so resilient, our guys are just unbelievably determined to play at their best and so I'm just extraordinarily pleased by that."
The Bulldogs will get a bye week to catch their breath and could possibly get a first round bye in the playoffs, depending on how their region shakes out. As of the Super Region rankings this week, Ferris is No. 1 in Super Region 3.