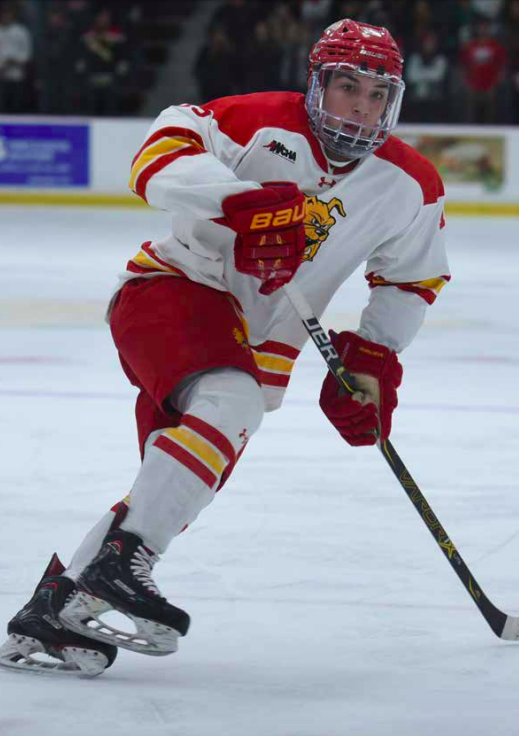 "Close but no cigar" could be the motto for the Bulldog men's hockey team this season as the team battles back from a 2-5 start.
Being so close to victory only to lose can be very agonizing, yet that has been the case with every loss for the Bulldogs. Standing at 2-5 with wins over Colgate and Miami of Ohio, the men's hockey team could very well have been 7-0 with a few lucky bounces.
The Bulldogs have a losing differential of 1.14, with four of the team's five losses having been by a single goal. The other loss came from Northern Michigan, in which they lost 6-4 after two last minute goals by the Wildcats.
There are many members of this year's squad who have been here contributing greatly to the offensive output that has led the team put up 3.3 goals per game.
The offensive output has been led by upperclassmen, who have 14 of the team's 20 goals on the season, along with 23 of the team's 39 assists. Junior forward Marshall Moise has been the team's offensive leader, scoring three goals and three assists.
This includes a strong weekend against Northern Michigan in which he scored two goals and two assists in two games.
Senior forward Jason Tackett leads the team in points, with seven total points after playing in six games. He has been most effective on the starting line. In his two starts, he scored five points, including one goal and four assists. His best game of the year so far came, once again against Northern Michigan, where he scored four points off a goal and three assists. He also has the team's sole shorthanded goal on the season.
Senior defenseman Nate Kallen has also been off to a hot start with three goals and three assists. He has been a consistent points maker for the Bulldogs over the last four games. Scoring at least a point in the last four games, he has scored all six of his points in the last two weekends.
Freshman defenseman Jake Willets has already made an impact on the squad, picking up seven assists in six games. This ranks him tied for 15th in the nation in assists. Having scored an assist in every game he's played with the exception of one, Willets is tied with Tackett in points with seven. He also has the highest +/- differential on the team standing currently at +3.
What the Bulldogs do offensively, though, is roughly negated by their defensive performance, allowing 3.59 goals per game. Taking out the two wins, that statistic jumps to 4.6 goals per game in the five losses.
The goaltender position has been a competition between sophomore Roni Salmenkangas and freshman Carter McPhail. Salmenkangas has started four games this season, allowing 4.13 goals per game with 92 saves and a save percentage of 86.8%.
McPhail has started two games, appearing in three total, allowing 3.46 goals per game with 73 saves and a save percentage of 89%.
With 29 games left on the regular season schedule, there is still time for the squad to get the ball rolling. Once they do, the offense may be one to reckon with in the WCHA.
The Bulldogs head to Kalamazoo 7 p.m. Friday, Nov. 8, as they face the 3-3-2 Western Michigan Broncos. On Saturday, Nov. 9, the Broncos will be returning the favor and playing in Big Rapids at 8 p.m.