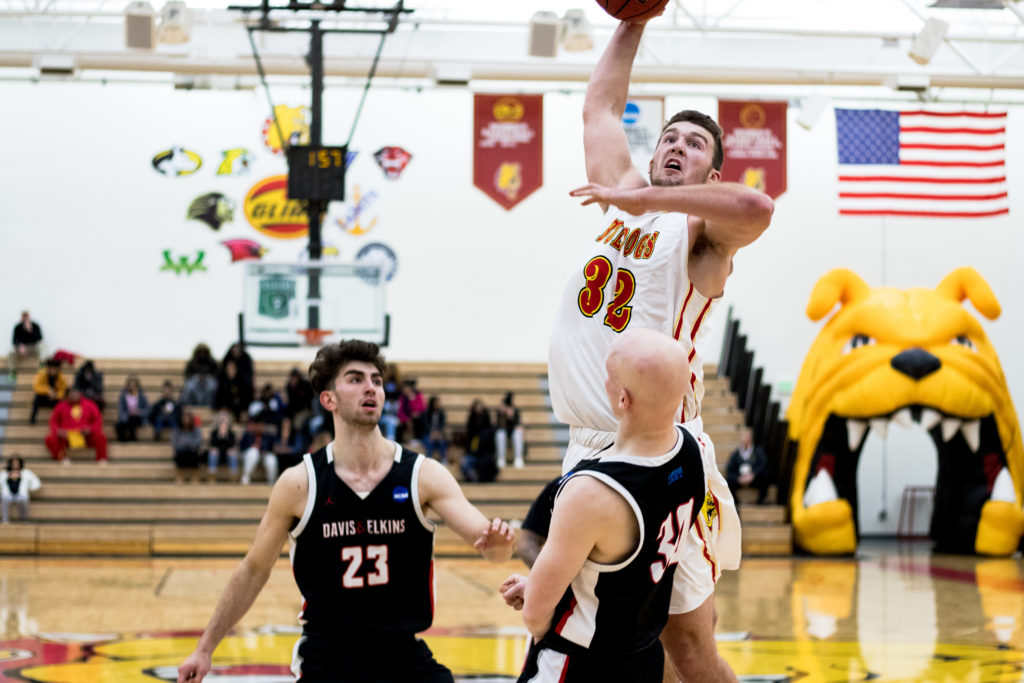 The Ferris men's basketball team rallied behind a strong brotherhood and family bond this past weekend as they cruised to 5-0 on the season.
Ferris will start a 10-game homestand at Jim Wink Arena as they put together a pair of wins over the weekend. The Bulldogs played two hard-fought games as they beat Davis & Elkins 85-58 on Saturday, Nov. 9 and Sunday, Nov. 10 beat Alderson-Broaddus 77-73.
Ferris was without junior wing Jaylin McFadden, who sustained a torn ACL when the team traveled to California for the D2 Tip-Off Classic. McFadden will be out for the season, but men's head basketball coach Andy Bronkema said that he will still help the team in any way that he can.
McFadden was a part of the 2018 National Championship team and played a pivotal role coming off the bench during the title run. He was a part of the starting rotation last season and the games he played this season, averaging 18.6 points per game.
"His role has drastically changed now, but still valuable, and we value Jaylin," Bronkema said. "Just, unfortunately, the next man up and we have to start molding our team in a way that's the best possible without Jaylin, he's still here, and with us, he is our brother, and he is a Bulldog.
"Jaylin's the guy that's been with us, but now, he is going to offer different talents in different areas and help us see things from the top of the bench and cheer his teammates on."
Freshman wing Deng Reng, junior wing Walt Kelser, senior point-guard D'angelo Hughes, senior post Cole Walker and junior wing Dorian Aluyi got the start for Ferris in Saturday's action. Ferris freshman point guard Jeremiah Washington added 18 minutes along with redshirt freshman wing Ben Davidson as they both contributed in multiple ways.
"I'm just trying to continue to adapt to playing college basketball, and all the older guys on the team are doing a great job of keeping me comfortable," Washington said. "My best has yet to come, and I'm going to continue to ride the wave and play basketball, if the team has confidence in me then I'm going to have confidence in myself too."
Walker was held to only 16 minutes on Saturday, as he was in foul trouble early, but improved on Sunday as he posted another double-double on the season with 10 points and 10 rebounds. However, it was Kelser who led the way for the Bulldogs with 17 points, six rebounds and four steals.
The Bulldog defense played a significant role in the win, causing 25 turnovers while they grabbed nine steals and swatted eight blocks. They kept the momentum Sunday, forcing 13 more turnovers along with six steals and four blocks. Ferris dominated the boards all weekend, with 50 rebounds Saturday and 54 Sunday.
"It felt like we picked up right where we left off in California, I mean we played really well there, came out physical and good to be home doing it now," Pline said. "Our upperclassmen have really been working us to keep us accountable, the coaches are really pushing us in practice, and everybody is pushing each other."
Pline made thunderous dunk after he jumped over a player Saturday, who stood straight up in the paint trying to defend, but Pline was too much, and his dunk shook Jim Wink Arena. Junior wing Michael Peterson had another powerful slam as the game wound down in the second period. Pline showed off his range in Sunday's game with four three-pointers as he posted a total of 16 points coming off the bench and grabbed five boards as well.
"Dunks are only worth two, but they do ignite you, they are big momentum changers, and he had a couple nice ones today and had a few nice ones in California," Bronkema said. "The first time I saw Mason dunk was on team camp, the guy's got amazing hops, and there's no surprise to us. He gets by his guy and gets enough room; he will throw it down with authority."
This weekend had all sorts of excitement as the Bulldogs ran away with the game against Davis & Elkins in the second half but faced a hard-fought contest with Alderson-Broaddus.
Sunday's action was back and forth throughout the entire game until Ferris pulled ahead late in the final minutes to secure the win. Bronkema said all his players play and treat one another as a family, and you can see that out on the court as every player fights for one another.
"As far as the other teams I've played on, this is probably the best team that's brought me in and treated me like they've known me all their life, and it's a real brotherhood when it comes to the Ferris State Bulldogs," Washington said. "We get plays on the court, we have handshakes and it's just like everything you'd see a family do and that what we do on and off the court, you will never see us without each other."
Ferris will continue their 10-game home stretch 7 p.m. Wednesday, Nov. 13, against Illinois Tech as they look to continue their undefeated season.