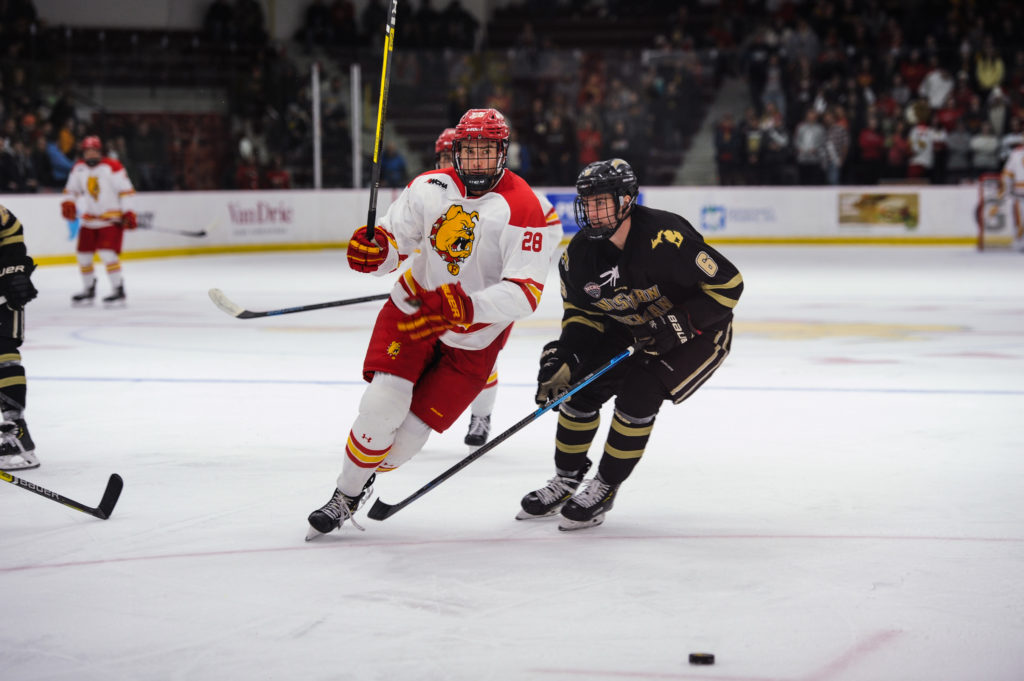 Going into the weekend, the Bulldogs were looking to turn their season around. After this weekend, there are more questions than answers.
If the results of the first stretch of games weren't a tough enough of a go for the Bulldogs, they went into the weekend without junior forward Marshall Moise, one of their top performers so far this season. Moise suffered an elbow injury and is questionable for this weekend but is expected to make a return for the trip to Alaska.
Another loss for the team is junior forward Lucas Finner, who is out of the lineup until at least the Great Lakes Invitational after sustaining a broken leg in practice Monday, Oct. 28, after he was suspended for a hit against Northern Michigan. Finner and Moise are responsible for six goals for the Bulldogs, and Moise has three assists as well.
The Bulldogs took two more losses this weekend, 4-2 at Western Michigan on Friday, Nov. 8, and 8-2 at home against the Broncos on Saturday, Nov. 9. Head hockey coach Bob Daniels felt the play on Friday was much better than Saturday when things fell apart for Ferris.
"They played well, don't get me wrong, they played very well, but I think it was us," Daniels said of Saturday's game. "From the coaches to the goaltenders right to the team, I thought it was on us and that we didn't play well. Last night we played a very good game that could have gone either way, and that didn't happen tonight."
Going to Kalamazoo first to play the No. 10 nationally-ranked Broncos, the Bulldogs stayed close and went into the third period tied at 2 goals apiece with goals by sophomore forward Jake Transit and sophomore forward Justin Michaelian. The Broncos then scored two straight goals to win 4-2 over the Bulldogs.
With a close loss, the hope was the home-ice advantage of the Ewigleben Ice Arena would be enough to give Ferris State the edge. For one period, it seemed to be the case, as the team went into the second period tied at 1-1 with a goal by senior forward Dominic Lutz.
After the first period, though, it quickly became a game to forget for Ferris. The second period saw the Bulldogs give up 6 straight goals. The offense never seemed to get going in the game, as they were outshot by Western Michigan 40-14.
The game saw all three Ferris State goaltenders enter. Sophomore Roni Salmenkangas got the loss after allowing four goals. Then, senior goaltender Austin Shaw entered the game in the second period and fared no better, allowing three more goals.
Down 7-1 entering the third period, freshman goaltender Carter McPhail entered the contest and had the best night out of the trio, allowing one goal but making 12 saves.
After another goal by WMU and a final score by freshman forward Dallas Tulik brought upon the result of 8-2 in Western Michigan's favor.
Daniels did point out that, even in a loss like Saturday's, there were always positive takeaways.
"I'm sure there's a few. I thought Carter when he went in there and played very well. So, there will be a few. I could always find silver lining on something, but there's plenty of things tonight," Daniels said.
Daniels wanted to keep the focus on the season and not this one game. Instead, he looked at how the team has performed as a whole this season.
"You've got to keep it in perspective, and it's very difficult at times like this right now where you love nothing more to get back on the ice and start practicing, but we've played some pretty good hockey," Daniels said. "We haven't been winning, but every single game up until this one was a one-goal game; this is one where I think we're going to have to have a really short-term memory type thing and put it behind us and then get to work on Monday."
The Ferris State hockey season is still in its infancy, so there is still a lot of time for the Bulldogs to turn around their 2-7 record. The turnaround may begin this Friday and Saturday, Nov. 15, and 16, as Bemidji State comes to Big Rapids.