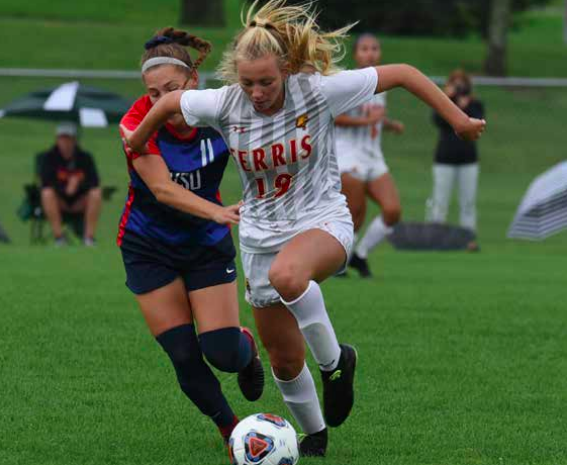 Though the Ferris women's soccer team has been competitive within their conference this season, two teams, Ashland University and Grand Valley State University, have got the better of the Bulldogs.
Ferris took on Ashland twice this season, losing both of those midseason matchups by narrow margins. The first was a 3-1 loss on Sept. 29, and the second was a 3-1 loss on Oct. 13.
Fast forward to Sunday, Oct. 27, when the Bulldogs challenged their biggest rival, GVSU. The Lakers plowed Ferris over, posting a 7-0 blowout, a loss that did not sit well with Ferris senior goalkeeper Alison Chesterfield.
"This game was somewhat of an awakening for us," Chesterfield said. "We have to figure out what kind of team we are after a game like that. Are we the team that rolls over and lets the outcome of Sunday define the rest of our season, or are we the team that picks each other up and works ten times as hard to make sure that we finish out our season on our own terms?"
Now, with just one regular season game left, the team must turn their attention to the GLIAC Tournament. Ferris has already clinched a spot in the tournament, but the next two weeks will be key in terms of seeding.
Currently, Ferris would be the No. 4 seed, behind No. 1 GVSU, No. 2 Ashland and No. 3 Saginaw Valley State University (SVSU). However, SVSU will take on both GVSU and Ashland to round out its season, so the Bulldogs could advance before the postseason schedule is set.
Regardless of seeding, Ferris is destined to rematch either Ashland or GVSU.
"Now that we have played against both of those teams, we know what we need to do to get the win, we just have to execute on game day," Ferris junior forward Mackenzie Dawes said. "We have to understand that games aren't guaranteed and that if we want to continue to play, we have to be mentally and physically prepared to play every game."
Ferris did their job Sunday, Nov. 3, against Northwood University, coming away from Midland with a 4-0 victory. Even with the win, the Bulldogs need some help from GVSU and Ashland over the next few weeks to help them jump SVSU in the standings.
The win over the Timberwolves puts the team's record at 12-3-2 overall, with a 5-2-1 GLIAC record.
All postseason speculation aside, the Bulldogs still have one test in front of them before they can shift gears into tournament mode. A rematch with Northwood is on the books for 1 p.m. Friday, Nov. 8.
"Coach always says we have to be the best team on game day. It's become sort of our team mantra," Chesterfield said. "Other teams could beat us nine out of ten times, but if we're the best team that we can be for a full 90 minutes, then I'm confident that our team could take on any opponent and come out with a win."