If you had told Clary Walker six years ago he would one day film GLIAC Championship football footage, and still be friends with former Michigan quarterback Devin Gardner, he probably would have told you that you were crazy.
You see, six years ago Walker was going through chemotherapy at Mott Children's Hospital in Ann Arbor. It's where he first met Gardner on Thursday nights when athletes volunteered with younger patients. Walker, who was diagnosed with Stage III Non-Hodgkin's Lymphoma at 16, was shocked to see such a high profile athlete enter his hospital room.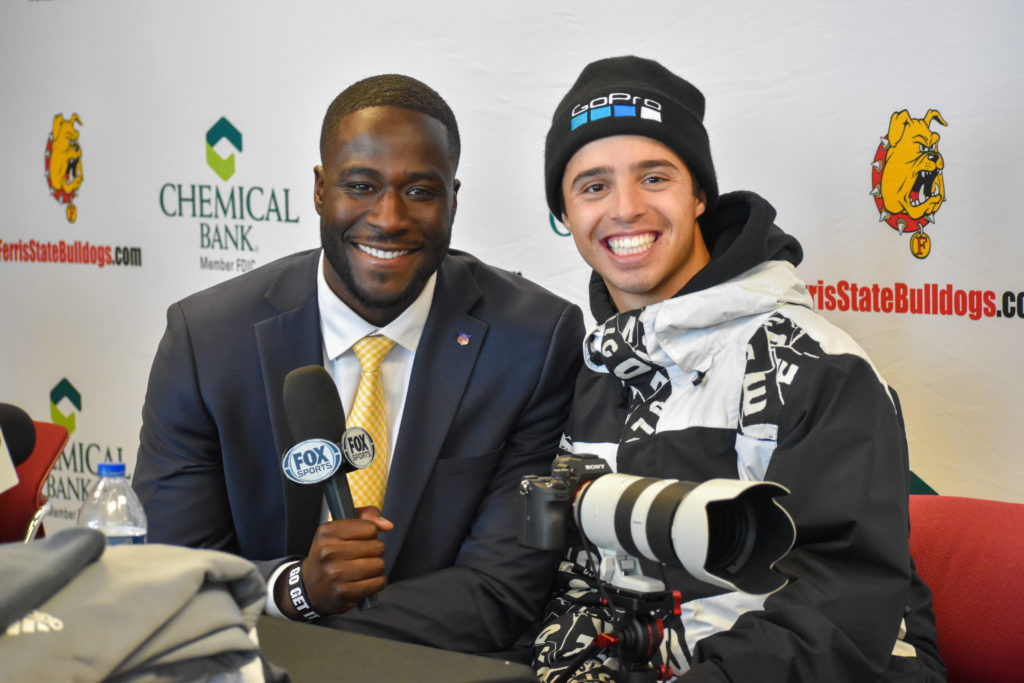 "To have someone, arguably the face of Michigan football, to have them in your room and giving you just attention as just another kid honestly just meant so much to me," Walker said. "The Thursday nights were what I looked forward to in treatment. It was a big deal for us. We popped popcorn, we'd make drinks for the players, we wanted them to feel as comfortable as possible. It's definitely hard to walk into a room and see kids going through cancer and what we're battling and to treat us just as regular kids, they did an outstanding job, all the players."
That night, Walker gave Gardner and his teammates his cancer bracelets. They wore them all season.
"I thought it was really cool he had those made," Gardner said. "It didn't cost us anything to wear them and we represented him because you never know how that could affect him and help him get healthy."
The 22-year old Walker, originally from Traverse City, is a junior at Calvin University now, pursuing marketing and videography on the side. This December will mark his sixth year in remission.
Walker was invited to help shoot the Ferris football game against Grand Valley and acquire drone shots, and he was met with a pleasant surprise when he ran into a familiar face in the press box. Gardner, who now works with Fox Sports Detroit, was at the Anchor-Bone Classic on Saturday to color commentate.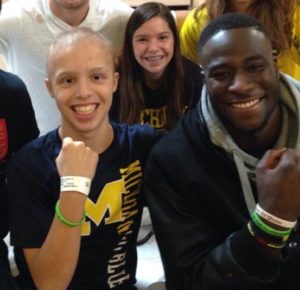 "It was awesome, I almost didn't recognize him with a full head of hair," Gardner said. "So it was great to see him because you never know how cancer will attack people, so for him to fight back and be so healthy and be out there taking picture and videos is amazing."
Walker was touched that Gardner recognized him, given the sheer amount of people he encountered while playing at the University of Michigan.
"I think for me it was just really cool because it allows for introspect," Walker said. "Because when you are going through treatment, you're lucky just for the next day. Now to be like 'whoa,' this is where I'm standing six years later, seeing what he's doing with Fox Sports and now I'm out here pursuing video with sports.
"If you would have told me that six years ago in the hospital bed, I would have been like man, I just want to get out of here. So for me, I think it's just really, really, cool that that experience got to happen."
Walker connected with Ferris Athletics through Scott Vander Sloot, who graduated Ferris in 2018 and worked as an intern for Athletics for his entire college career. Vander Sloot and Walker met at a Make-A-Wish ball in Grand Rapids five years ago and after talking, discovered they both had the same type of cancer around the same time of their lives.
They also bonded over their shared love for soccer, Walker having used his "Wish" to meet star striker and Portuguese international Cristiano Ronaldo, and Vander Sloot once having had college soccer aspirations.
Vander Sloot, who now creates content full time for Ashland University Athletics, was the videographer behind the content from the Ferris men's basketball championship run in 2018. While it was incredibly difficult to set aside his original aspirations to play college soccer, Vander Sloot said it all turned out for the better.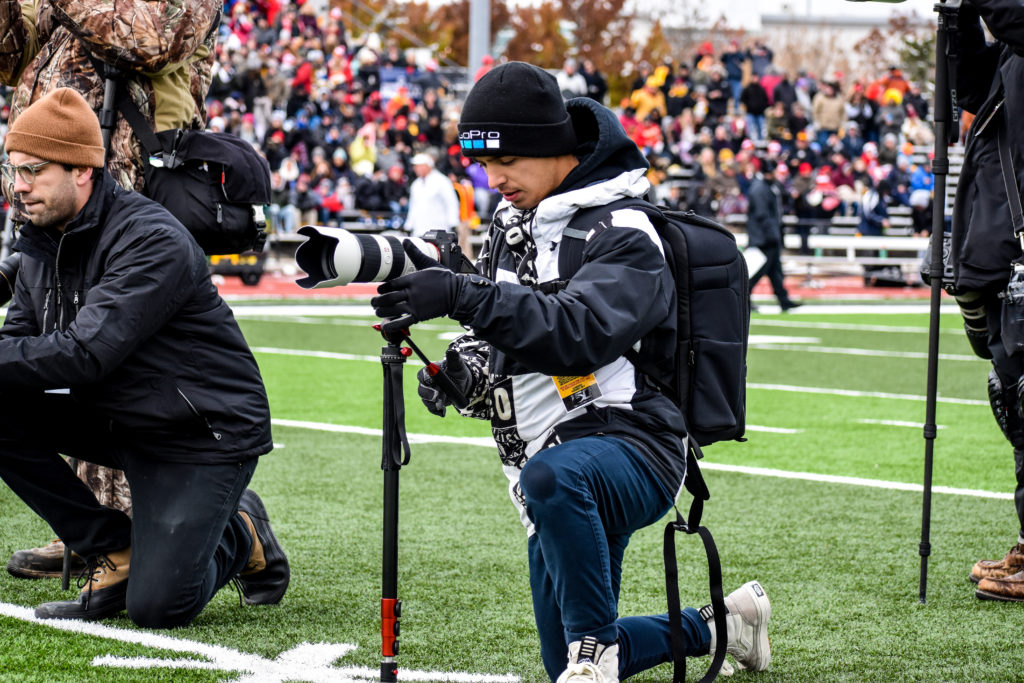 He is now somewhat of a mentor to Walker and current Ferris Athletics intern Conner Pyrc, who films and creates content for the football team.
"I kind of had the epiphany and linked them up because I realized that for Clary, it was going to be great experience to get to work with the program," Vander Sloot said. "But also he'd be able to help out Conner to give him a second shooter on the field, give him the drone footage, because Clary's a great drone pilot. I really enjoy trying to share what I know and insight because ultimately, I just really like seeing everyone make cool content and helping each other do that."
Saturday's game was an experience Walker will remember for a long time, and he was nothing but grateful for the opportunity to shoot at a university's football championship.
"It was a blast shooting it with Conner. I always appreciate working with other filmmakers and learning from them, seeing how they do things and how I can get better," Walker said. "So it was really sweet to make more connections and get to film such a high caliber game with the Championship game for the GLIAC, which was really awesome to be a part of that. It's surreal, I know I'll definitely look back on these days and think, 'Wow, I can't believe I was doing that.'"