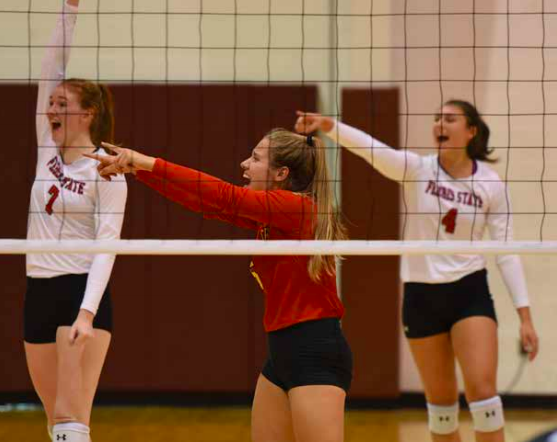 Ferris volleyball is undefeated at home this season, and Ewigleben Arena is beginning to look like a fortress to visiting teams.
With two home wins this weekend, the No. 20 nationally ranked Ferris women's volleyball team improved to 19-5.
On Friday, Nov. 1, the Bulldogs took on Saginaw Valley State University with a 3-2 win. The next day they swept Lake Superior State University.
The Bulldogs fell in the first set 22-25 against SVSU, but quickly turned things around with a 25-15 win in the second set and a 25-20 win in the third. With a loss in the fourth set 23-25, Ferris and SVSU were tied up, leading to a 15-point decision in the fifth set. The Bulldogs prevailed with a 15-13 victory.
Senior outside hitter Allyson Cappel had 26 kills and 22 digs — a match high — along with fellow senior setter Maeve Grimes who collected 61 assists and 10 digs.
Junior outside hitter Katie O'Connell added 17 kills and 28 digs and senior outside hitter Courtney Brewer put in another 10 kills. Junior libero Nina Gorgijevska collected 32 digs while freshman middle hitter Kira Merkle put in nine kills.
"I thought Allyson did a nice job taking advantage of what was available, whether it was off the block or in the seam or something like that," Ferris head coach Tia Brandel-Wilhelm said. "I just thought she did a nice job of taking advantage of that and I just thought that the whole team did a nice job of be able to get her the ball at the right moments."
Ferris totaled 108 digs, 73 kills, eight block assists, five solo blocks, collected three aces and hit 28.4% as a team against SVSU. Against LSSU the bulldogs had a total of 38 kills, 37 assists, 59 digs, and had a 27.3 kill percentage.
Ferris sophomore middle hitter Samantha Hermann said their goal was to play at any opponent's level at their home court last weekend, a goal they believed they accomplished.
"We worked really, really hard for this over the last couple practices and I think we really trusted ourselves and we really played as a team, so I think it was a good couple wins and we had a lot of fun doing it," Hermann said.
Brandel-Wilhelm labeled LSSU as a "great defensive team" who hustles and said they made a few key errors that allowed Ferris to take control. Seniors led the team against LSSU with Cappel and Brewer responsible for nine points apiece in the victory.
"This is such a great group of seniors, just a wonderful group of people, super good volleyball players, of course," Brandel-Wilhelm said. "They've worked really hard to become the players they are, but even more than that, it's just how they work to make the team better and they certainly have."
With three more GLIAC games left on the season, the team will take on the Upper Peninsula this weekend and travel to Michigan Tech Friday, Nov. 8, and Northern Michigan Saturday, Nov. 9.