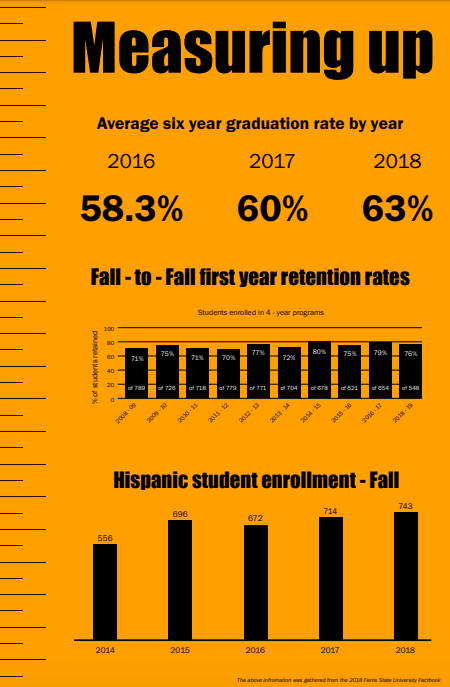 Ferris' six-year graduation rate has been on the rise over the past five years.
The last completed term with filed statistics was 2018. The graduation rate for these six-year completes was marked at 53%. This is combined with two and four-year programs.
During the two academic years prior to 2018 graduation rates were 49% and 50%, respectively. The graduation rate for these programs in six years has had an overall positive trend line.
"I am probably going to graduate within six years because I was put on a waiting list for my program and it basically set me back. I am even taking 16 credits trying to catch up," Ferris welding technology junior Jason Proctor said.
On the other hand, some students do not have to work as hard to graduate on time because of their community college experience before landing at Ferris.
"I will graduate in four years rather than in six because I gained credit throughout different community colleges. I am even able to take less than 15 credits this semester and still be on time to graduate." Ferris welding technology sophomore Peter Ferrier said.
Both students expressed how they will stay at the university because of the program and how advanced it is, especially for the price.
With higher statistics for graduation, student retention is a key component. Ferris is trying to help boost these numbers by retaining current students. Another important factor is how many credits a student takes within a semester.
Ferris has been finding ways to help students stay and finish their degrees here. Of the retention statistics from 2018-19, only a combined total of 79% of first year (in any college) students were retained.
"[We] don't do retention, we do good things that cultivate interest, build relationships, excite people about learning more, and give a sense of purpose in terms of career direction," Ferris Dean of Retention and Student Success Jason Bentley said. "The university has been trying to message and nudge and doing some advising to encourage students to take 15 to 16 credit hours … The average credit per semester increase and that is a positive toward graduating on time and not spending the money for an extra semester of classes."
The average credit hours of the previous school year were 14.03 credits overall, but the average for undergraduates was only 13.89 credit hours. These averages show how students start to move their regular two and four year programs to five and six-year programs.
Retaining students that are in more advanced programs like welding technology, video game design, and automotive technology is easier for the university because they are rare courses within the United States.
Bentley said when students do choose to leave, the university questions what happened to inspire the move, and what could they do to prevent students from dropping out or transferring. The department asks what happened and what could they do to change their mind.
"But when we usually ask these questions, they are typically already home, or they already made their mind," Bentley said.
Information from a Ferris Forward program presentation illustrated three main reasons why students leave the university: No prior intention to stay at Ferris, personal challenges, and/or financial barriers.
"This is what our founder challenged, to permit and encourage a student who has the ability to do four years of scheduled work in three years," Bentley said.