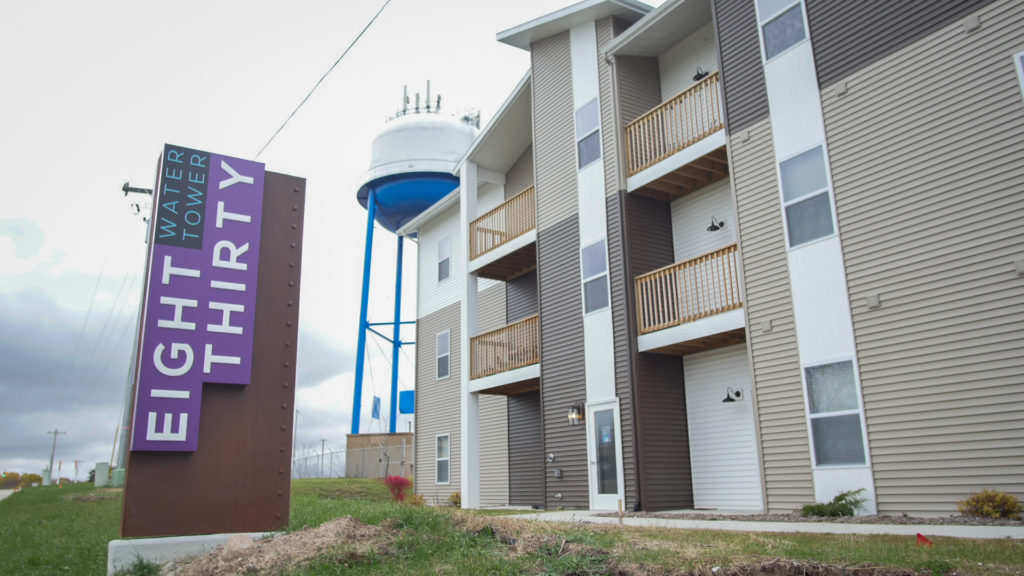 The newest apartment complex in Big Rapids has some Ferris students comparing their old dorm room to a jail cell.
Ferris criminal justice sophomore Max Citro went from living in Brophy hall and subsequently an off-campus house, to Eight Thirty Water Tower apartments. He claims the experience has already been a world of a difference.
"Water Tower is obviously night and day compared to the less than adequate housing that is Ferris Housing. Living in a tiny concrete box that has been occupied by hundreds of kids before you on a jail mattress with another person in a loft that you had to buy and build yourself all while being treated like a little kid by RA staff sucks." Citro said.
Citro has thoroughly enjoyed his experience at Eight Thirty Water Tower and plans to return the following year.
"I have nothing but great things to say about Eight Thirty Water Tower. The staff and property managers are always helpful and want to make sure that your needs are met," Citro said. "The buildings are obviously brand new and come fully furnished with everything from flat screen TVs to the memory foam mattresses. Even the walls, in my opinion, are very well sound proofed so you really don't hear much neighbor wise. Not to mention the clubhouse area that has study rooms, free printing, desktops to use and a place to relax."
Many residents and those who have toured the apartments have found the amenities and the fact that the apartments come furnished to be a big perk.
The prices of each unit can vary from the style of unit selected as well as the time of year it is leased. The Arden, a one bedroom and one-bathroom 509 square foot apartment is currently at $1149 per month. The Bexley, a two bedroom and one bathroom 761 square foot apartment is at $629 per room, per month. The Bradford is another two bedroom and one bathroom 794 square foot apartment with a different layout that is at the same rate as the Bexley. The final style they offer is the Derby a four bedroom and two bathroom which is $499 per room, per month.
For Ferris health administration junior Hunter Ward, feeling safe was a big priority when choosing where to live.
"Last year I lived at Oakwood Townhomes. Although I liked Oakwood, it was not very welcoming and I also ran into a lot of issues with feeling safe where I lived, which I find very important when choosing somewhere to live," Ward said.
Ward has found the atmosphere at Eight Thirty Water Towers to be very welcoming.
"I absolutely love Eight Thirty Water Tower and I would recommend anyone to live there," Ward said. "They are always having events in the office to improve the community and get to know residents which I love."
For more information on Eight Thirty Water Towers, visit their website at www.830watertower.com. Those interested can stop by their leasing office on 830 Water Tower Rd. from 10 a.m. to 7 p.m. Monday through Friday or 10 a.m. to 5 p.m. Saturday.