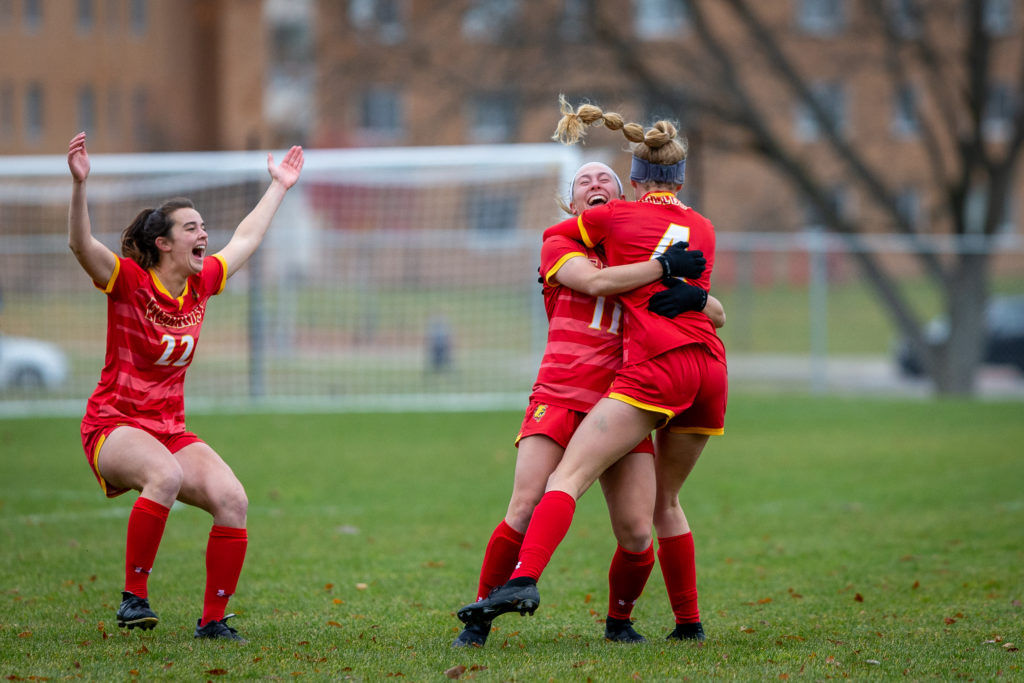 After taking an unexpected loss to Northwood University in their last regular season game, Ferris women's soccer came back in dominating fashion in the first round of the GLIAC Tournament.
The Ferris women's soccer team played Northwood University three times over the past seven days, shutting the Timberwolves out in two of the three matchups. After suffering a 1-0 loss to end their regular season, the Bulldogs were looking for revenge in the GLIAC Tournament Quarterfinals.
"We knew that Northwood is a good team and that it would be a tough game," Ferris senior goalkeeper Grace Kraft said. "Our team plays its best when we are able to control the game and play how we want to play. When we play for each other we are at our best."
The Friday, Nov. 8, matchup didn't turn out the way the team had hoped.
"We wanted to come out and set the tempo early, obviously we had a tough match against them Friday where things didn't really go our way and we didn't get the bounces," Ferris head soccer coach Greg Henson said. "It's difficult to play somebody three times in eight days."
Dominant play led Ferris to a 6-0 victory over the Timberwolves Sunday, Nov. 10. The win came at a critical time in the season, as tournament time is a winner-take-all situation.
The Bulldogs started quickly, as junior defender Maddie Dickens found the back of the net just five minutes into the game. Twenty minutes later, junior midfielder Bri Rogers added another goal to give Ferris a 2-0 lead after the first half.
"The loss we took on Friday was a fluke," Dickens said. "We had to regroup, and our coach helped remind us of who we are as a team and what we're fighting for. We've had a great mindset and attitude all year. Now it's just making sure we bring that same ferocity into each and every match."
The second period started just as quickly, as sophomore forward Pia Nagel netted her 13th goal of the year. Ferris finished off the game with three goals from junior forward Mackenzie Dawes, sophomore forward Emily Mergener and senior midfielder Maddie Fouts.
The thought of a one-and-done situation is enough to knock anyone off their game, but the Bulldogs did not back down from the challenge.
"Our mindset doesn't change much," Kraft said. "Throughout the year our coach has told us that we can only focus on one game at a time and not look into the future. For the tournament, we are really going to have to put that into motion."
With the win, Ferris moves to 13-4-2 on the year and gives themselves one more game to focus on.
"We talk a lot about putting together 90 minutes and chasing that perfect 90-minute game and I think this was probably … as close as we've been all year," Henson said. "It's an elusive thing, you're never going to get it, but I'm really pleased with how we played in all phases of the game today."
Next up for the Bulldogs is a rematch with the Grand Valley State University Lakers Friday, Nov. 15. The Lakers shutout Ferris 7-0 in their last matchup.
"Every team that we will play postseason is going to bring their A-game. They're fighting just like we are to stay alive," Dickens said. "Our job is to make sure we don't overlook any teams and just stay focused on the task at hand."
Although the focus for Ferris is on the game directly in front of them, make no mistake: The Bulldogs have their eyes set on the NCAA Division II Tournament.
"An NCAA berth is always going to be in the back of our minds," Kraft said.