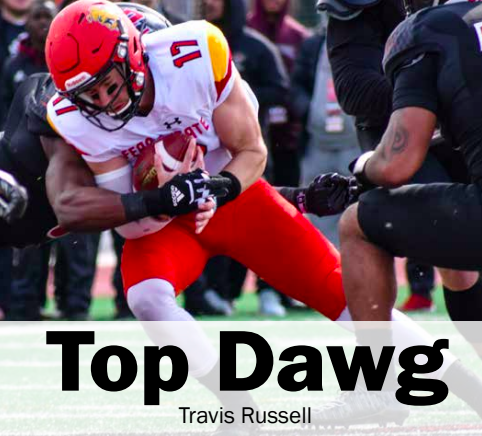 This week's Top Dawg honors belongs to senior quarterback Travis Russell for his performance in the snow against Michigan Tech.
Russell had a breakout performance after being injured for several weeks this season due to a broken rib from the first game. He was good for 323 passing yards and before last week, a Ferris quarterback had not thrown more than 300 yards in a single game since 2016.
Scoring three touchdowns against the Huskies, Russell ran in the first touchdown of the game and threw two more. Both his passing touchdowns were off big plays, finding sophomore Xavier Wade on a 78-yard pass and junior running back Marvin Campbell on a 73-yard pass.
After his performance, Russell's role of the perennial backup quarterback is hardly valid and he has solidified his position as one of the top quarterbacks in the GLIAC.
Russell's role in Ferris' pristine record of 9-0 was limited because of his rib injury, but it was significant all the same. Playing nearly the entire game against Findlay on a broken rib, Russell led the team to a 1-0 start with senior quarterback Jayru Campbell sitting as a precautionary move. Russell's next appearance was against Davenport, when he re-injured the same rib. His other appearance was against Saginaw Valley State University.
Despite his missed games, Russell didn't skip practices or games, however. He was on the sidelines every game he was out with a headset, assisting in play calling.
Russell's performance also earned him GLIAC Offensive Player of the Week honors.