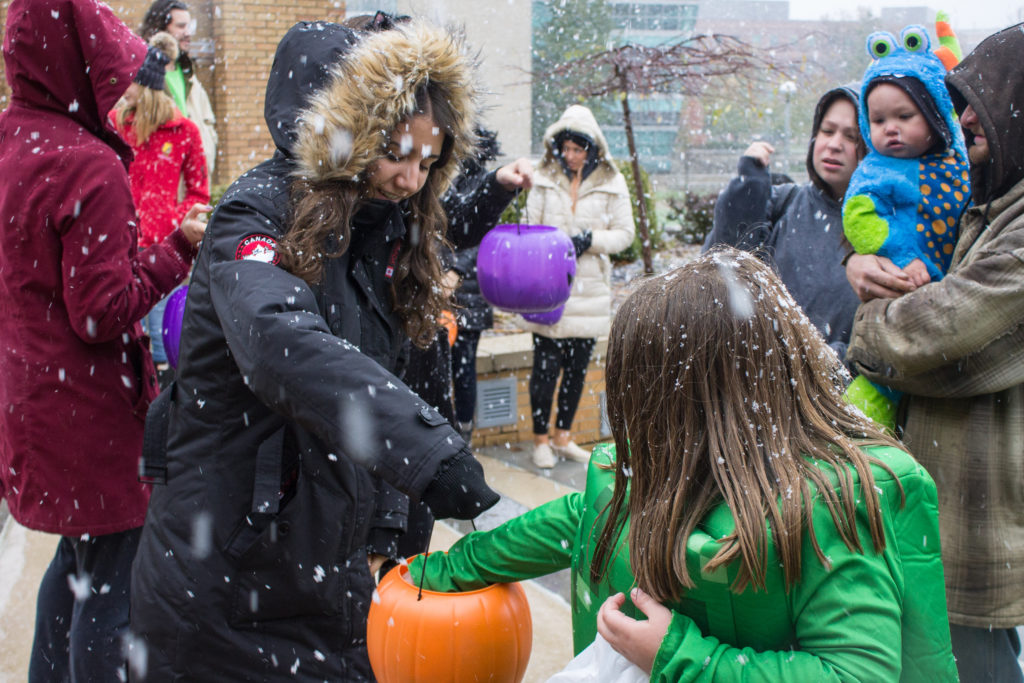 While Ferris' Carillon Tower usually just plays an automated tune or two familiar to students as the clock strikes the hour, it's capable of more, and on Halloween it became the Tower of Terror.
The Tower of Terror event was held directly outside the Ferris' Music Center with the events main focus on the Carillon Tower itself.
Unbeknownst to many students, the Carillon Tower has the ability to be played like any other keyboard, and during the event a pianist played a variety of spooky songs such as the theme from The Addams Family and Harry Potter.
"We were looking for events that gave us a chance to play the tower, so this seemed like a really fun event that we could get the community and evolve students to have some fun and play some scary music on the tower" Ferris' Associate Director of Advancement and Prospect Management MaryKay MacIver said.
Turnout for the event was compromised by poor weather. A paltry 34 degrees Fahrenheit felt like 27 degrees thanks to cold winds and snow showers.
Students like Ferris pre-medical student Grant Klairter and others, many dressed in costumes, lined the circle of the Carillon Tower handing candy to students who happened to walk by during their 4 p.m. to 5 p.m. event.
"We were supposed to hand out candy to little kids, but now we are handing out candy to students who are walking in the snow now. It's been fun for us to be out here," Klairter said.
The event was hosted by the History Task Force, but other groups played important roles as well. Ferris' Department of Public Safety handed out more than nine dozen donuts to people working and walking by the event, and the Student Alumni Gold Club helped pass out candy.
"With doing these events with the tower, we hope it will highlight the tower so it can raise awareness for it because the tower needs some funds so it can be repaired. It needs to have the motor repointed and the capstone needs to get replaced," MacIver said.
Carillon Tower was built in 1968 after student government allotted $5,000 for its construction, and later renovated in 1988 when the real bells in the Tower were replaced by digital bells that are available to play via a piano that hooks up to the tower.
The Music Center and History Task Force plan to team up again and host more events with the tower.
For the holiday season, they plan on playing Christmas music during midday so people can hear the tower while eating lunch in the University Center.
Later in the school year MacIver would like to get a group of piano-knowledged students to play the tower every once in a while to spruce up the moral of the North Quad.