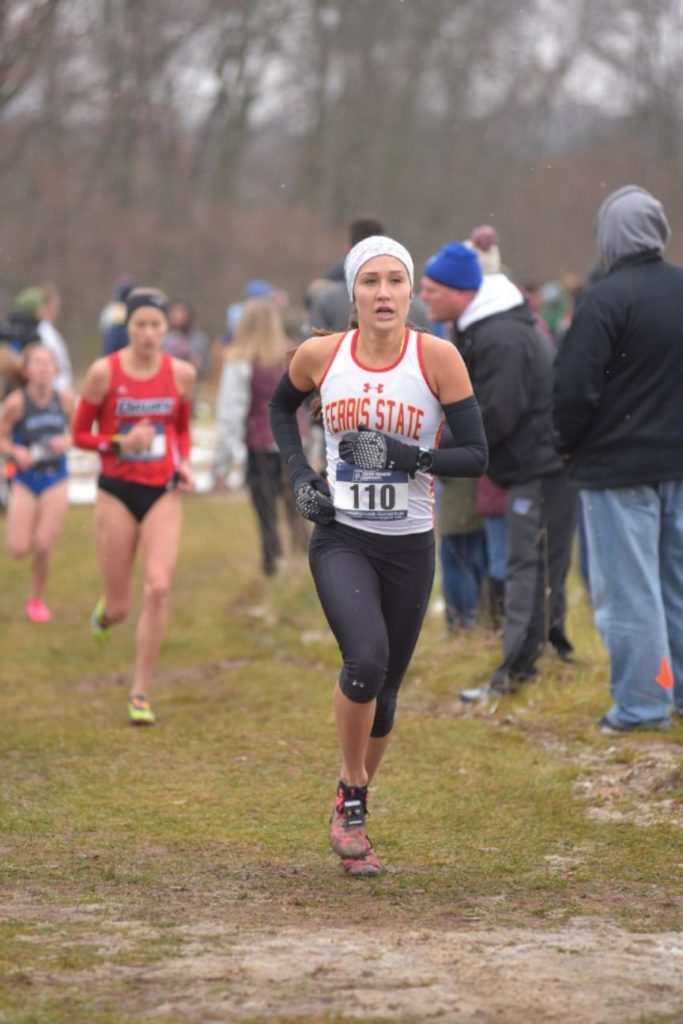 For the second year in a row, Ferris senior runner Katie Etelamaki qualified to compete in the NCAA Division II National Championship race.
A minimum of 24 individuals were selected to participate in the championships. The NCAA chooses two automatic individuals per region for nationals. After the first cut, the NCAA then takes eight additional individual at-large bids for the whole country. The Midwest region received four of those with Etelamaki being one.
Having set this as her goal at the beginning of the season, Etelamaki is happy to compete at nationals for a second year in a row.
"We knew it was going to be hard to get an automatic bid given the competition and course at regionals, but I finished high enough to earn an additional bid with a big PR so I'm happy about that," Etelamaki said. "I feel blessed to receive an at-large individual bid to represent Ferris at Nationals. While I would have preferred to share this experience and walk up to the line with my teammates, I'm grateful to have this opportunity."
On Saturday, Nov. 9, Etelamaki earned all-region acknowledgement with an 11th place individual finish with a time of 21:18.8 in the Division II Midwest regional championship. The regional championship was in Evansville, Indiana, at Angle Mounds as the competitors raced on a 6k course.
As a junior, Etelamaki earned All-American honors when she placed 16th overall in the 2018 NCAA Division II National Championship held in Pittsburgh. Etelamaki said that her biggest strength for this year's season has been her consistency, as she's been doing long runs and having good workouts along with good recovery time. These drills allow her to push harder every week to improve.
"My goal for this race is to walk away knowing that I gave my absolute all. This will be my last cross-country race ever and I hope to cross the line knowing I left it all on the course," Etelamaki said. "It can be intimidating stepping up to the line by yourself against some of the best teams and individuals in the country, and having competed at nationals last year will hopefully give me some additional confidence this year."
The national meet is set to take place Saturday, Nov. 23, in Sacramento, California, at Arcade Creek Cross Country Course. The women's race is set to kick off at 1 p.m. EST with the men to follow at 2:15 p.m.