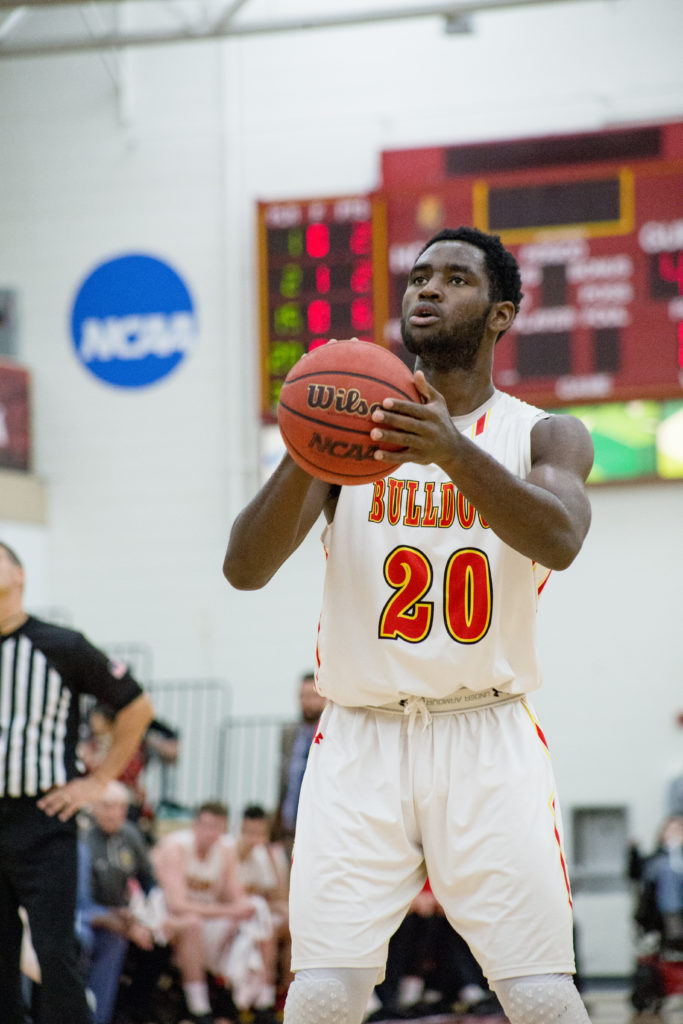 While many of Ferris men's basketball upperclassmen players are making an impact this season, the team's transfers are also making major impacts, especially Dorian Aluyi.
The six-foot-five Ferris junior wing Aluyi transferred from Minot State in North Dakota. A Chicago native, he thrives from the high competition the team has faced so far, including two nationally ranked teams. Aluyi has been involved in both wins over the nationally ranked competition, especially this week against No. 17 ranked Findlay.
"I came to this program knowing that they are capable of winning, and I knew they had potential to go back to the national championship," Aluyi said. "That's what we are trying to do here as we've knocked off Concordia in California, who was ranked 23rd and now Findlay tonight who was 17th, so I think we are building momentum."
The Ferris men's basketball team remains undefeated with their gritty victory against Findlay on Saturday, Nov. 16, as they improve to 7-0 this year.
In the first half of the action against the Findlay Oilers, Aluyi collected 9 points, went 3-7 from the field, grabbed two offensive rebounds, added one assist and had one steal on a total of 12 minutes played after starting. The first half for the Bulldogs was a tough one as they trailed by seven entering halftime.
"I've been fighting for this one, it's a new team since I transferred and I've been fighting to contribute my part as it has been rough the past couple of games," Aluyi said. "But you know, I love going against competition — and them coming into our house at No. 17 in the country — they had a target on their backs, and I go at targets. That's what I shoot at, so I came out aggressive along with my teammates."
Ferris started an empowered comeback in the second half. With 10 minutes left in the game, the Bulldogs trailed by only six points as they faced an uphill battle as time started to slip away.
Ferris fought back a 24-5 run in the second half against the Oilers, and in the final minute of the game the Bulldogs held tight a 10-point lead. As the final minute ran out, the bulldogs had secured an 11-point victory and completed their comeback with a final score of 89-78.
"I'm proud of them because it hasn't been without adversity as every team has faced that, but we really want to be the best team we can be at the end of the year," Ferris head coach Andy Bronkema said. "We are focused on that, but tonight was fun and it's only a good story if you win."
The Bulldogs scored 44 of their 89 points in the paint and Aluyi led the charge with 19 points. Aluyi had a very strong second half, shooting 6-12 from field goal range and 1-4 on three pointers, with 25 minutes played in the contest.
When the Oilers tried to start a comeback with a quick three, Aluyi silenced the comeback as he answered right back with a three of his own, shifting momentum in Ferris' favor.
"I hate counting, but I missed, like, my last 10 threes, and that one going in and seeing it go through the hoop felt great, especially coming back to silence their run felt great," Aluyi said. "I just got to keep shooting while my teammates find me in open spots and I just got to trust my jump shot."
Wink arena was electrified as the team fought back in the second half to take a six-point lead. The crowd stood and gave the men a standing ovation for their hard-fought victory. Bronkema said there is no doubt the fans were a huge help as they continued their faith in Bulldogs success and get loud for their team.
Ferris will face their next six opponents at home beginning on Wednesday, Nov. 20, against Hillsdale with a 7 p.m. tipoff.
"Hillsdale and Lewis are powerful programs and I have a lot of respect for them," Bronkema said. "I want to blow the roof off Wink again because that was fun."