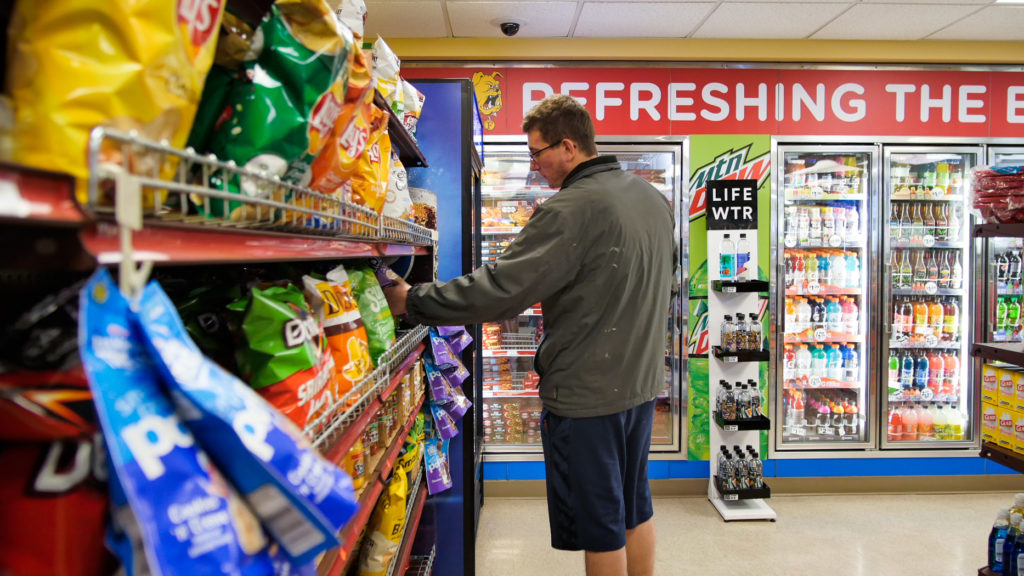 Many students hate the inconvenience of walking across Big Rapids to get simple everyday needs, and The Market is a solution for campus residents.
Ferris pre-pharmacy sophomore Katie Kurburski likes the many options The Market offers at reasonable prices.
"The Market is different compared to other places because you can get smoothies there, as well as Tylenol, all in one location and they are open until 1 a.m.," Kurburski said.
Kurburski often gets her groceries from Walmart or Aldi because of their low prices, but when she needs something quickly, The Market is a go-to for premade meals. Kurburski also appreciates that she can use meal swipes to get food when she wants something on the go.
"As a freshman, I went to The Market almost every week," Ferris business administration senior and Market employee Hailey Davison said. "I would just stop by and pick up quick lunch or dinner options, or just stop by to get a pack of gum in my way to class."
Davison believes it is more convenient than other places in Big Rapids, such as Walgreens or Walmart, because students don't have to leave campus to get something they may need, which is good because not everyone has cars.
"What I like about working at The Market is that it is more low key than working at a large store such as Walmart," Davison said. "You start to make friends with the customers that come into the store, which is an experience people who work at larger stores aren't able to do."
Ferris Director of Dining Scott Rossen said the prices for most of the products are the manufacturers' suggested retail price. Other products are priced based on their budgeted product cost. Rossen and others try to relate with their vendors to best determine what products are selling at other universities. They have also visited other universities in the past to see what is selling for them, and to better understand student shopping habits. One of The Market's goals is to provide students, faculty and staff with an affordable on-campus option that is within easy walking distance, particularly for students who are living in nearby residence halls.
"Students have responded well to the service and products that we offer at The Market," Rossen said. "While we're pleased with the response right now, we're always looking for ways to better serve our students, faculty and staff."
The Market is open from noon — 1 a.m. seven days a week.
Product Prices
The Market:
20 oz soda – $1.59
Bic lighter – $1.49
King size candy bar – $2.19
Chicken ramen – $0.49
Burt's Bees lip balm – $3.99
Colgate toothbrush- $1.19
Walmart:
20 oz soda – $1.88
Bic lighter – $1.79
King size candy bar – $1.34
Chicken ramen – $0.69
Burt's Bees lip balm – $3.27
Colgate toothbrush – $2.96
Walgreens:
20 oz soda – $1.90
Bic lighter – $1.79
King size candy bar – $2.19
Chicken ramen – $0.69
Burt's Bees lip balm – $3.99
Colgate toothbrush – $3.99