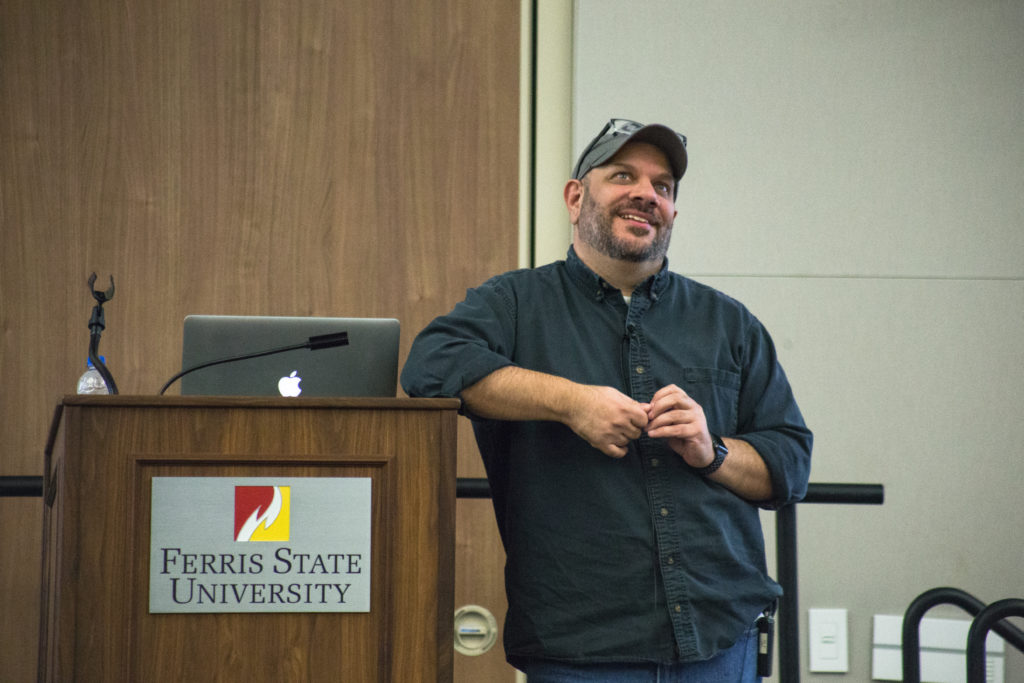 Lacking either money or a college degree may be a major hindrance in building a reputable career. Pixar animator Bill Zahn lacked both, and was required to develop an intense level of skill to overcome these obstacles and be one of the leading creative minds in his field.
Zahn visited Ferris to verbally illustrate his journey from being a poor 19-year-old in Arizona with $60 to his name to the person who brought many popular animated characters come to life. The five-star event, "From Rubber Monster to Digital Cowboys," was held Wednesday, Nov. 6, by Entertainment Unlimited.
Zahn has worked on such icons from handmade talking frogs in Budweiser commercials to the rodent gourmands in "Ratatouille." Although Zahn was excited to work on "Toy Story 4," he claims it was not his favorite.
"'Coco' is very high up on my favorites," Zahn said. "It's really special. We always see the movies and storyboards before we work on them. 'Coco' is the only one that I actually got choked up while I was still doing drawings."
In the post-event discussions, students and attendees found many ways to relate to Zahn. Although he seems confident in his demeanor, Zahn expressed how he's always nervous and self-conscious.
Some voiced admiration to how he "stayed himself" throughout his career despite adapting to new trends. He was always sure to maintain his reputation as The Monster Man who animated severed heads but could also create an innocent little boy.
"There's that quote that it takes 10,000 hours to become an expert," Zahn said. "Just keep cracking at it and then if you do 20,000, you'll be amazing. My advice is don't do it because you want to do it; do it because you have to do it. I went out to L.A. because I had to. If I didn't go, I would have lost my mind."
Even though he now has a top-level career with Pixar, students were shocked when they heard Zahn reveal not graduating college.
"My biggest worry was not being able to afford going to art school and that Michigan wouldn't be a good fit for something as big and prestigious as California or New York," Ferris digital animation and game design freshman Mia VanLandschoot said. "But Ferris was a really good fit and I really like it, so seeing him and that he never went to college and his experience with it was – for me, personally – very encouraging."
VanLandschoot believes it is important to learn more and connect with people in the industry who have found success, but have faced troubles during their career, as well.