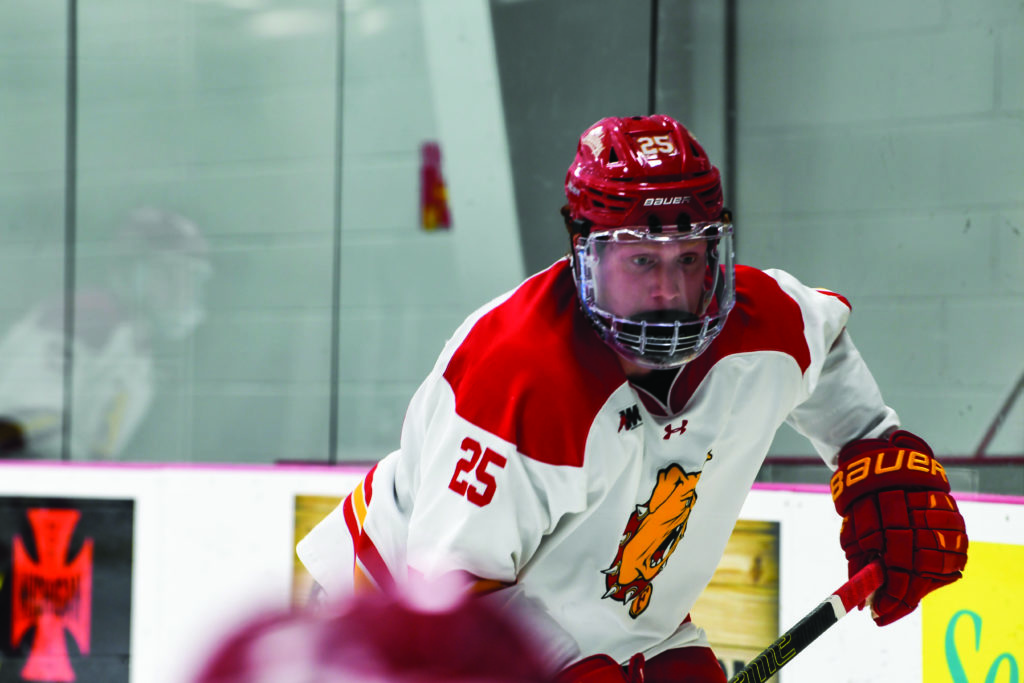 Injuries are a part of any team sport, but how you bounce back from them shows what your team is truly made of.
The Bulldogs hockey team has been especially hard hit as of late with the injury bug with multiple starting line players not dressed Saturday due to injury.
Injuries to junior forwards Marshall Moise and Lucas Finner along with senior forward Jason Tackett has taken out three of Ferris' top playmakers. The injuries only piled Saturday as the Bulldogs also lost freshman forward Dallas Tulik to a shoulder injury in Saturday's 4-1 loss to Bemidji State. The loss puts them at 1-5 in conference and 3-8 overall.
Head Coach Bob Daniels was proud of his younger players who stepped in with the top players on the line out.
"Basically, we lost four players out of our top nine. We had three defensemen in there that were freshmen playing forward tonight, we were patching a lot of holes but, boy, you couldn't tell," Daniels said.
After securing their first conference win of the season on Friday, Ferris looked to capitalize on their burst of momentum.
Defensively, it was one of the Bulldogs top performances defensively this season, even if the scoreboard doesn't show it. The Bulldogs only allowed 22 shots on goal, with no goals allowed on power plays. The final two goals for Bemidji State came in the final three minutes, including an empty netter to put the final score at 4-1.
With injuries to the top players on the team, the younger players took center stage, including freshman defenseman Jake Willets, who scored the one and only goal for the Bulldogs. It was the first goal of his collegiate career.
"It was unbelievable. You know what I was really impressed with, our defensemen moving up and the fact that they were able to follow our game plan. They were able to execute our forecheck very well," Daniels said.
Willets lead the charge, and the Bulldogs outshot Bemidji State 23-22. Willets said the energy level of he and his teammates is still high after the close game on Saturday and the win the day before.
"We're positive because yesterday we got that win, and then today there's an even game we could've went either way on the bounce. The bounce didn't go our way today and like coach said, we're out with some injuries, some top guys. So I mean for us to be battling, staying in games, we already know it shows a lot about our team about our character," Willets said.
The defensive performance was the best it had been in weeks. Playing with the right mentality seems to be the key. In close games like Bemidji State, it was important to be in the right mindset.
"I think we're starting to tilt the ice in the right direction," Daniels said. "We're not playing in our end as much, it was probably 50-50. I really do I think we've got the right mentality right now."
The Bulldogs enter a stretch of games thousands of miles away as they battle Alaska and Alaska Anchorage over the next two weeks. They first take the ice in Alaska Friday, Nov. 22, and Saturday, Nov. 23, before traveling to Anchorage to play Alaska Anchorage on Nov. 29 and 30.
"It's going to be kind of challenging here the next 2 weeks we got to get out on a flight on Wednesday and we're gone for 12 days and we're trying to read the tea leaves to see who will be healthy to play. We're going to have to go from Fairbanks to Anchorage and in that time we're wondering if a couple of the guys that are hurt maybe that extra week they will be ready to go so it'll be interesting to you know sit down and try to figure out exactly who is going to be on that plane," Daniels said.
As the Bulldogs look to find a turning point in their season, the first weekend in Alaska will pose a challenge, with the Alaska Nanooks sitting among the top three in the WCHA standings with a 5-3 conference record and 7-7 overall. Alaska Anchorage (2-3-1, 2-6-2) may be the opportunity for the Bulldogs to catch a break, especially if they can pull out some big wins against Alaska.