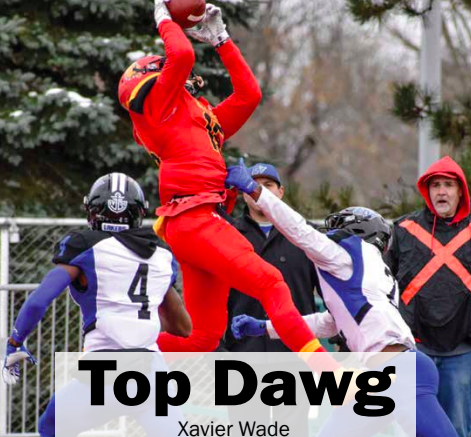 The lyrics "X gon give it to ya" rang true this week for Ferris football and with sophomore wide receiver Xavier Wade's performance, Top Dawg honors stay on Top Taggart this week.
Wade's touchdown catch, with just over thirty seconds left in the first half, was Ferris' first score against Grand Valley on Saturday, Nov. 9 and made the halftime score 9-7. If Wade had not made the catch in double-coverage, Ferris would have ended the first half scoreless in what was the biggest game of the season so far.
It was a touchdown that gave Ferris a breath of fresh air and the opportunity to start the second half even, according to head football coach Tony Annese.
"Probably a lot. 9-0 probably shakes us a little bit more," Annese said. "That score right before halftime…I walked in there and really said, 'It's 9-7, it's tied,' truthfully because whoever wins the second half wins the game. So that was a huge score right before half, a huge score."
With 102 receiving yards on five catches, Wade made a huge impact in the 21-16 win. In fact his one touchdown may have been the most important play of the game.
Annese said he told senior quarterback Travis Russell to take a shot with Wade, and if it was the wrong coverage, then to look at him. Well, with Wade stuck in double coverage, Russell looked at Annese, who shrugged back, at a loss for what else to do.
"He just put it up for Xavier Wade and Xavier had a great game," Annese said.
Wade might have racked up even more yards had he not been hindered by three missed pass interference calls on a single drive at the beginning of the third quarter. Wade has 603 receiving yards this season and four touchdowns and makes a dangerous duo with sophomore wide receiver Sy Barnett going into the postseason.