After knocking off Wisconsin-Parkside in a quarterfinal sweep, Ferris volleyball is one step closer to their sixth consecutive GLIAC Tournament Championship.
The No. 17 nationally ranked Bulldogs claimed the 2019 GLIAC regular season title as they climbed from fourth to first in the ranks to earn the number one overall seed by winning their last five regular season games. This season is the 16th time that Ferris has won the regular season title and they have won seven of the last nine.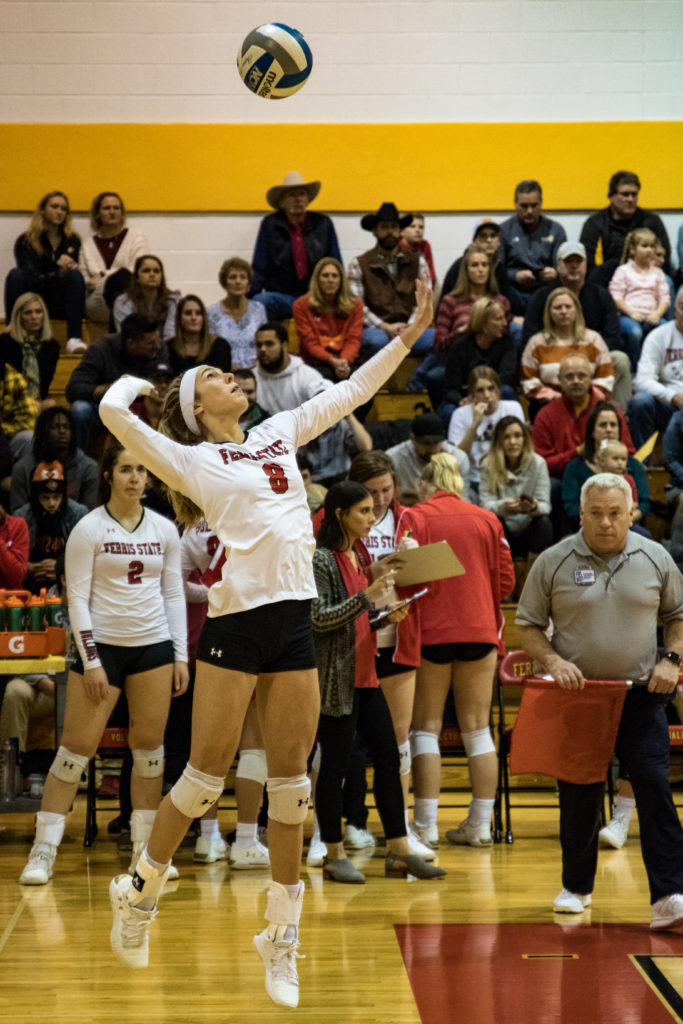 Wednesday, Nov. 20, Ferris hosted the league quarterfinals at Ewigleben Sports Arena against Wisconsin-Parkside. Ferris won all three sets against Parkside, completing the sweep in a tough third set. The Bulldogs were led by a trio of seniors: Maeve Grimes, Allyson Cappel and Courtney Brewer, along with juniors Katie O'Connell and Nina Gorgijevska, sophomore Samantha Hermann and freshman Kira Merkle.
"I think we did really well working together as a team, and everyone who came off the bench did a really good job of just getting in the groove right away. I feel that we executed our scouting assignments very well and went for every ball," Brewer said. "We just looked to each other to do our jobs because we really just have that trust with one another, and I think that starting with that good pass play and just trusting ourselves and covering our hitters."
The Bulldogs had a total of 41 assists and Grimes collected 34 of them. O'Connell led the way with 16 digs followed by Gorgijevska with 15 and Brewer with 14; they totaled 61 digs as a team. Cappel led the team in kills as she posted 11 and Brewer and O'Connell added nine more each.
With a team total of eight blocks, it was O'Connell who led the way with three followed by Merkle and Hermann with two apiece.
"We got a lot of kids in the match and to see some of those subs go in there and keep the bench really fired up with really high energy and the team, everyone was just looking to execute their assignments out there. So, I thought it was really great to see no dip in our level of play even as we made subs," head volleyball coach Tia Brandel-Wilhelm said. "It was really good to see our energy stay high, even if we had a little bit of a lead, but I really liked seeing that."
As the team prepares for their semifinal match up on Saturday against Wayne State, Brandel-Wilhelm said her team is excited to be in the tournament and that it's an honor to host because they love playing at home. Brandel-Wilhelm said her team will be spending their time preparing and staying focused, taking each day as it comes.
"I think that the conference is really tough with a lot of young teams in the conference with young players that have really improved this season. Whatever the matches are this season, there will be a lot of battles, a lot of points for point close sets," Brandel-Wilhelm said.
Ferris' will face off 3 p.m. Saturday, Nov. 23, against Wayne State in Ewigleben Arena. If they win, they will play in the championship game scheduled for Sunday.