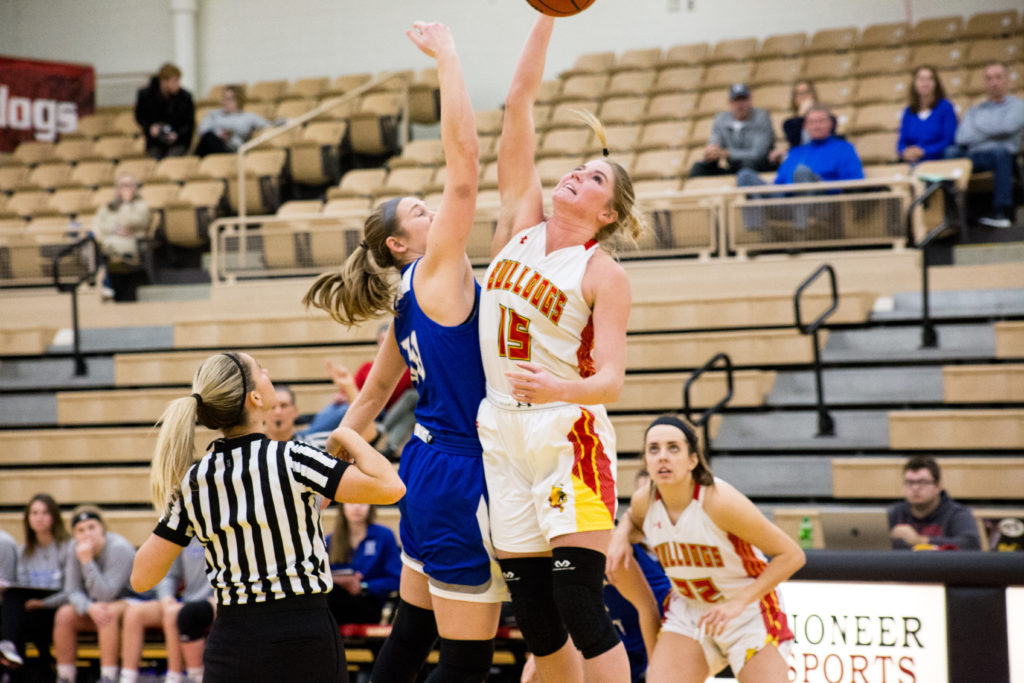 There's a difference between playing on a team and playing for a team.
With 14 women on a team it can be challenging to listen and learn about all of your teammates. But the women's basketball team sets up one day out of the week to incorporate a team lab for bonding and game plan strategies.
During these team labs, the players connect with one another and express themselves as a family. Ferris women's basketball head coach Kendra Faustin believes her team labs create relevant discussion away from the game, and that team feedback improves their time together.
"Our players probably think our labs are about us giving them information, but it's really about us hearing them. It's about our staff hearing what they think and what they need, and what they want and getting feedback from them," Faustin said. "Our job is to get our team where they want to go, and it doesn't really matter where we want to go. It matters where the girls want to go, so we spend a lot of time working on the how we do things, how we communicate with each other and what we are all about."
The team labs are designed so that each player can build better relationships with not only their teammates, but also with their coaches.
The women's basketball team shared their goals on the season with one another and talked about what the team culture is like in their last lab. Senior center Brayene Benner believes the team labs put the players on the same page, on and off the court. Her favorite part of the labs is knowing that everyone is all in and they are all there for the same reason.
"I know that the person next to me is putting in just as much work as me and we really define that in team lab, and it's very interesting to hear everyone's point of view and where they are at in life," Benner said. "A lot of teams don't know what the person next to them is always thinking or they don't get that deeper connection or deeper mentality in everything and it's just really good to hear everyone's thoughts on our team."
Tuesday, Nov. 12, was the last team lab before their home opener Thursday, Nov 14, in Wink Arena against the Hillsdale Chargers. This opener started a six-game home stretch for the Bulldogs.
Ferris built a large lead, going on a 19-0 run from tipoff against Hillsdale, which allowed them to go deep into their bench.
The Bulldogs relied on a strong defense that forced Hillsdale deep into shot clocks and stole possessions away. The final score ended in a victory for Ferris, 85-59, bringing their record to 2-1.
"To keep that lead the whole game and get people in that usually don't get as many minutes in was awesome, and to be able to start the season off like that is just a good way to set the tone," Benner said. "We always do the little stuff…that turns into big things and we really set those small goals in a game to achieve the bigger goals."
Faustin hopes her team takes away some self-reflection in the lab time as the season goes on, especially since it's hard to get in an hour every week when the team's schedule is so busy. But the players make it a top priority and it shows on the court. If even one player does not understand something, the whole team helps break it down so that no player is left behind.
Another important aspect of the bonding in lab is loosening up a bit, too.
"Sometimes women have a hard time making a fool out of themselves and it's important to have fun and laugh at yourself, and you can't do that if you don't know who you are. This is a big part of our labs with some self-reflection and really solidifying what our standards and beliefs are, individually and as a group," Faustin said.
The women's basketball team handled their business in their first home game and will tip off next against Ursuline 5:30 p.m. Thursday, Nov. 21, in Wink Arena.