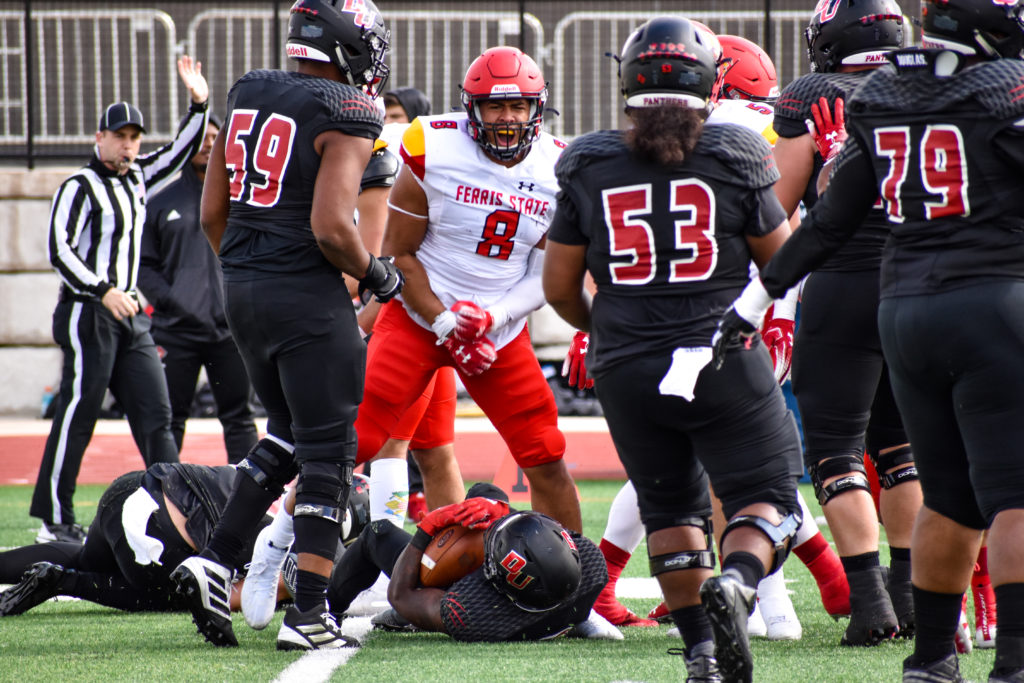 It's been more than a decade since a defensive player took home GLIAC Player of the Year, but nobody was more deserving in 2019 than Ferris senior defensive end Austin Edwards.
The award is typically awarded to a quarterback, so the honor came as a surprise to Edwards.
"I wasn't expecting it at all. Coach was calling out the awards we got and when he said my name, everybody erupted around me. I just kind of froze a little bit," Edwards said. "It's a big testimony to our program here. When I got here, there were guys that were great and I followed them. I came here because I knew Ferris State won games."
Edwards led a dominant Bulldogs defense that allowed just 13.7 points per game en route to their second consecutive undefeated regular season. Individually, Edwards recorded 45 tackles – 13.5 of which were for a loss – and eight sacks which landed him just half a sack short of the lead in the GLIAC.
The accolade is the first in a line of many for the man known by his teammates as "Ace," who received All-America honors in 2018 in a campaign that saw the Bulldogs reach the National Title game.
Edwards' crown shines even brighter when compared to former Ferris defensive players who played at a high level but were never enshrined as player of the year. Ferris alum Zach Sieler, a seventh-round pick of the National Football League's (NFL) Baltimore Ravens, compiled 33 career sacks for the Bulldogs and was never a recipient of the award.
"He follows in the footsteps of Justin Zimmer who was just a dominant defensive lineman for us and obviously Zach Sieler who was a dominant defensive player for us," Ferris football head coach Tony Annese said. "That standard was set by those guys and I think Ace feels like he's got to live up to those expectations."
The last defensive player to win the GLIAC player of the year award was former Saginaw Valley State University linebacker John DiGiorgio in 2005. Only one other Ferris defender has won the award, as former Ferris linebacker Monty Brown won in 1992. Edwards becomes the first defensive end to ever win the award.
Edwards wasn't the only Ferris player to claim an award, as the Bulldogs claimed a school-high 23 GLIAC honors. 11 athletes earned All-GLIAC First Team honors with another 6 being named to the All-GLIAC Second Team and 6 All-GLIAC Honorable Mentions.
Two Ferris seniors also pulled in major awards. Defensive back James Ceasar took home Defensive Back of the Year honors, while offensive guard Tyler Allison claimed the GLIAC Offensive Lineman of the Year award.
"It was kind of an award for all of us. For my whole offensive line, we've been grinding and working together for a long time," Allison said. "I'm not going to be satisfied with any accolade or winning any game or even the GLIAC Championship. I'm not going to be satisfied unless we win [the National Championship]."
Individual awards are nice, but the Bulldogs have their eyes set on a National Championship, an award that would outshine all the rest.