This weekend's playoff matchup against MIAA powerhouse Central Missouri (11-1) will see the Bulldogs with the freshest legs they've had all season.
In fact, multiple Ferris' players likely would not have played if they had played right after the Grand Valley game, including senior defensive back Omari McCauley, according to head football coach Tony Annese.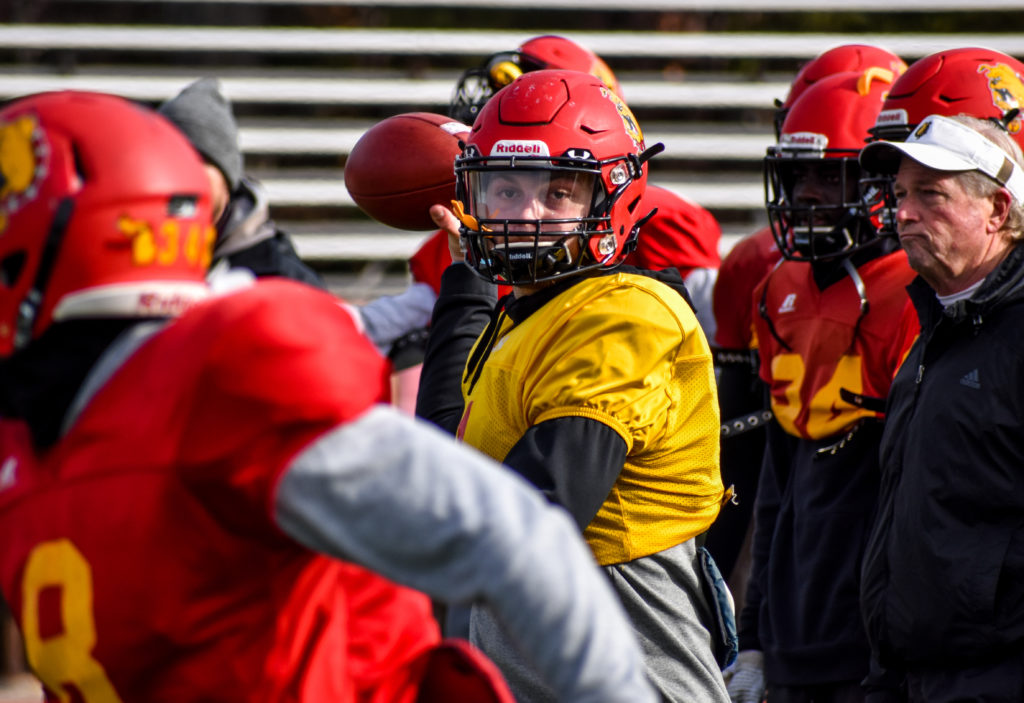 "There's three or four that probably have brought themselves back into playing shape and that's obviously critically important," Annese said. "Plus, when you watch our receivers run around, I said it to Sy [Barnett] the other day, I said 'Man, you got fresh legs' and he goes 'Coach, I haven't felt this good since August.'"
The undefeated No. 1 seeded Bulldogs haven't played a game since Saturday, Nov. 9 against Grand Valley State University and have taken their weeks off to have lighter practices to tweak little things and work on fundamentals, according to Annese. But the extra weeks have given the team ample time to prepare and watch film.
"That's probably been our best thing, you get a little extra time to observe some teams, but we didn't know who we were going to get, Central Missouri or Indy," Annese said. "We kind of divided it up, our offense focused on Central Missouri, our defense focused on Indy and then after a couple days we switched that and that was all last week. So we got ahead a little bit in regard to preparation."
With senior quarterback Jayru Campbell out for the season, senior Travis Russell and sophomore Evan Cummins officially take over Ferris' offense. Russell will be starting, but Annese wants Cummins rotated in much more than earlier in the season. However, Annese was excited about the wide variety of possibilities playbook wise Russell brings to the offense.
"Travis has been incredible. There's so many different things we can do schematically with Travis," Annese said. "We can throw a lot more playbook-wise out there. He's just a gifted young man, intellectually and skillset, but what is great is he's an unbelievable leader and the kids respect the guy that's going to be standing there taking the snap, whether it's Travis or Evan."
Russell was absent Tuesday, Nov. 26, so Cummins got a little extra practice in before this weekend. However, Annese confirmed that Russell will still be starting against Central Missouri.
The final verdict on Campbell's ankle gave some closure to both Campbell and the team, with the injury lingering for a month after it happened.
"Truthfully, since the injury against Saginaw Valley, we thought we could get [Campbell] back, but he never really practiced at the level where he could take reps, he couldn't run around and then we found out last week he needed surgery," Annese said. "It's almost like at least he has closure that he knows what he needs to do to get his ankle repaired and we got closure in we know who we're moving forward with."
Ferris is no stranger to MIAA teams in the playoffs, having played a team from the conference the last three years. Two of those years were against Northwest Missouri State, who Ferris could possibly face in the next round.
No. 4 seeded Central Missouri's pass heavy offense will be to Ferris' advantage, with the Ferris defense ranking No. 1 in the nation in passing efficiency defense. The Mules offense averaged 561.3 yards of offense per game and 47.7 points per game this season, however, their stats against Northwest Missouri State drop quite a bit.
Northwest Missouri State held Central Missouri to 81 rushing yards and 445 total yards of offense in the last game of the season. The final score was 45-23 with Northwest coming out on top to earn a shared championship with Central Missouri. The Northwest defense forced two fumbles, had eight sacks and held Central Missouri to 7-of-20 third down conversions.
Ferris will need to pick up where it left off three weeks ago to come out with a win and advance. Kickoff is set for 1 p.m. Saturday, Nov. 30 on Top Taggart Field against the Central Missouri Mules. A Ferris win would advance them to the Super Region Final on Saturday, Dec. 7 against the winner of No. 3 seeded Northwest Missouri State and No. 7 seeded Lindenwood.