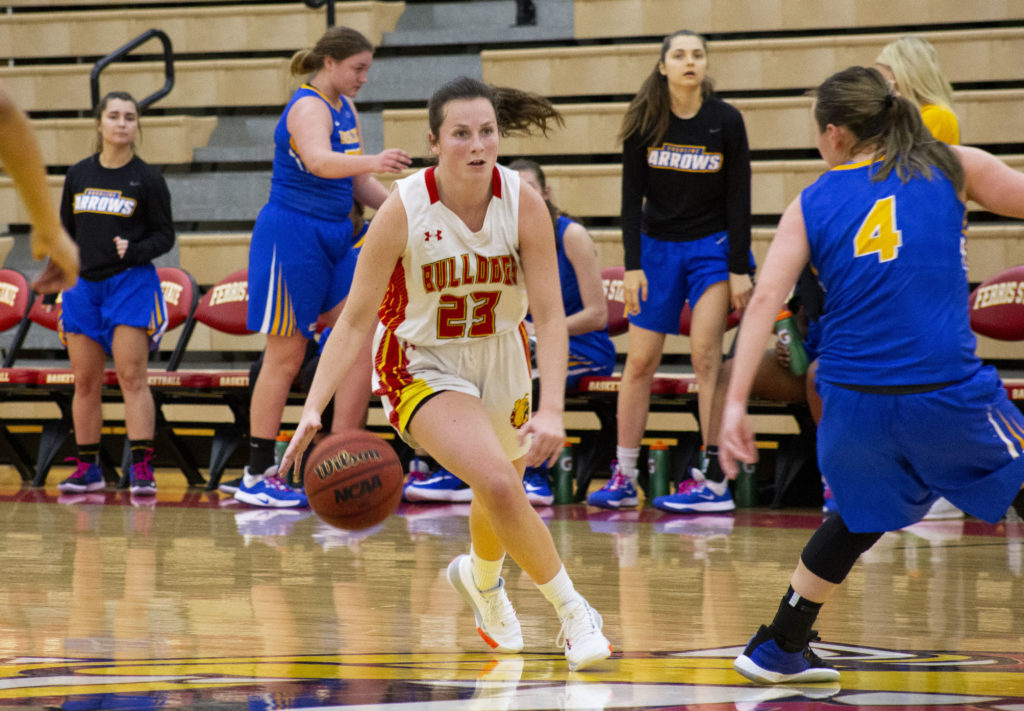 A team can have that one go-to player, but the Ferris women's basketball team relied on two in their latest win.
In Saturday, Nov. 23's action, the Bulldogs earned a hard-fought victory over Southern Indiana. Ferris notched their fourth win of the season, taking down the Screaming Eagles 86-75.
Freshman guard Mallory McCartney and senior guard Riley Blair were the duo to beat for Ferris, McCartnery stepping up in the absence of junior guard Shaniya Huggins, who is nursing a hamstring injury. McCartney and Blair combined for 49 points.
McCartney shot 50% from the field and went 4-9 behind the arch along with making all six of her free throws. Blair shot 9-17 from the field and went 9-12 from the free throw line. The freshman–senior duo added a total of 11 rebounds with six steals to their impressive showing.
"I thought Mallory McCartney was unbelievable as a freshman stepping in and playing major minutes at the point guard and made two huge plays down the stretch," Ferris women's basketball head coach Kendra Faustin said. "Those two kids are winners and they both get it down when it matters. Mallory has won two State Class A Championships, Riley's been in a ton of big games, and when it matters, she makes it count and I'm just really proud of her. She was unreal and in the zone."
Junior guard Adrienne Anderson added 15 points for the Bulldogs, who grabbed 32 rebounds. Senior center Brayene Benner led the way with seven and Blair tallied six. Anderson and McCartney posted five more a piece.
"It's a moral victory as well as a victory on the scoreboard and it's something that we are really, really proud of," Blair said. "One of our main team goals has been finishing close games and that's something we've kind of struggled with in past years and today we stepped up. We hit the big shots, everyone, I mean Mallory McCartney as a freshman, just an unbelievable performance by her and I'm proud of her too."
The fourth quarter started with a pair of three pointers from each team as they fought back and forth. However, Ferris held their lead as time ran out. Senior guard Renee Sturm was then forced to the free throw line and made one of two.
With three minutes to go, the Bulldogs held a four-point lead. As the final seconds wound down Ferris was sent to the charity stripe on multiple occasions as McCartney, Blair, Sturm and Anderson all made both free throw shots to extend their lead.
"We stuck together and finished the game; I mean it got a little rocky there for a second, but we all stayed positive with each other and we found a way to win the game," McCartney said.
Faustin said that in the moment that mattered most she was exceptionally proud of her players making free throws, taking care of the ball, making plays and wreaking havoc on defense, not allowing a three late in the game.
"We just needed one play to respond and I'm really proud of our team. We were in this similar spot earlier in the year, which was our only loss and we talked about how we were going to win the last five minutes," Faustin said. "It validates our group that in the face of adversity, individuals are filling roles that are so important and it solidifies our groups belief in our group and our program and it's about the next person stepping up and doing their job."
Blair expressed her excitement about the team this year and said she expects big things from them this season.
"I just think this is going to be a really special year and that if people aren't tuned in, then they should be," Blair said. "This is a special team and we're going to do big things this year."
The team will get a breather over Thanksgiving and will be back at home against Lewis University 1 p.m. Sunday, Dec. 1.