Ferris gained over 500 yards of offense for the fourth game in a row in their 37-10 win over No. 4 seeded Central Missouri on Saturday, Nov. 30. Only this time, the yards were lopsided towards rushing, a trend that hasn't been seen since early in the season against Northern Michigan and Davenport.
The No. 1 ranked Bulldogs put up 372 yards of rushing against the Mules and only 153 passing yards, which is the fewest number of passing yards since Saturday, Oct. 5 against Davenport. Ferris tallied only 106 passing yards and 317 rushing yards in that game.
The yardage was fairly even at halftime with 104 passing and 151 rushing, but the second half yielded only 49 passing yards. Senior quarterback Travis Russell was 7-for-18 in the first half and only had seven more passing attempts the rest of the second-round of the NCAA Division II Football Playoff matchup.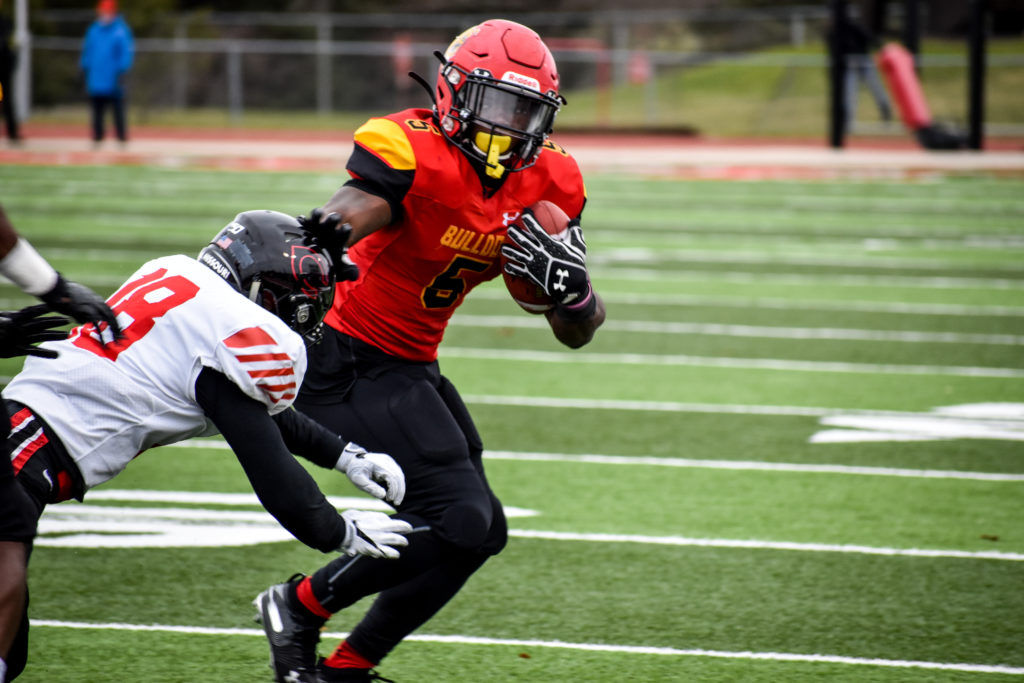 A leading factor in this was undoubtedly sophomore wide receiver Sy Barnett leaving the game after dislocating his ankle. Trainers were able to put his ankle back in place but Barnett has reportedly sustained a broken fibula.
Though redshirt freshman wide receiver CJ Jefferson stepped in and came up big with a 58-yard receiving touchdown on one of his first touches of the game, Barnett's absence made an impact.
"With every win sometimes, there's some negatives and our biggest negative obviously is Sy Barnett got hurt and he's a huge part of our success," Ferris head football coach Tony Annese said.
Annese said they've never been a team to make excuses though, and the next man up mentality has always been present. It goes all the way back to three years ago when junior running back Marvin Campbell was a redshirt freshman who got his shot in the playoffs. In Ferris' first-round win against Midwestern State in 2016, Campbell had 15 carries for 92 yards.
"I remember a redshirt freshman being here three years ago against Midwestern State and he hadn't played the whole season hardly and I said 'Your time will come, we're going to need you at some point and time' and it was Marvin back in the day as a redshirt freshman against Midwestern," Annese said.
This year, that next man up was Jefferson. He made it count when the Bulldogs needed it. Along with his touchdown pass, Jefferson came up with a catch to complete a fourth down conversion midway through Ferris' 99-yard drive that resulted in a touchdown.
Ferris' offense in the second half was driven by Campbell, however, who totaled 151 rushing yards on 19 carries for three unanswered touchdowns. The All-GLIAC First Team running back was not fazed by Barnett going down and said the team always prepares for every player to step up.
"When somebody goes down, it's just the next man up and we do a lot of preparation throughout the week, trying to get everybody prepared in case something happens like this," Campbell said.
Although Annese admitted he "hated the idea" of having two bye weeks, the extra preparation paid off for his defense, especially, who came up with four interceptions.
"Honestly, I just have to give all the credit to our coaches and our defense because our coaches," said senior defensive back Alex Thomas, who had two picks. "They did a great preparation for us this week and letting us know what our opponents were going to do and just knowing what formations they were in, so that's pretty much what helped us."
Ferris's defense kept them in the game again, particularly in the first half, with the Bulldogs only leading 16-7 at halftime. Besides the four interceptions, they had three sacks which accounted for 24 lost yards. Ferris was also without GLIAC Defensive Back of the Year senior James Ceasar in the second half after he sprained his ankle. It's unclear how severe the sprain is.
Thomas had 30 return yards on his first interception, which was picked off at the goal line. The interception was early on, but both coaches agreed that the goal line pick changed the momentum of the game.
"You always look at things that turn the momentum like that can have an effect on the game in the end," Central Missouri head coach Jim Svoboda said. "If you look at the disparity in score you'd probably say not as much, but those things happen. Our team's been resilient all year, tremendous obstacles and odds in terms of winning games. I don't think anyone really panicked over it, it's not something that you really choose to do, kids are playing hard and things happen, so it's kind of how you respond."
Despite going up against the No. 1 ranked defense in passing efficiency, Svoboda said he prepared for Ferris no differently than any other team.
"We're really effective when we mix it up and spread the ball around and try to get the defenses off balance," Svoboda said. "It makes it a little bit tougher against a team like this, obviously, but that's always our goal going in, to be balanced between the run and the pass, be effective in both and be unpredictable in terms of our formations and some of our play calls."
Ferris' possession time in the second half was one of the keys to their victory, with a 99-yard drive that took up nearly eight minutes of game time and resulted in a 1-yard touchdown run by Campbell. They also had an 80-yard drive in the third and a 90-yard drive in the fourth that lasted just over seven minutes and ended with another Campbell touchdown.
On the other side of the bracket, defending champion Valdosta State was upset by No. 5 West Florida 38-35 in the final minute of the game. The Blazers were No. 1 in their region and had gone undefeated in the regular season.
Ferris will now face Northwest Missouri State, who dominated their second-round matchup against Lindenwood 63-7. Ferris will host the Super Region 3 Final on Top Taggart Field at 1 p.m. Saturday, Dec. 7.