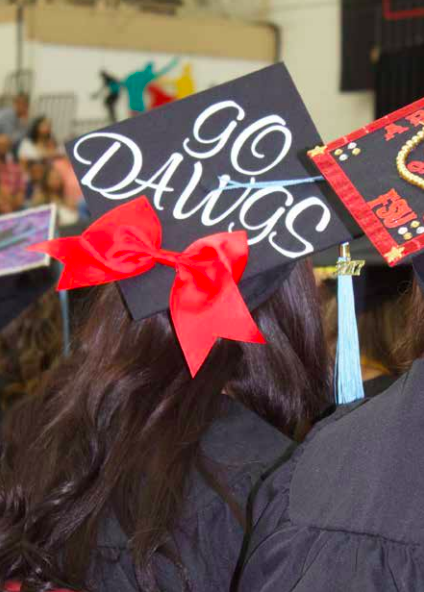 The end of the semester leads another class of Ferris students to an end as the December Class of 2019 commencement approaches.
The difference between Fall and Spring commencement does not come at a cost; it comes from a preference and the track a person took while attending.
There are small benefits for students who participate in fall commencement rather than the spring.
"One benefit students may find participating in fall commencement versus spring is the number of tickets the students are provided. Another benefit to graduating in the fall is that the gymnasium is more comfortable when it comes to seating and temperature," Ferris' Commencement Coordinator Richelle Williams said.
In regards to the available tickets, in the fall, students get seven tickets to hand out to friends and family attending commencement, instead of six in the spring.
"Our Spring commencement numbers are much higher than our Fall commencement numbers. Most of our graduates complete after the Spring or Summer semester, which is reflected with graduation attendance. On average, over the past 12 to 17 years, the average number for fall commencement is 67, and for spring commencement is 243," Williams said.
Some Ferris students explain why they will participate in spring commencement instead of fall commencement.
"I really didn't want to graduate early, and now that I will be here a little bit longer, graduating early really still wasn't a priority for me… I had difficulty getting into the class, and I had to take an extra semester, and now I am a semester late, and it was no fault, but my own" Ferris Television and Digital Media Production senior Daniel LaRoche said.
While some students could have messed up their schedules, some have planned since high school and were determined to graduate college in the standard four years.
"I plan to graduate in May simply because it was the fastest way… I really had no plans to graduate early, like May 2020 was the goal from high school mostly because it was hard to fit around my schedule," Ferris Automotive Engineering senior Trevor Wells said. "I did have some trouble when I got a certificate from my community college; then I transferred to Ferris, which might have been a setback…I knew I was planning to graduate in the spring by the end of high school, but when I got into my second year in college, I knew I was going to graduate on time."
If someone cannot attend commencement, they can watch online by visiting youtube.com and searching for and selecting the FerrisStateVideo channel.