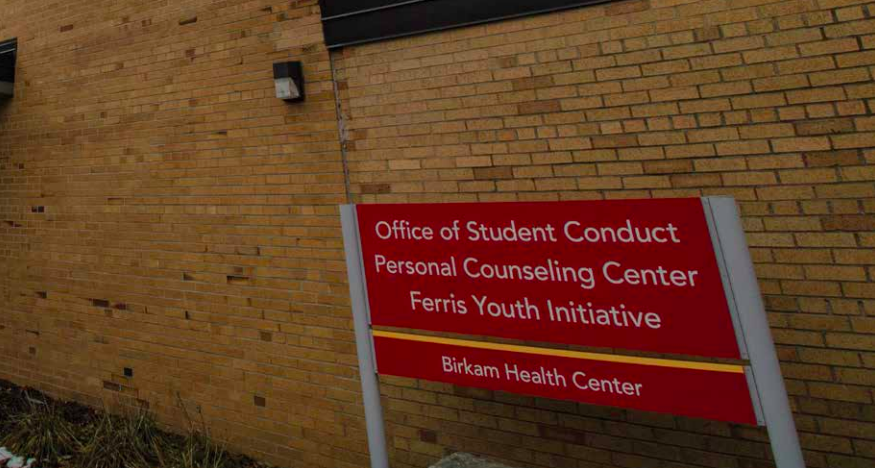 With finals and holidays coming up quickly, Ferris' Personal Counseling Center is offering help to students.
"There are a variety of things students can do to manage stress and anxiety during midterms and finals," said Ferris Director of Health Services Lindsay Barber. "They should continue to have good sleep and nutritional habits, avoid last-minute preparation or cramming, [use] studying tips … engage in self-care to break up studying; this could be exercising, hanging out with a friend, meditating, etc."
If all else fails, a great place to visit is the Counseling Center.
"The Personal Counseling Center offers crisis intervention, individual therapy, couples counseling, group workshops and referrals to external resources for students,"Barber said. "We are currently in the process of expanding our offerings to include TAO (Therapy Assistance Online), which is a collection of online and mobile tools to help students conquer day-to-day struggles around anxiety, depression, relationships, resiliency, etc. TAO will be accessible as self-help or assigned as part of a student's treatment plan. Our current timeline to start offering TAO to students is the beginning of 2020."
Personal Counseling Center services are available to all registered Ferris students, and couples counseling is possible as long as at least one of the parties is a student. These services are offered at no charge to students regardless of health insurance status.
The first appointment will take about 45 minutes while the patient's concerns are addressed and the Step Care Model of practice is introduced. Each plan is made to fit an individual student's needs. This could mean a number of things from a single appointment, to ongoing therapy, to a combination of services.
While many students don't seem to be stopping into the Counseling Center for their stress, they do have some methods to help them around finals time.
"Since my finals are usually based around English and Literature, I always try to space out time to work on the papers I have to write or literature I have to review," said Ferris English junior Chrysta Lafay. "I also make sure I am taking care of myself by eating properly and getting enough sleep, so I at least have the energy to take on finals."
Some students go further than preventative physical care, though, and like to take particular care of themselves emotionally.
"I really haven't been to the counseling center because I've never had time amongst all the studying. And to relieve stress, I cry and play with my cat," said Ferris psychology senior Cassie Rathbun.
To use the counseling center, students can visit the Personal Counseling Center office located on the second floor of the Birkam Health Center or call (231) 591-5968.