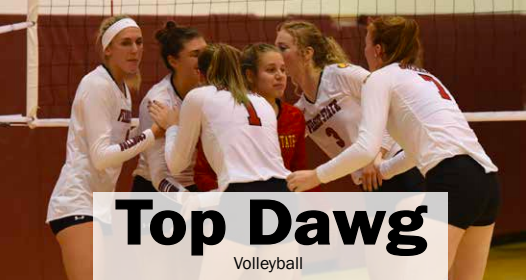 Top Dawg goes to a team that has won their conference not for the first time, or second time, but six times consecutively.
If you don't know who I'm talking about yet, it's the GLIAC reigning champion Ferris volleyball team.
The regular season came to a close last weekend and with a Ferris win over Northwood and a Michigan Tech loss to Saginaw Valley, the Bulldogs clinched their sixth consecutive conference title. Ferris ended with a 14-2 conference record, dropping an away match to both Saginaw Valley and Ashland.
To say that Ferris dominated the GLIAC is an understatement. Nine of their 14 wins were clean sweeps and senior outside hitter Allyson Cappel was named GLIAC Player of the Week in the North four out of the ten weeks this season.
This streak hasn't come easy, either. Ferris has faced strong competition in the GLIAC in Michigan Tech, Ashland and Saginaw Valley. The race for No. 1 in the conference was tight near the end of the season and all three teams took Ferris to five sets, with Ashland handing the Bulldogs their second conference loss of the year.
The dynasty that is Ferris volleyball is nothing short of legendary, led by head coach Tia Brandel-Wilhelm in her 24th year at the helm. I highly doubt there's a volleyball team in Division II, hell, no team in Division I that has a conference championship streak this long.
To top it off, Ferris volleyball is on a five-year GLIAC Tournament Championship streak, which they will have the opportunity to extend this week with their first game on Wednesday, Nov. 20. The program has also earned an NCAA tournament bid every year since 2011, a streak they would be guaranteed to extend with another GLIAC Tournament Championship.
Ferris has struggled to get out of their Region in the NCAA tournament, but with a strong senior core once again, it might just be their year.