Ferris football's secondary was their weakness last year, and now, it's arguably their greatest strength.
The strange part is, the senior defensive backs that consistently start are all transfers. Najeem Hosein, Omari McCauley and Delon Stephenson transferred to Ferris last season, and James Ceasar and Alex Thomas transferred to Ferris this year. So, what's behind the chemistry and complete turnaround from last season to this season that has seen 18 interceptions so far?
According to head coach Tony Annese, it's passion and desire, which is largely led by Ceasar and McCauley.
"I can't overstate this: James Ceasar came here and changed everyone's attitude. He showed up January, and from the minute we started winter conditioning and spring ball, it was just the same consistent, great work ethic — and Sidney McCloud — Sidney would watch James and I think Sidney got better," Annese said. "I give a lot of credit to Ceasar in regards to the work ethic, but I give all the credit of leadership to Omari, because Omari just sets the standard for the right kind of attitude and just grinding through. So it's pretty awesome to see those guys and how great they've been."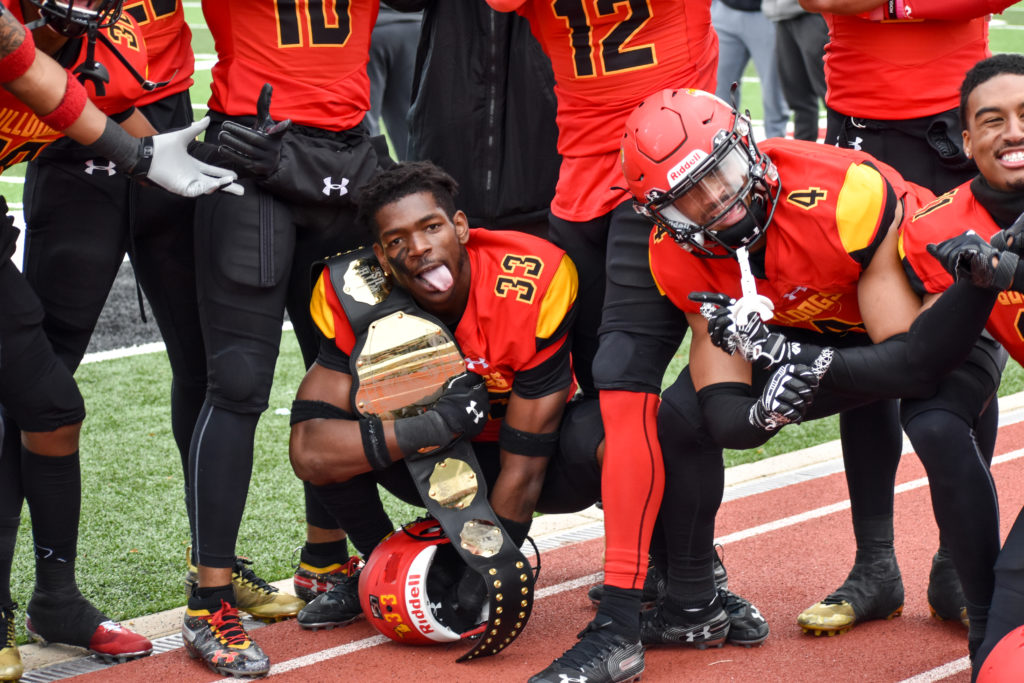 A few of the Bulldogs' wins could have had a different result if not for interceptions in key points of the game, including last weekend's win over Central Missouri. Ashland is another game that could have easily been a loss early in the season without the three interceptions.
"The plays we made last week when they were in the red zone with opportunities to score, if those plays aren't made, we could be sitting at home right now," Annese said. "It's been by far the most improvement this team has shown. That unit really has just transformed themselves."
The defensive backs all proudly call themselves the Chain Gang, and it's an attitude among the position group. To Ceasar, it's their "alter-ego" and a "sense of togetherness." In McCauley's eyes, it means they "operate the chains" and dictate the other team's movements. But Thomas put it the best.
"It's more like a culture; we not letting nobody catch no passes … you not getting out unless we let you," Thomas said.
The group has backed up their talk with their play, and are the No. 1 ranked in the nation for both passing efficiency and third down conversion defense.
Every transfer has persevered through their own stretch of adversity that led them to Big Rapids, some of them at Division I programs prior to Ferris. But it's that adversity that has matured them and allowed them to become the tight-knit group they are. Anyone with two eyes can see this group is a family.
"That might be the main thing, honestly," Thomas said of the challenges each player has overcome. "Because we all went through something that we all can relate to, that we all understand, so it brings us closer. It brings us closer to kind of be all the way honest with each other.
"So when we more honest with each other, we doing everything for each other, so there's nothing that we don't know about each other. Our adversity through everybody's own situation definitely brought us closer."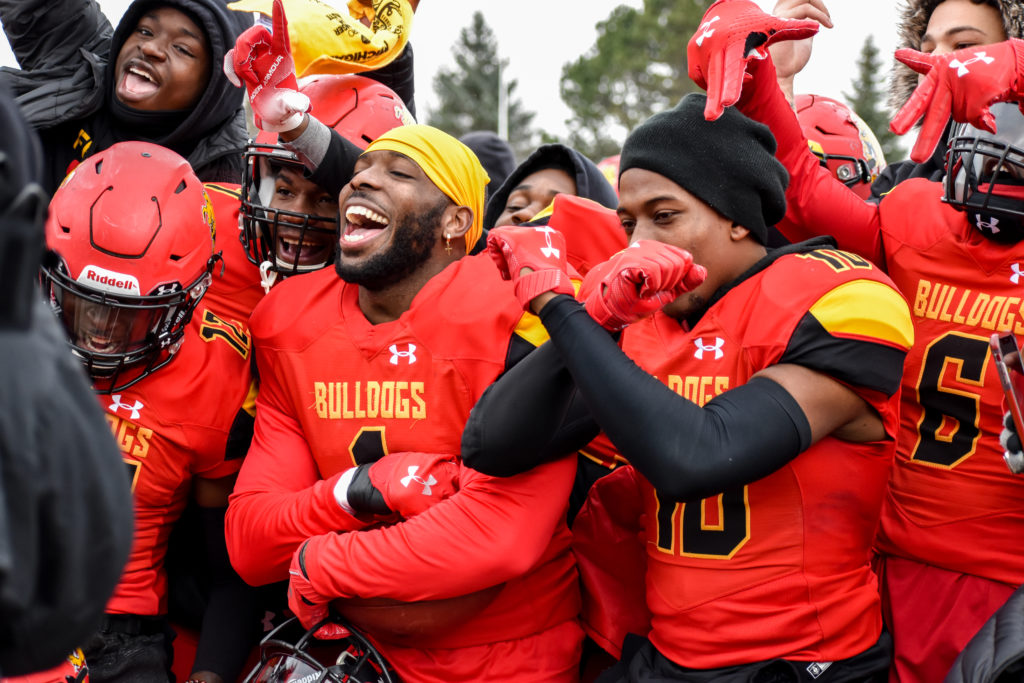 The love these players have for each other can be seen in every game. Any time one of them makes a play, they celebrate like they won the game. With every interception, they all rush to the sideline where they keep the Chain Gang belt, which they raise up for the player who brought down the interception. The genuine happiness they have for each other in any success shows a level of commitment to their unselfish play that is not often seen.
"A lot of times when you get those groups of guys that are just transplants, they're new and they come here, it just doesn't typically work out the way it's worked out," Annese said. "It's been a blessing but they're all great young men and they're not selfish. They're young men that root for each other, which is cool. When Ceasar won the defensive back of the year, everybody was so happy and that could be Delon, that could be AT (Alex Thomas), that could be Omari, that could be a lot of guys. So it's really great to see that they celebrate each other's successes."
Omari: the vocal leader
McCauley's college career took a detour after his 2014 freshman year at Ferris when he ran into trouble academically. He ultimately transferred to a junior college in Arizona called Scottsdale Community College, where he earned his associate degree.
Junior college was a much different experience than what McCauley knew at Ferris. He shared a three-bedroom apartment with 14 people, an experience he said made him appreciate the dorms and meal plans at Ferris. But through it all, McCauley grew as a person and was prepared to return to Ferris and be the leader he is today.
He received a few offers after his junior college stint but wanted to finish what he started at Ferris and returned in 2018.
"When you face challenges, do you walk away from the challenge? Or do you look yourself in the mirror and say, 'I screwed it up but it's not fatal.' He did the right thing coming back and just finishing it the right way," Annese said of McCauley.
McCauley — who was named to the All-GLIAC Second Team — has an interception, two broken up passes and 52 tackles on the season, having played in all 11 wins.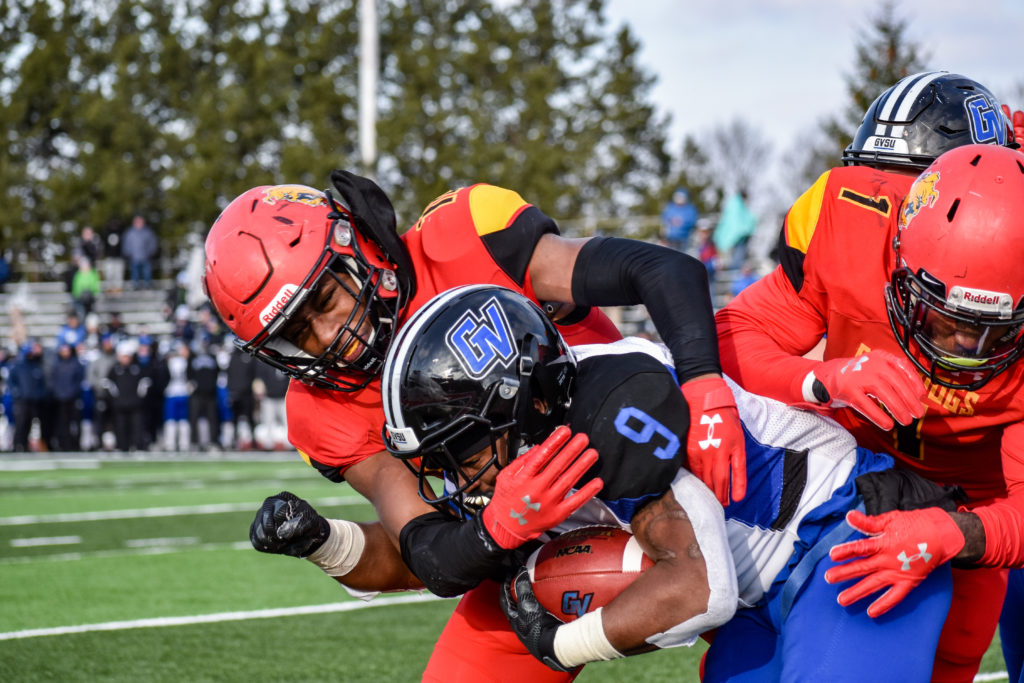 The key to the Chain Gang's strong bond is their accepting mentality, according to McCauley, especially since many are transfers. The effort made to truly understand each other off the field made all the difference on the field, according to the Detroit native.
"All of our willingness to be open-minded and really just hone in to what everybody is saying," McCauley said. "Of course we have a couple vocal leaders within a position group, but for the most part we all listen to each other, because nobody is good enough where you can't get better each and every day. So we just try to feed off of each other's energy, positive vibes, everything."
Ceasar: the game changer
The last year has been test after test for James Ceasar.
Originally recruited by Ferris, Ceasar took a Division I offer from Southern Illinois out of high school. Ceasar suffered a season-ending shoulder injury his junior year, only four games into the 2018 season. Then, he got caught up in some trouble that lost him his spot on the roster.
On top of it all, Ceasar's father passed away from cancer soon after. He was close to his father, who was the first person to put the ball in his hands at five years old. All of this happening in the span of a couple months took a toll on his mental health.
"Last year I was kind of in a state of depression and I kind of took the wrong approach to it," Ceasar said. "I just kept everything in and stayed to myself a lot and it really kind of messed me up a little bit. Now it's been a year since it happened, I'm just finding different ways to cope with it."
Ceasar, originally from Detroit, is now much closer to his family, which has been a positive factor in his healing.
"Being back at home, it just feels good to be close to my family, close to everybody," Ceasar said. "Just not being so far away and being able to just take a drive and go back home when I want to, it just makes it better. My relationship with my mom has been great, talking to her every single day, she's always keeping me level-headed, keeping me on the right path."
Ceasar felt the acceptance of the group when he entered winter conditioning in January and easily found his place. After what he went through mentally, he's made a bigger effort to check up on his teammates who supported him from the beginning.
"I feel like often times as men, as older men, we oftentimes don't know how to say what we're feeling or some people may think it's soft," Ceasar said. "I just feel like some people don't go about it the right way, and they don't open up to people like they should.
"Since that situation happened to me, I just find time to reach out to all my friends, family, things like that, even if there's not something going on in their lives. Just to make sure I check up on them, make sure they're good because you never know what somebody's going through."
Ceasar has had a standout season with the Bulldogs with six interceptions. He also has seven broken up passes this season, with 31 tackles and a sack on top of that. His performance earned him GLIAC Defensive Back of the Year. Looking back to last October when he was fresh out of surgery, Ceasar couldn't have imagined a comeback this big.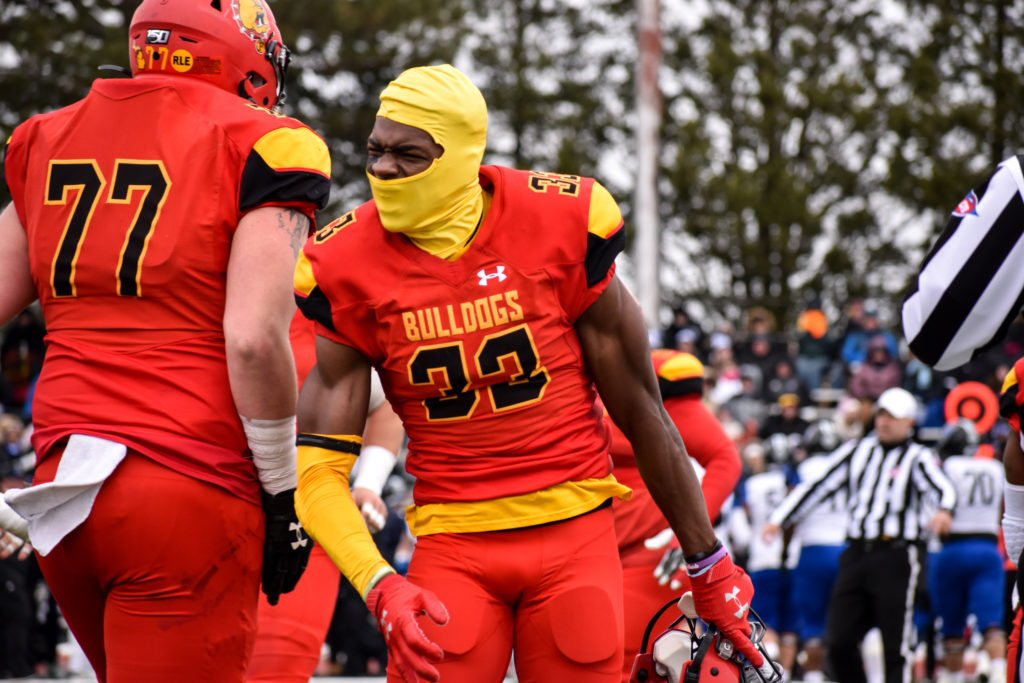 "I knew I was going to come back, but I didn't know I was going to come back like this and I'm just so thankful," Ceasar said. "When I came here in the spring, it was tough, just trying to get acclimated to getting back lifting, back running, doing all those things. But it was a process that I just took on and made the best of it."
Annese had nothing but praise for Ceasar, who he sees as a player who approaches the game the right way. He said he loves the energy Ceasar brings on the field, though sometimes he worries that he celebrates a little too hard. But it comes from a place of truly appreciating a win, transferring from a program that did not win much.
"I love it, but I worry sometimes he gets so emotional that he might draw a celebration penalty every time he does something right," Annese said. "There's certain things about being here that our guys that have been here three, four, five years, take for granted. But the new guys, like him? He's like, this is the greatest thing in the world."
AT: the X factor
Alex Thomas — known by the nickname AT — came out of Lauderdale Lakes, Florida, and was originally on the roster of the Division I Cincinnati Bearcats. He played nine games in 2015, recording 23 tackles. In July 2017, he was arrested for his alleged involvement in a drug robbery. He was eventually sentenced to two years in prison and subsequently lost his spot on the Bearcats roster.
"It was one of those situations where I was at the wrong place at the wrong time and I kind of had to use it to learn from it and take it in the best way possible and use it as a chip on my shoulder," Thomas said. "I feel like what I went through, me going to prison, just kind of showed me the importance of life and the essence of overcoming adversity and getting back to doing what you love to do."
Two years is a long time, but Thomas used it to his advantage, reading books, working out and becoming stronger mentally. It was an eye-opener for him, as a kid who rarely was in trouble.
When he arrived at Ferris a week late for fall camp, he felt the same acceptance Ceasar and McCauley did and it's something he loves about his team.
"I felt like everybody accepted me and allowed me to be me and they accepted the situation I came out of and they didn't judge me for it. And that's one thing that I love about the team," Thomas said. "Because I was able to come and actually get a fresh start and don't have to worry about people thinking I do this and do that."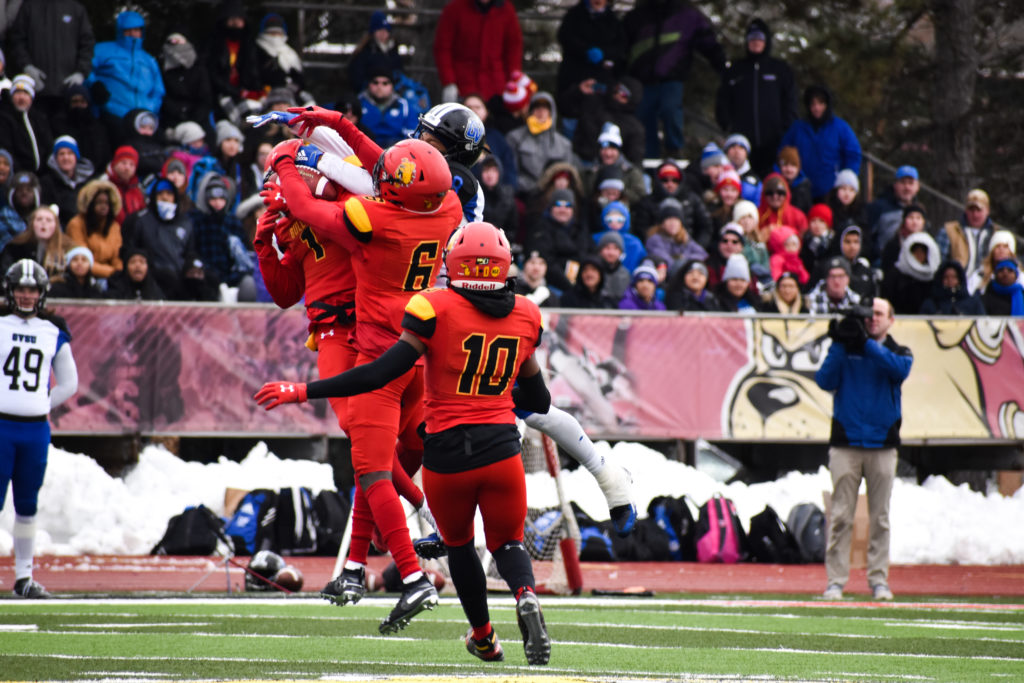 Annese's personal philosophy toward his team is to help them be the most successful men they can be. He cited his nine years at Muskegon High School for teaching him the importance of being committed to helping every player, not just the "elite student-athlete."
"In our society … a lot of times we just condemn," Annese said. "We're fast to say, 'He did this so therefore he has this punishment,' and then sometimes it's like we're fast to condemn and not give them an opportunity to even prove that they're worthy. Everybody's worth loving and we just believe in finding the good in everybody."
Thomas has flourished in the culture of acceptance led by Annese, and quickly became an impact player for the Bulldogs. He's right behind Ceasar in interceptions with five and has seven broken up passes and 23 tackles this season, which earned him All-GLIAC Honorable Mention.
Through every player's own set of challenges, they found their way to Ferris and were able to come together in a way that was unexpected. But their ability to overcome adversity became their greatest uniting factor and it has led to one of the most successful groups of defensive backs in Ferris history.