With the 25-3 win over Northwest Missouri State, Ferris is now the champion of Super Region 3 and advances to its third national semifinal in the last four years.
"It's beyond my comprehension how gritty they are. It's unbelievable to me," Ferris head coach Tony Annese said. "They might believe more than me, and I believe I can do just about anything, but these guys are just unbelievable."
Annese was in awe of his team's efforts in the Super Region 3 Final on Saturday, Dec. 7. In a game that only saw two touchdowns, it was a defensive battle from the kickoff. The halftime score was 3-0, with senior kicker Jackson Dieterle, who went 3-3 in field goals, scoring Ferris' lone points of the half.
"Whatever the strongest wall in this structure is, you might as well just run into that and that's what you're running into against Northwest Missouri State's D-line," Annese said. "They were just big and physical. We knew that's what we were facing but we weren't just going to give in, we had to try to run the ball. We were able to do what we needed to do."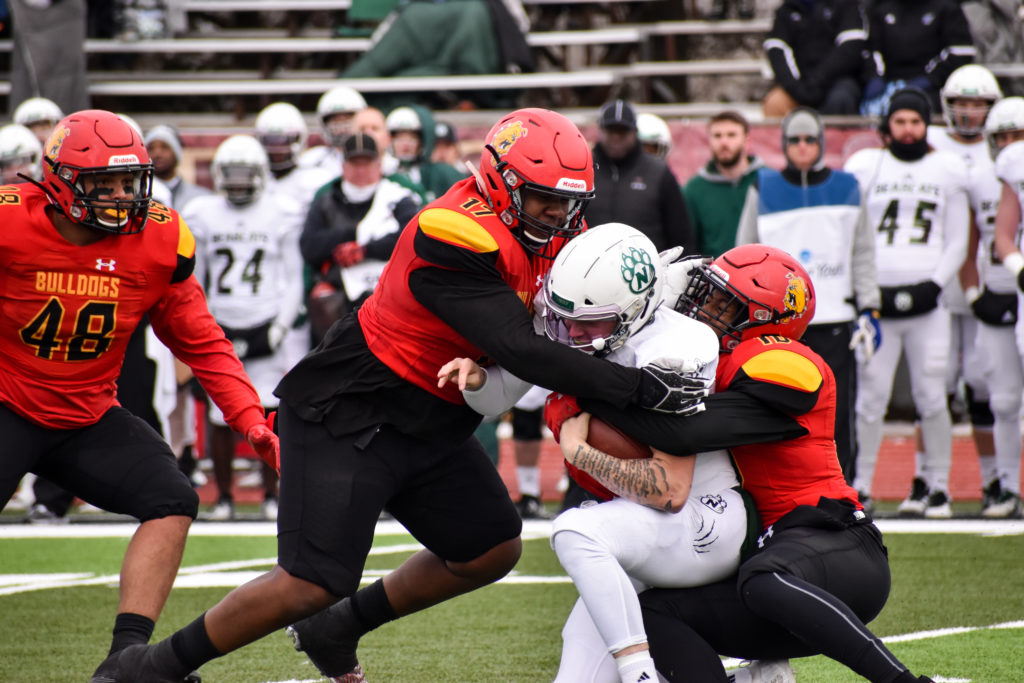 Junior running back Marvin Campbell still found success on the ground, however, and rushed for 149 yards on 27 carries and a touchdown that secured the win with 1:26 left in the game.
The team was led by senior quarterback Travis Russell, who threw 13-of-24 for 264 yards and a touchdown on the ground. Despite saying he wanted to play sophomore Evan Cummins more, Annese only sent Cummins onto the field a few times. He said it was because Russell often "trumps" his calls, wanting to take on the majority of snaps himself.
"Any time I say Evan, he goes 'No, coach, let me do it,'" Annese said. "I don't really argue with him much, so if he says he wants to do the running, he's going to do the running. So a couple times I tried to put Evan in the game and Travis said 'Nah, let me do it.' Probably he should have played a little more than he did, but we'll save him for next week. We get a next week, so."
The Bulldogs played their first full game without All-GLIAC First Team wide receiver Sy Barnett, who had surgery earlier this week to repair his fibula. However, Barnett's presence was still on the field with sophomore wide receiver Xavier Wade wearing his No. 16 jersey. Wade made four catches for 91 yards, including a 41-yard pass on Ferris' touchdown drive to start the second half.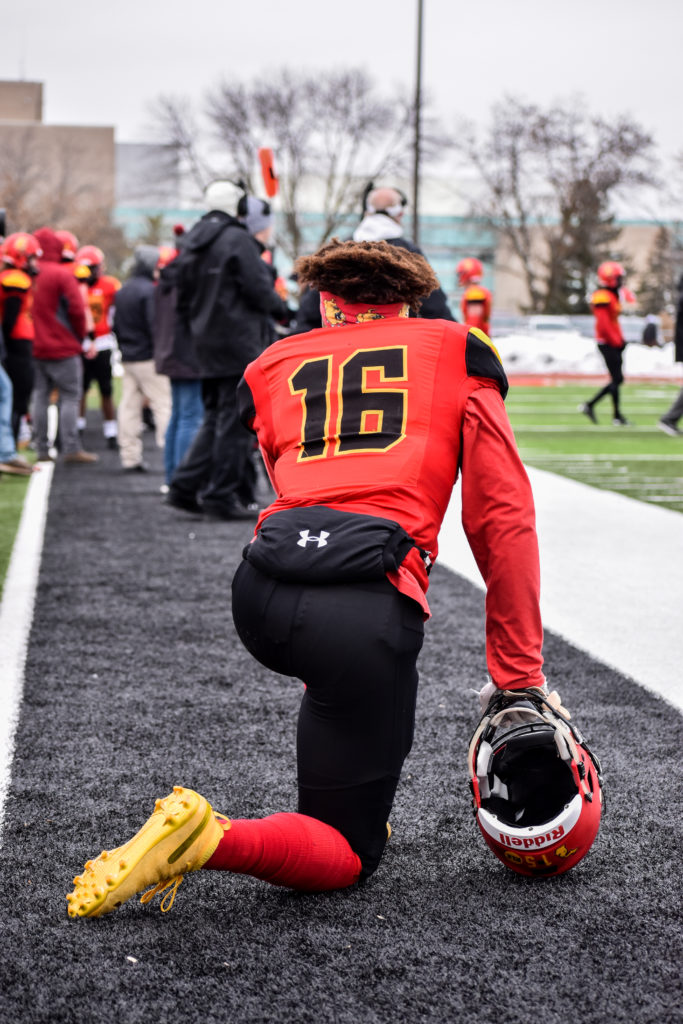 Russell, a fifth-year senior, jokingly told his underclassmen receivers he felt like their grandfather because of the age difference. But their youth did not show, with redshirt freshman CJ Jefferson making four catches for 75 yards to go with Wade's performance.
"I feel like their grandpa playing catch with them," Russell said. "I'm done with college, this is my fifth year and both of them are like 19 years old, second year guys, but you look at the way they play today and they're the best part of our offense, they were dynamite.
"We love Sy, we'd love to have him out there today, but CJ stepped up and played great today just like he did last week. The expectations are still the same, you don't let your guard down just because one of your best players isn't out there. So, really, really proud of the way my grandsons played out there today and looking forward to another week with them."
In the battle of the top two defenses in the nation, Annese called his defense "purely dominant" and it showed. Northwest struggled to create any form of offense or momentum, only gaining 158 yards of total offense, six first downs and converted on only 3-of-16 third downs. Ferris was not without its offensive struggles, either, despite their 465 yards of offense. Reaching the red-zone six times, Ferris was forced to kick a field goal on three chances and turned the ball over on downs at the 1-yard line to end the first half.
Northwest Missouri State head coach Rich Wright called the matchup a "defensive fist fight" that they never established consistency on offense in.
"There were just plays that could have been made out there that we didn't make and sometimes when an offense gets its confidence shook, it kind of spins and we could never get that explosive play or big play," Wright said. "We were close a couple times but it just didn't come to fruition and when you're playing against a quality defense like theirs, you better seize your opportunities because there's not going to be a lot of them."
Ferris was without GLIAC Defensive Back of the Year James Ceasar, who is still nursing a sprained ankle from last weekend. But junior defensive back Sidney McCloud stepped in without missing a beat, collecting the team's only interception of the day and one of the two fumble recoveries.
Senior defensive end Austin Edwards—who won the Gene Upshaw Award for Division II lineman of the year—made big plays at the right times for the Bulldogs, with a sack and his first career safety late in the fourth quarter.
"Every time we take the field, we take it, you don't want this to be your last game and that's always in our head," Edwards said. "So every play we do it for ourselves, for our teammates, do it for coach and it's all love. Every play that's what we play with."
The Ferris defense has only let up an average of 6.6 points per game in playoffs, a stat that Edwards was a little bit in awe of himself.
"That's awesome, that's everything we work for," Edwards said. "It's every day of every grind and it just shows how much depth we have. We had so many people come in and out, and you don't see a change of play or change of pace, no matter who's in the game."
Ferris was awarded the No. 1 seed going into the semifinals and will face No. 4 West Florida at home on Saturday, Dec. 14. Minnesota State and Slippery Rock make up the rest of the Final Four at No. 3 and No. 2, respectively, and will play in Slippery Rock, Pennsylvania.