After being out for over a month with an elbow injury, junior forward Marshall Moise went on a tear this weekend for the Bulldogs. He scored four goals against Alabama-Huntsville between Friday and Saturday, propelling the team to a 3-1 win on Saturday, Dec. 14 and four points overall on the weekend.
With 12 penalties throughout the game, Ferris scored in every situation: shorthanded, on a power play and even strength. But their special teams' penalty kills were the deciding factor in the matchup, and they kept the Chargers from capitalizing on any of their seven power plays.
"The penalty kill was really spot on," Daniels said. "Coach Kaufman deserves the credit for that because he does all the work with the penalty kill units and he's done an outstanding job. But even you look at that last one, we're shorthanded with a minute and a half to go in the game and it was a great penalty kill right there, six on four, guys dug in and did a good job."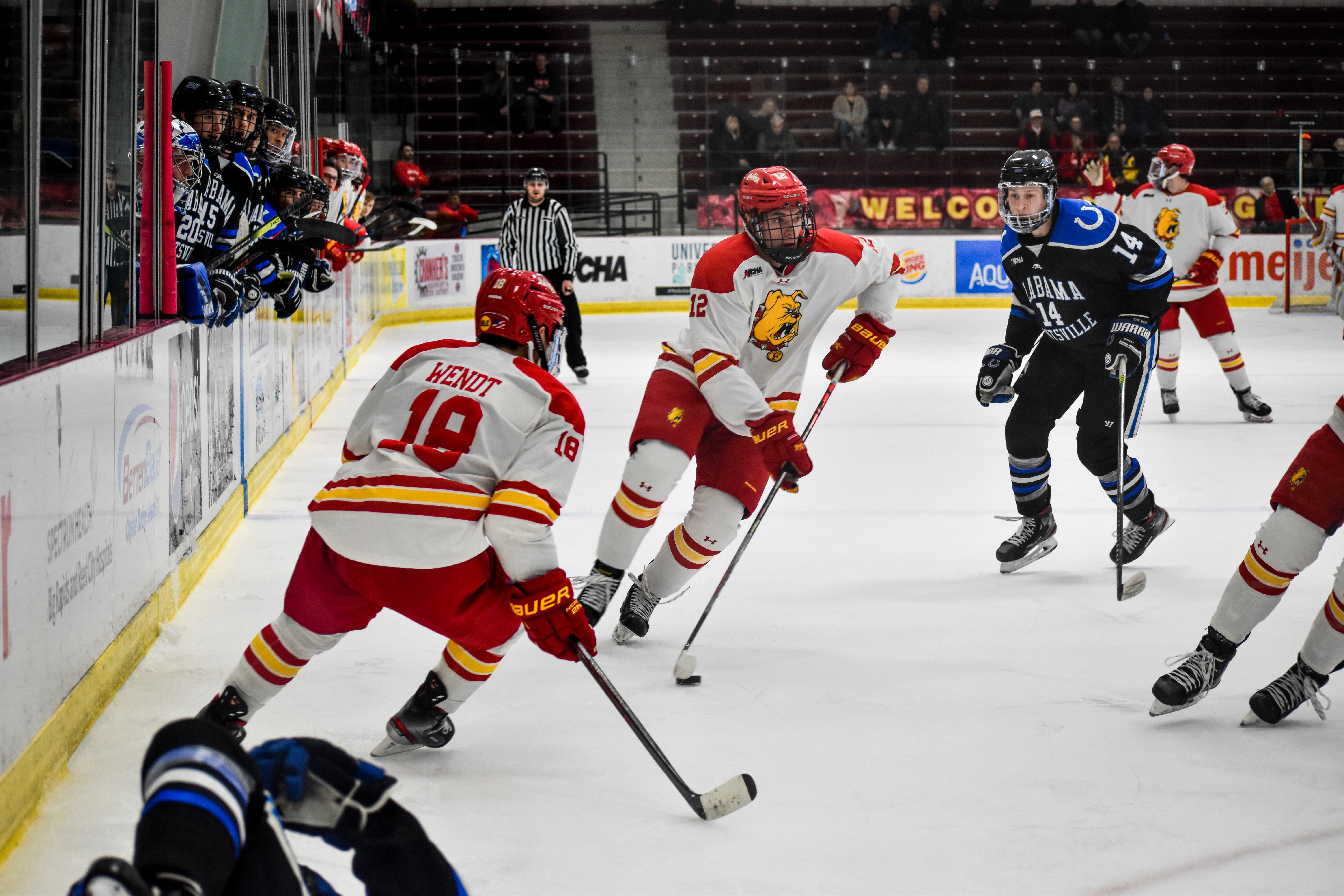 The team stepped up defensively, only allowing 22 shots and totaling eight blocked shots by defenders, giving senior goaltender Austin Shaw a bit of help, who had 21 saves and an assist on the empty netter at the end of the game.
"You have no idea how helpful that can be when a team has a great opportunity against you and someone steps up puts their body on the line like that," Shaw said. "I think as an entire defensive unit the team's really come together and it's good to have confidence in the guys like that."
Sophomore forward Ethan Stewart made his season debut after missing the first portion of the season due to a family matter. Stewart's physical play led to two penalties, however Daniels did not necessarily agree with the calls.
"I was excited to see him get out and play and I thought he contributed in the way Ethan Stewart is going to contribute," Daniels said. "He was a physical presence out there, he was strong on pucks, he did take two penalties. Obviously I'm a partisan supporter, but I kind of question the calls. I wouldn't necessarily classify those as poor penalties, I felt those were ones that maybe the official could have looked beyond."
Ferris has climbed the WCHA standings with the points and is tied for seventh with Lake Superior State University at 14 points apiece. They've put themselves in a good position after a rough start to the season at 5-9-1 going into the weekend series. However, they've got a tough couple weekends of WCHA matchups after the Great Lakes Invitational and will play the two top teams in the conference: Minnesota State and Bemidji State.
"They're going to be tough ones, too. When we get back, we obviously play in the GLI, that's a fun tournament. Obviously, we want to win that," Ferris head hockey coach Bob Daniels said. "But then once we get right back into conference play it's two at Bemidji, two at home against Minnesota State, it's vital that we take points those weekends. The first thing is to try to solidify a playoff spot, the second thing is can we start setting our sights on home ice."
The Bulldogs are on a four-game unbeaten streak and have picked up points in the last four games, and it appears they are trending in the right direction to Daniels.
With Minnesota State sitting at the top of the conference with 30 points and Bemidji State right behind them with 25, the Bulldogs will have to keep trending upwards take away some points from those teams and start climbing the standings. Coming away with no points either weekend will make securing a playoff spot that much harder.
"I think we can do something special," Moise said. "Especially once everybody gets healthy. So everyone stays healthy I think we can really do some damage here. We play some pretty good teams in our conference, but like coach said I think we've got to win some games to stay in the playoffs and I think we can pull away with some home ice, too."
But the Bulldogs will compete in the GLI first on Dec. 30 and 31. The three other teams this year are Michigan Technological University, University of Michigan and Michigan State University. In Daniels' eyes, the trophy is up for grabs.
"In these four-team weekend tournaments, where it's one-game elimination basically, it's anybody's to be had. You look at all the teams going into it, I think I like our chances as well as anybody else's. It would be a big thing for us to win it."
Besides the significance of the win for the team, Daniels said for him it would personally be a meaningful tournament to win. His father was the penalty timekeeper for the Red Wings and so Daniels grew up watching the GLI in Joe Louis Arena.
"Not to make things about me, but I'm going to," Daniels says, chuckling. "I grew up watching that tournament…and as a young kid, I remember going to those games. To me, it would be a big thing to win that tournament."
Ferris' first game in the GLI is against the University of Michigan 4 p.m. Monday, Dec. 30 in Little Caesar's Arena.