In a weekend series against bottom ranked Alabama-Huntsville—who only had one win through 16 games—the Bulldogs had an opportunity to pick up some desperately needed wins. But early mistakes in the game cost them and they ended Friday's game with a 2-2 tie.
Turnovers plagued the Bulldogs early on and with a five-minute major penalty on sophomore forward Hunter Wendt that got him ejected, they gave up two goals in the first period. Ferris head coach Bob Daniels wasn't pleased with the way his team started the game, especially the checking from behind that led to the ejection.
"Disappointed with how we started the game, we turned a lot of pucks over," Daniels said. "We started the first with a number of turnovers and the five-minute major… Five-minute majors, we can't—and that's in the offensive zone, 180 feet from our net, we don't need that."
The Bulldogs got three forwards back from injuries Friday: freshman Dallas Tulik, senior Jason Tackett and junior Marshall Moise. However, junior forward Lucas Finner is still injured and junior forward Coale Norris suffered a shoulder injury in practice and will be out for up to three weeks. The goal was to limit Tulik, Tackett and Moise's time a bit, but the five-minute penalty kill and ejection shortened Daniels' bench.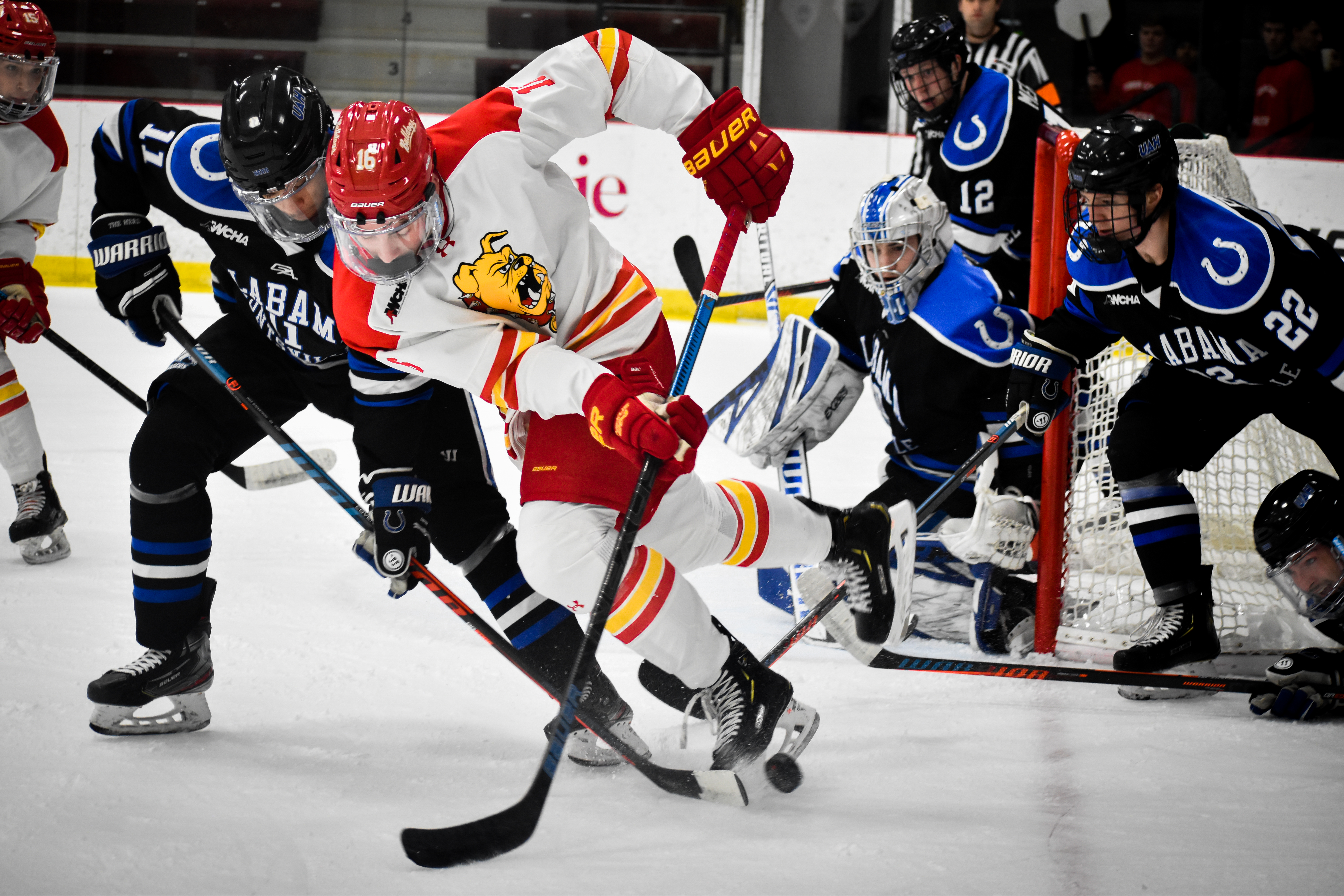 "We were parachuting three forwards that have been injured for quite some time, over a month for all of them, so we wanted to try to limit their time," Daniels said. "But when you take a five-minute major you've got to kill and now you've got a short bench, we had to over play those guys."
After going down 2-0 in the first period, Ferris took their time getting started on offense, not finding the back of the net until the last 35 seconds of the second period. Moise made a significant impact in his first game back, netting both of Ferris' goals, the other scored late in the third to tie up the game.
"It was good to have him back and they were two nice goals, both of those goals were good and what I liked about the goals, if you look at the first one, I don't want to overlook Dominic Lutz on that goal," Daniels said. "He won the faceoff, puck gets back, Kallen does a good job of getting the puck on goal, Lutz dug it out and did a nice center pass to Marshall who banged it home. The other one was just a good job by Marshall, hanging around the front of the net, that's where you score."
There was a distinct turnaround defensively between the first and the second period, and it showed statistically. The Chargers had 10 shots on net in the first and were held to only five in the second period, while Ferris was able to get off 18 shots in the second.
Senior defenseman Nate Kallen felt the defense was a little soft in the first period and did not do their jobs well enough, which led to goals they all wish they could have back.
"I think it was that we just have to stay true to our roots and do our job in the d-zone," Kallen said. "I think that we really stepped up after that first because we knew what was at stake and we've been a good team this year with coming back from deficits.
Senior goaltender Austin Shaw got the start and had 23 saves on the night, one of them a big breakaway save with only minutes left in the game. The save gave Ferris a chance to go into overtime and win.
"I tend to forget and I think fans do, too, the save Austin makes in the third on that breakaway, that's a big time save," Daniels said. "It was huge at that moment. I thought he played very well. I would say that his game maybe mirrored our team's a little bit, where in the first I thought maybe just a bit shaky. But overall, boy, you play 65 minutes and you only give up two? That's pretty good."
After tying the game at 2, the game went to overtime. But the stalemate was not broken in the first overtime period of 5-on-5 play and the game will be recorded as a tie. However, the Chargers put one in the net in the second overtime period of 3-on-3 play to get the extra point.
The tie brings Ferris' overall record to 5-9-2 and Alabama-Huntsville's to 1-13-3. The point gained in the contest brings Ferris to 11 points in the WCHA and elevates them to a tie for seventh in the conference with Lake Superior State University.
"For us, the things we need to key in are really the things we keyed in on tonight, it's good puck management," Daniels said. "I think we could be, in the offensive zone, we could be a little more abrasive, maybe try to will our way to the net a little bit for some better opportunities. But you can't get away from the fundamentals of making sure we make good, strong plays with the puck, we don't have turnovers that lead to easy chances back on our end and obviously we've got to stay out of the box.