With Michigan's two top point scorers this season out, the Bulldogs had an opportunity on Monday, Dec. 30 to win their first game of the Great Lakes Invitational as the underdog. But they failed to capitalize early on and fell 4-1 to the Wolverines.
Though the Bulldogs have faced struggles of their own this season at 6-9-2, they faced a less than impressive Michigan team sitting at 6-10-2, and with top producers Cam York and Johnny Beecher out, it was anyone's game. But the game did not start out well, with the Bulldogs looking tentative on the ice the first ten minutes, the Wolverines scored on their first of three power plays on the day.
After killing off nine power plays in their last series, the Bulldogs gave up a goal on their first against Michigan. Ferris head coach Bob Daniels said there was a mix on a rotation that led to the goal.
"I'd have to see film on why he did, sometimes you get caught somewhere, you never know why he wasn't in that spot," Daniels said. "But I do that the rotation was fine with my defensemen, and then we should have had a forward covering in that spot. I'm not even sure who it was, I just know somebody missed a rotation in coverage."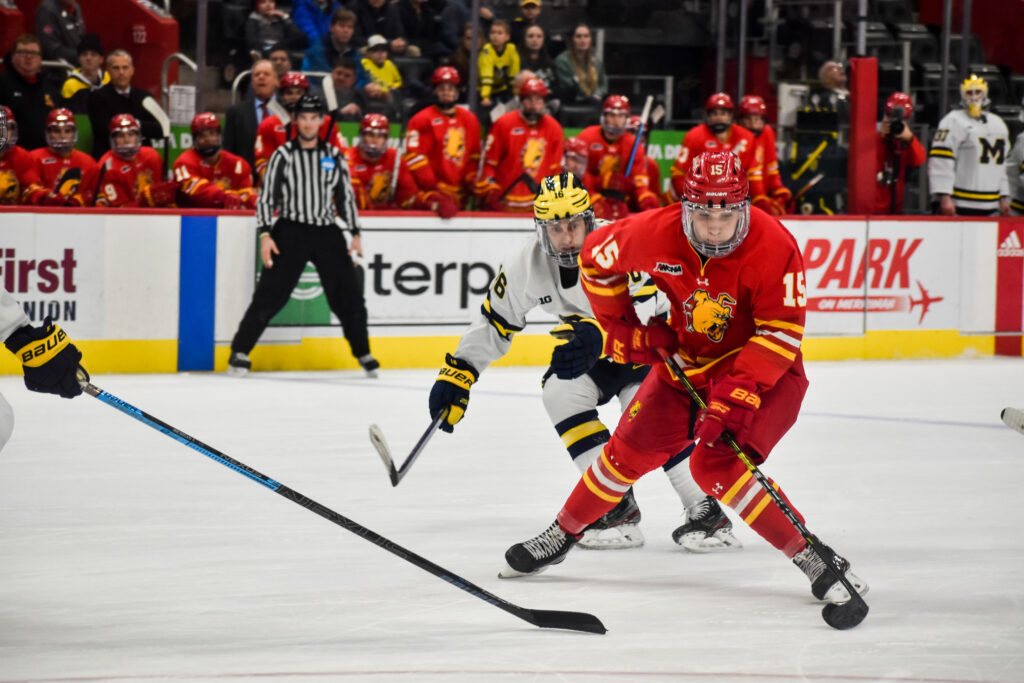 The Bulldogs—whether they were shaking off the three-week break or just caught up in the bright lights at Little Caesar's Arena—looked jittery the first ten minutes on the ice, and even Daniels admitted they took time to settle in. Daniels believed their puck management was good with the exception of those first ten minutes it took to get into the game.
"I did think it took us about ten minutes to settle into the game. Once we did, I thought we did fine," Daniels said. "I thought we coughed a few up, not poor decision making with the puck as much as we kind of beat the puck up a little bit and lost control of it. I thought a couple times, too, in the first we had a hard time, got the puck up near the blue line or one of our wingers would get it and we had a hard time clearing our zone.
"All in all, not really disappointed in the effort, not disappointed in the play, just disappointed in the outcome."
The offense was not without some quality chances, however. Between a couple breakaways and all-out gritty play to get good shots off, Ferris created some offensive opportunities, but just could not find the back of the net until late in the game.
Freshman forward Brendan MacLaren scored his second of the season late in the third period, assisted by junior forward Marshall Moise. Besides that, the stat sheet was sparse against the Wolverines, only a few shots per player throughout the lineup. Ferris is still missing junior forwards Lucas Finner and Coale Norris to injuries.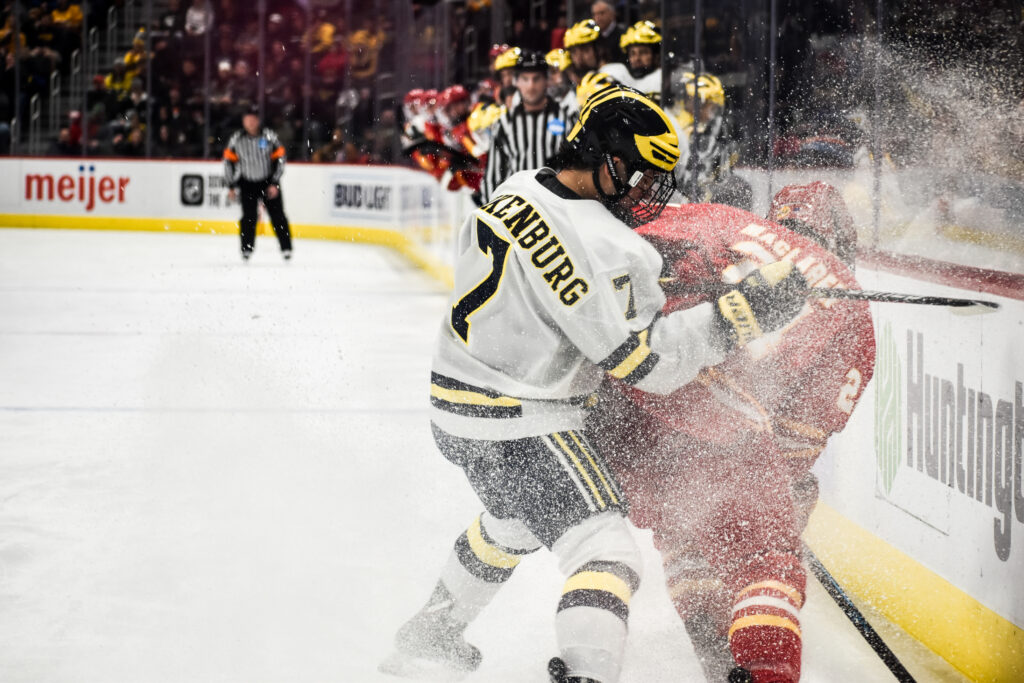 The Bulldogs, who were outshot by Michigan 33-23, failed to capitalize on the few chances they had early on and it's what hurt them in the end in Daniels' eyes.
"We had a couple breakaways I believe it was in the first period and then some good looks," Daniels said. "Marshall Moise had a really good look on the power play and so did Jason Tackett, and with chances being that difficult to come by, we really needed to capitalize early on one of those opportunities. I thought it was a pretty even game, could have gone either way, we just needed to capitalize early on in our chances."
Michigan's sophomore goaltender Strauss Mann was the difference in the game for the Wolverines with 22 saves, a few on breakaways early on.
"I thought Strauss did a real nice job of keeping us in the game," Michigan head coach Mel Pearson said. "We had a couple real bad line changes there in the first period and he stopped those breakaways. Really, that's the difference in the game, he gave us a chance to get settled down a little bit and play better."
With two goals in the last two minutes of the game, the Wolverine win was not as lopsided as the score shows. The Bulldogs carried most of the momentum in the second period, only down a goal until 14:22, when Michigan senior forward Jake Slaker netted his second of the game on a breakaway. The last two Michigan goals came in the last two minutes of the game, one an empty-netter.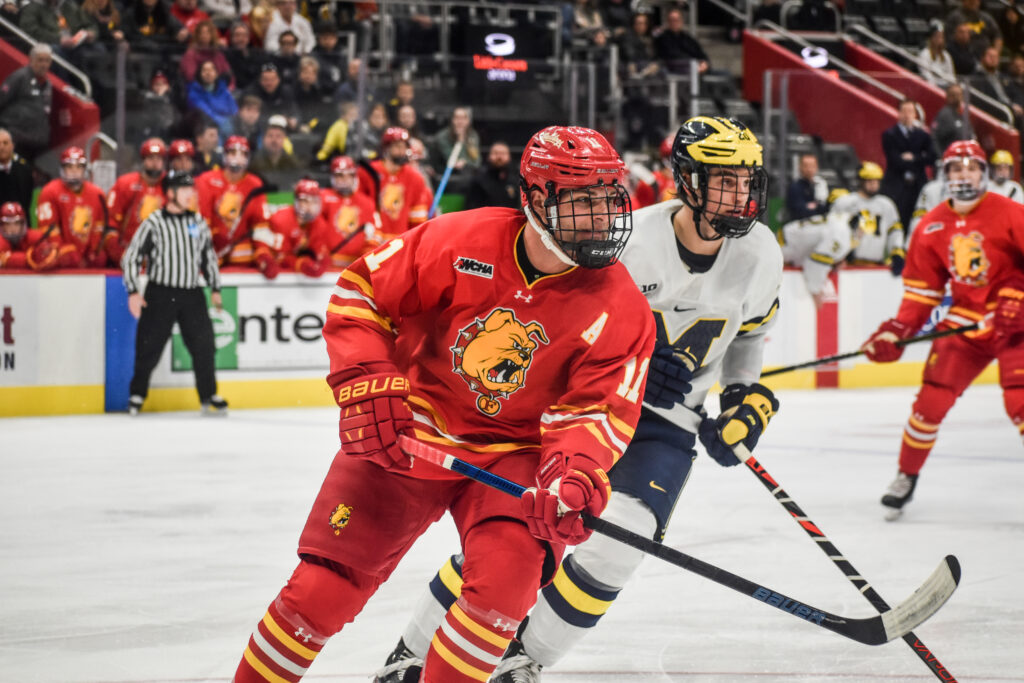 Pearson was not satisfied with his team's play, commenting it was evident that they hadn't played a game since Dec. 7.
"I thought we were real sluggish tonight against a gritty team that doesn't give you much," Pearson said. "So there wasn't a lot of time and space and we couldn't use our speed as well as we would have liked tonight. But I give Ferris a lot of credit, they play hard, they don't give up much, they don't give you any outnumbered rushes, so you're going to have to get it in and go get it and grind it out."
Ferris now has a short turnaround with the consolation game at 11:30 a.m. Tuesday, Dec. 31. They will face the Michigan State Spartans, who lost in the first game of the day to Michigan Tech 4-2.
"It's going to be hard to put this one behind us so quickly and turn around and play," Daniels said. "But any game right now is important still. It's such a quick turnaround and it's hard—no one's excited early on to play in a consolation game. There's no one that's happy about that. But there's two nets and a scoreboard, so that game matters."