After Michigan State's underwhelming performance yesterday, the Bulldogs found out why the Spartans are ranked at No. 18 in the Great Lakes Invitational consolation game. In the 5-2 loss, MSU outshot Ferris 36-24 and dominated face-offs, winning 34 of 54.
Ferris head coach Bob Daniels said while it was not an excuse, the quick turnaround from the game last night that ended around 7 p.m. to the 11:30 a.m. puck drop on Tuesday, Dec. 31 affected the team's energy.
"I just couldn't feel a lot of energy," Daniels said. "I felt like we were chasing the game the entire time. I am happy with the effort that we saw in the second and third, coming out of the first down three. We really needed a lot of things to go right for us early and if that would have occurred, maybe we could have found enough energy to push it home. But once we fell behind early, it was just a tough battle trying to come back from the deficit with the fact that we just didn't have a ton of energy out there."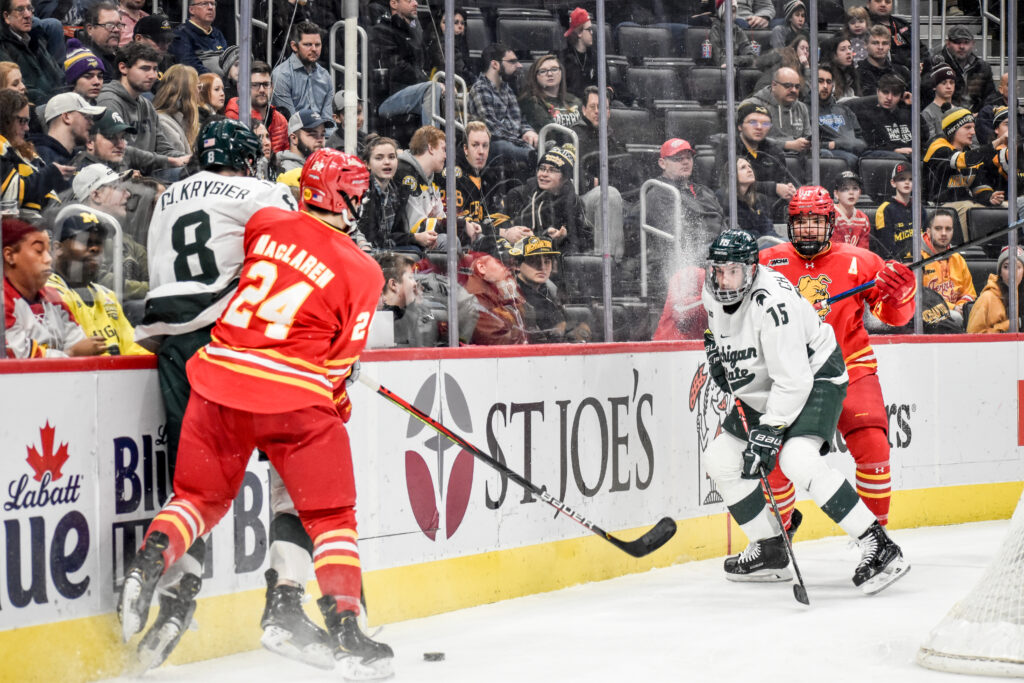 Michigan State head coach Danton Cole acknowledged the quick turnaround as well, likening the GLI to the Frozen Four, where the team who plays first has an advantage. The Spartans getting the first match of the day yesterday contributed to their energy levels this morning in his eyes.
"There's a couple hours of rest in there and, believe it or not, that's huge," Cole said.
The Spartans came out strong in the first period, controlling the majority of play with 17 shots to Ferris' 9. It was a 3-0 game after the first, one of the goals coming off a poor decision by sophomore goaltender Roni Salmenkangas, who hasn't seen action in a game since Nov. 9.
After stopping the puck behind his net, Salmenkangas attempted to come around the front and pass it across. However, Michigan State's Tommy Miller was right in front of the net and deflected it in for a shorthanded goal.
Daniels said the goal was one he'd never really seen before and you just have to laugh at it a little.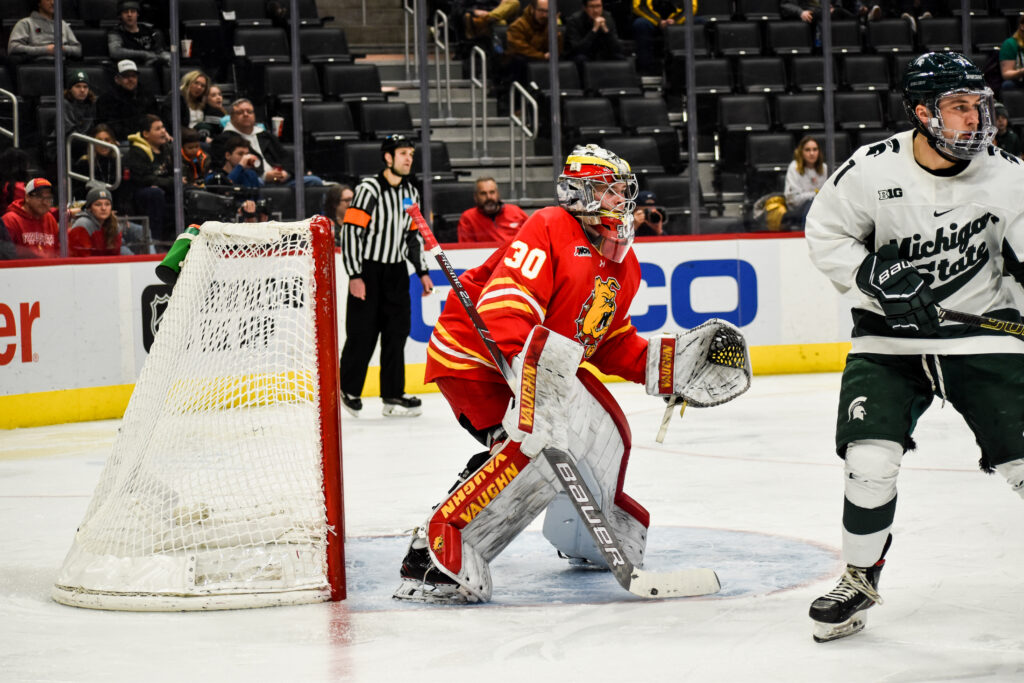 "That's probably one he'd like to have back, I don't know that I've ever seen that happen," Daniels said. "I really felt for him, actually. The crowd kind of gave it to him a little bit, too, which was humorous but I liked the fact that he battled back. Overall, I thought he was pretty good, but that was a tough goal for him for sure. But at that point you've got to laugh at it a little bit, I'm sure he's never done that before and he'll probably never do it again."
Though Daniels contemplated taking Salmenkangas out after the first and again after the second period, he wanted him to tough it out and get minutes after not playing for nearly two months.
The Bulldogs have gone two games in a row now against quality opponents getting left behind in the dust in the shot count. Although a couple of the goals more than likely should not have happened, Ferris can't get outshot by 10 or more and expect to win against teams like Michigan and Michigan State.
Fifteen minutes into the second period, sophomore forward Jake Transit gave Ferris a bit of hope with his fourth goal of the season. However, Michigan State quickly answered a few minutes later with their fifth goal of the day. Ferris' second goal came from senior defenseman and captain Nate Kallen.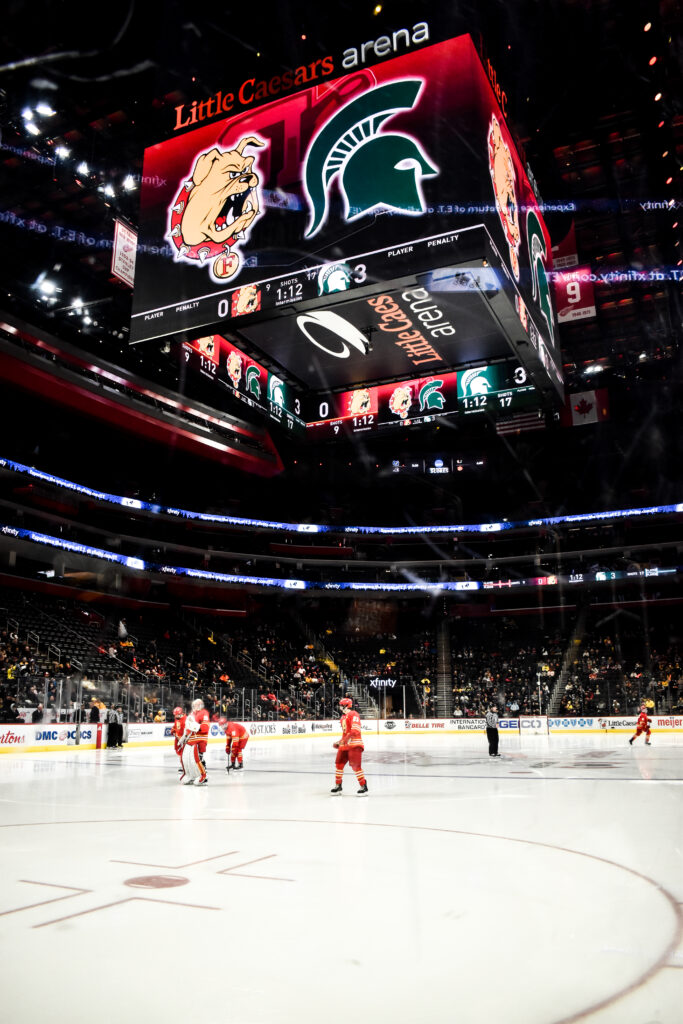 It was his 20th career goal, the most any defenseman has scored for Ferris this decade, but Kallen pointed to his teammates for his offensive success.
"I think that it's really the team that gives me the opportunity to score," he said. "Today, Tackett made a great play, he had the opportunity to shoot, and he picked his head up and made a great pass to me and I just happened to bury it. I think that goes for a lot if the goals I score, just happens to be the right time, right place and they just go in sometimes."
Though Kallen also said the lack of rest contributed to the team's slow start, the adjustment to the Spartan's style of play was another factor in the 17 shots let up in the first period.
"[MSU] controls the puck really well and we're not really used to that because a lot of the teams in our conference, it's dump and chase, and it's a lot of battles and forecheck hard," Kallen said. "It took a little getting used to, they had a really possessive game in our D-zone and I think by the end of the game we played well against it. So I think the beginning we were just getting used to it."
Cole was pleased with his team's effort in the first period, given that their first goal did not come until their 14th shot of the period. Their ability to stick with the plan and not resort to taking chances that weren't there eventually led to three goals in the last six minutes of the first.
"I really liked that start and I was glad that, it's a mature way to see a team play where this is the way we play, whether their team scores or we score, we've got a way that we're playing and you stick with that and it works in the long run," Cole said.
MSU had five different players score, three of them defensemen, and their offensive efforts were too much for Ferris in the end.
The Bulldogs face another quick turnaround with a trip to Bemidji State for a WCHA weekend series. The Beavers are currently No. 2 in the conference with a 8-3-1 record in WCHA play. The weekend after that, Ferris will take on No. 1 in the WCHA Minnesota State at home.
In their second ever appearance in the GLI, the Bulldogs couldn't bring home a win and their record in the tournament overall falls to 0-4. If anything, the GLI gave Ferris some preparation for the tough stretch of games ahead of them.
"Our second half is very challenging, but I think this tournament does a good job preparing us," Daniels said. "We did play two very good opponents and I think it's going to help us and it certainly beats practicing and I think the guys would attest to that. But we're hitting the ground running in the second half."