It's been 11 weeks since Ferris hockey has been full strength.
It'll be at least another week before they close in on returning to a full lineup after head hockey coach Bob Daniels confirmed neither of his junior forwards who are injured—Lucas Finner and Coale Norris—will play this weekend against No. 3 nationally ranked Minnesota State.
It only took four games for the Bulldogs to lose one of their top performers in Finner and one game later, they lost another junior forward and top performer—Marshall Moise—for nearly a month. Then, at the end of November, when Moise and a few others made their comeback, Ferris lost another top producer in Norris, who ended last season with 20 points.
While Moise's injury was in a game, Norris and Finner were injured in practices. Finner's fractured leg has kept him out for 11 weeks after leading the team with three goals through their first three games. Norris' shoulder injury has kept him out of games since the team's tie at Alaska Anchorage on Saturday, Nov. 30.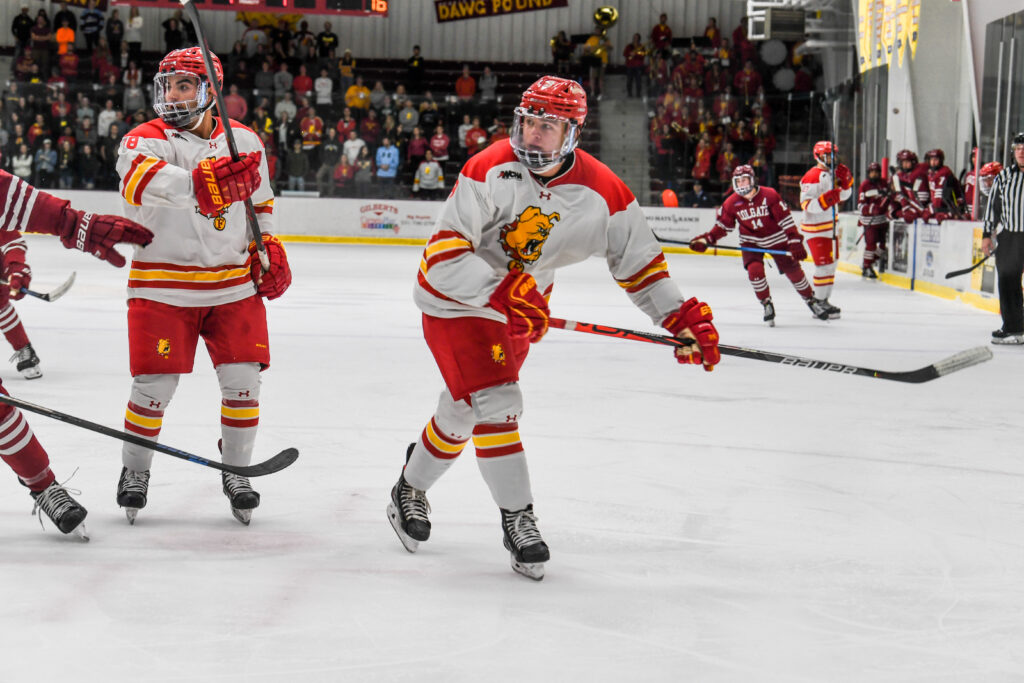 According to Daniels and a few players, both the injuries were fluke incidents. Finner ended up going into the boards and someone fell awkwardly on him and Norris seemed to have lost his footing and slid into the boards.
"Those type of injuries are almost unavoidable, it's just going to happen when we play the sport we do," senior defenseman Cameron Clarke, said. "I don't think there was anything we could have done to prevent that."
The contact and hits were more intense in practice before both Finner and Norris were lost to injuries, but Daniels said that was more due to the conditioning needed in the first half of the season.
"More often you're going to lose them in the first half of the year, in preseason where you've got to get that contact in practice," Daniels said. "When we hit the second half now, we start really throttling back. You have to have the contact because no matter how much you train, it's such a different thing when you're wrestling around out there for a puck and it's a whole different type of conditioning."
There hasn't been a season in recent memory for Daniels where he had two important players get taken out in practice, but he's thankful that he's never had life-threatening injuries in practice.
"I've often wondered, are we prepared if something like that were to happen?" Daniels questioned. "Brady, we're lucky to have him, he's a really good trainer, really good. He's seen a lot, I don't think he would panic. I would panic. If there was a lot of blood, I might—I don't handle that well, I suck when it comes to that."
But the question is: can major injuries truly be avoided in practice?
For many sports, it's simpler to cut out most of the contact to avoid these types of injuries. However, given the nature of hockey and the incredibly fast pace of the game, keeping contact out of practice is nearly impossible.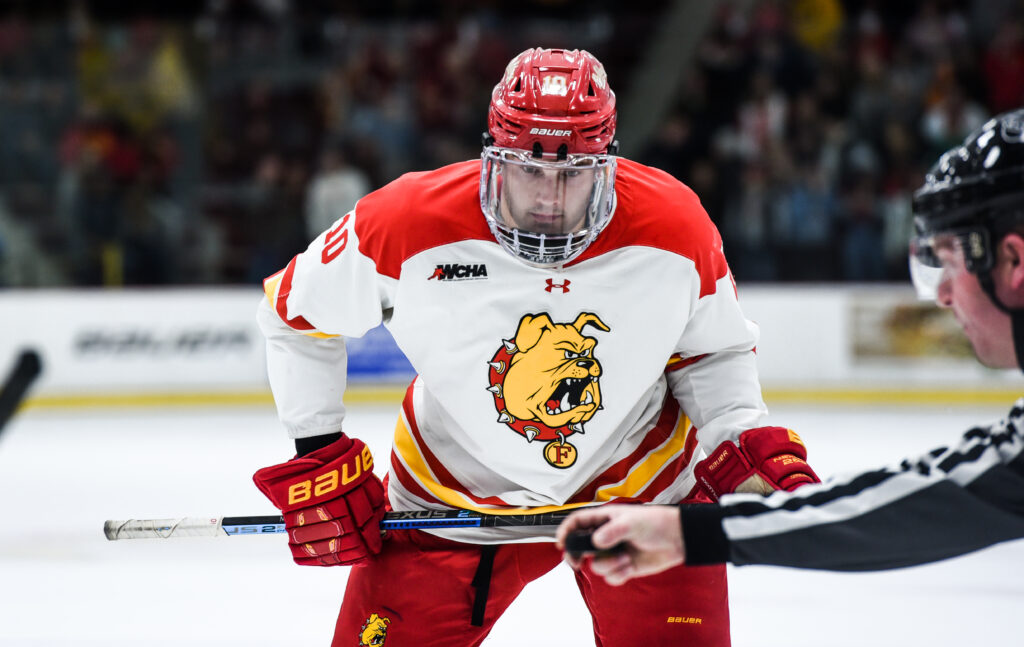 Obviously, there's a line that isn't crossed in practice. Senior defenseman Nate Kallen said after playing as long as they have, they can recognize the hits to be made in practice and the hits to be made in a game.
"In a game, I'm definitely going to try to run people through the glass every single time I can, but not in practice," Kallen said.
But even taking out the full throttle hits into the boards, there's going to be some sort of contact in practice and some accidental hits that maybe shouldn't have been made. If players hold back too much, it takes away from their competitive edge, too, according to Clarke.
"You can't have hockey without physicality, it's always going to be there. It's such a fast-paced sport and we're big, strong guys out there, it's just going to happen," Clarke said. "Because hockey, it's an intense game, and if you back off, you're giving yourself a greater opportunity of getting injured because you're not going full speed like you usually are."
Nevertheless, the absences of Norris and Finner have been felt "greatly" on the ice according to Daniels.
"The problem was, when Coale got hurt, we were returning five players that had been out," Daniels said. "We were so excited, for the first time, it looked like we were going to have our whole lineup—without Finner—but we were close. And then all of a sudden, Coale got hurt. Both Coale and Lucas see a lot of special teams, so it's disruptive, it really is."
The two forwards' roles on special teams makes their delayed return all the more significant against Minnesota State, one of the top performers in special teams in the country. Daniels has only seen them in film, but said the Mavericks have four lines that could be first or second lines on any other team.
"They've got a really good [defensive] core and if you get through all that, they have a great goaltender and they have a very good coach," Daniels said. "So, there's not a weakness on their team. You would like to have everything hitting correctly on all cylinders and we don't."
Right now, the team is focused on getting their energy back up after a week-long road trip to the Great Lakes Invitational and then straight to Bemidji State last weekend, where they dropped both games and extended their losing streak to four.
"It's got to be high at all times," Kallen said of the team's energy in practice. "We actually just talked about it as a team, that we need the energy to be higher. We're on a skid of losing games here and we need something to change and it starts in practice."
Minnesota State sits at the top of the WCHA rankings at 12-2 with 36 points through 14 conference games. Ferris is currently sitting in the last playoff spot, ranked No. 8 in the WCHA with 14 points with a 4-8-2 conference record.
The series begins Friday, Jan. 10 in Ewigleben Arena with a puck drop at 7:07 p.m.