Goals were plenty in Big Rapids as the Minnesota State University Mavericks rolled into town Friday, Jan. 10. Unfortunately, none of those goals belonged to the Ferris hockey team.
Ranked No. 3 nationally, the Mavericks took to the board early and never looked back.
Mavericks senior forward Marc Michaelis scored first, finding the back of the net less than eight minutes into the inaugural period.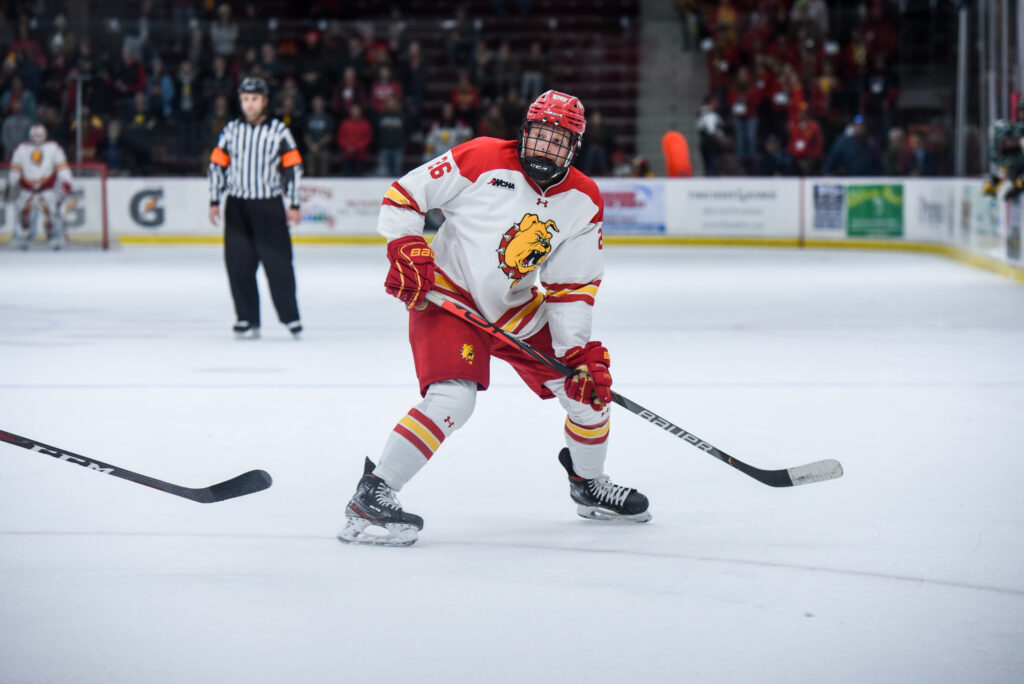 Michaelis netted two goals, landing him the title of the Western Collegiate Hockey Association (WCHA) scoring leader with 15 goals on the season.
Mavericks sophomore defenseman Wyatt Aamodt scored the next goal in the second period and junior forward Julian Napravnik closed out the game with two garbage time goals in the third.
The story for Ferris was missed opportunities. The Bulldogs went 0-5 in the power play and recorded 19 shots. None of that turned into points however, as Minnesota State rolled to a 5-0 shutout victory.
"That's a very good Minnesota State team. I don't think we're off our game very much at all," Ferris hockey head coach Bob Daniels said. "They're a team that if you give them a little daylight, they score. Through 50 minutes of that game, it felt like all we needed was just one."
The Mavericks' sophomore goalie Dryden McKay is regarded as one of the best goalies in the nation. McKay played a role in the victory, recording 19 saves over 60 minutes.
"I think it's a great way to get a barometer on your own club and your own team," Daniels said about facing a talented Minnesota State roster. "While they're a tough team to beat, I really enjoy these type of games."
The loss pushes the Bulldogs further back in the WCHA standings. With a 6-14-2 conference record, Ferris now sits in eighth place out of 10 teams.
For the Mavericks, the win pushes them to 19-3-1 in the conference, helping them further their lead as the best team in the WCHA.
Ferris will get another crack at the Mavericks, as the two teams meet for the final time Saturday, Jan. 11, inside Ewigleben Sports Complex. Puck drop for the contest is set for 7:07 p.m.