The Bulldogs were up against an enormous challenge going into this weekend. Facing No. 3 Minnesota State, they were clearly the underdogs and despite their efforts, just weren't able to pull off an upset.
After losing 5-0 on Friday, Jan. 10, Ferris dropped game two 5-1 on Saturday, Jan. 11. They extended their losing streak to six with the pair of losses. The thing is, the Bulldogs weren't playing terribly. But playing decent isn't going to get you a win over one of the best teams in the country.
Head hockey coach Bob Daniels felt the same after both losses: happy with the team's effort and willingness to stick with it the entire 60 minutes.
"It's tough when you lose, but I thought the guys really, once again, stuck with it," Daniels said. "Now, we took more penalties tonight than we had last night, but none of them were of the variety where it would have really set me off in terms of a really a poor penalty. I appreciated the effort, though, I appreciated the stick-to-it-ness of the team. We didn't lose energy, we just kept coming and trying."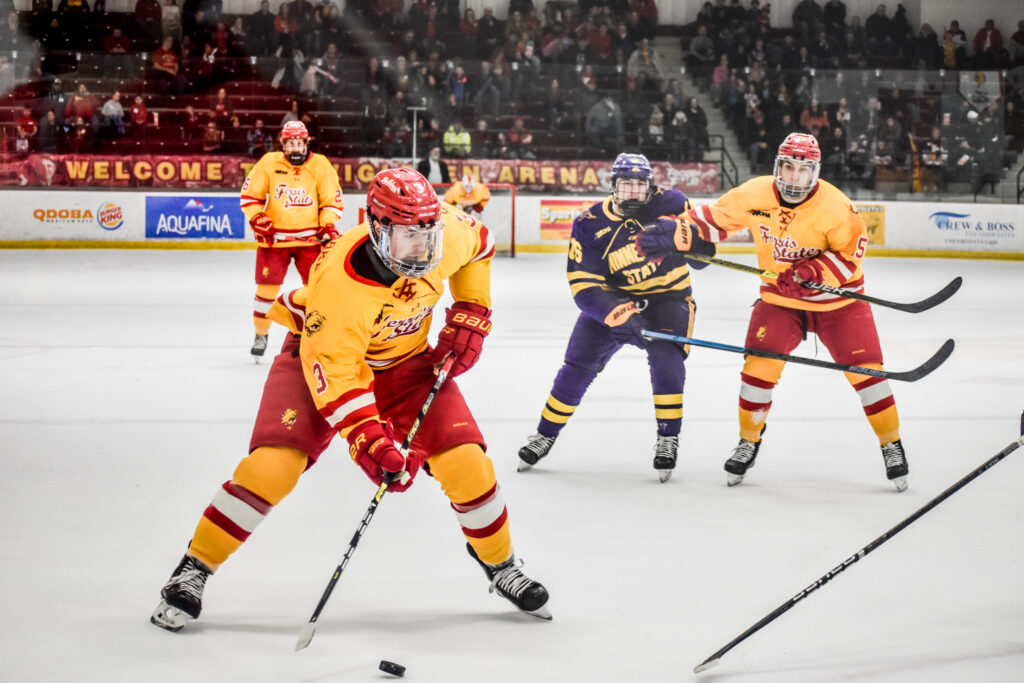 The Mavericks were able to convert on three of their seven power play. However, Daniels believed his team did a "pretty good job" on the penalty kill, a few of the shots were just nearly unstoppable. Ferris' Cam Clarke was able to net a power play goal of his own, his first of the season, but the missed chances on four other power plays hurt them in the end. Ferris nearly scored a shorthanded goal, but the officials called it back, saying it never crossed the line.
The power plays were chances that a team like Ferris has to capitalize on when they play high caliber teams like Minnesota State. The power plays were some of the only minutes in the game that it felt like Ferris had offensive momentum. But the Mavericks are No. 2 in the country in both penalty kill and power play percentages and it showed. On top of that, their goaltender Dryden McKay is the No. 3 in the country in winning percentage.
There was a unique change in lines with Clarke in game two, the senior defenseman moving to right wing for the night. It was a move that Daniels said they simply wanted to try out. After scoring his first goal of the season, Clarke may not be able to convince Daniels to move him back to defense.
"I thought boy, he looked really comfortable on the right side," Daniels said. "Cam and I haven't had a chance to b.s. about it yet, but it looks like it might be hard to move him out of forward, I thought he played that well."
Clarke was less enthusiastic about the change in position, though he was happy he could contribute to the team in a new way.
"It's uh…it's different for sure," Clarke said. "A lot of different aspects of your game you've got to bring out and I haven't played forward in…couldn't tell you, a lot of years. So I'm just happy I could help and contribute to the team in any way I could."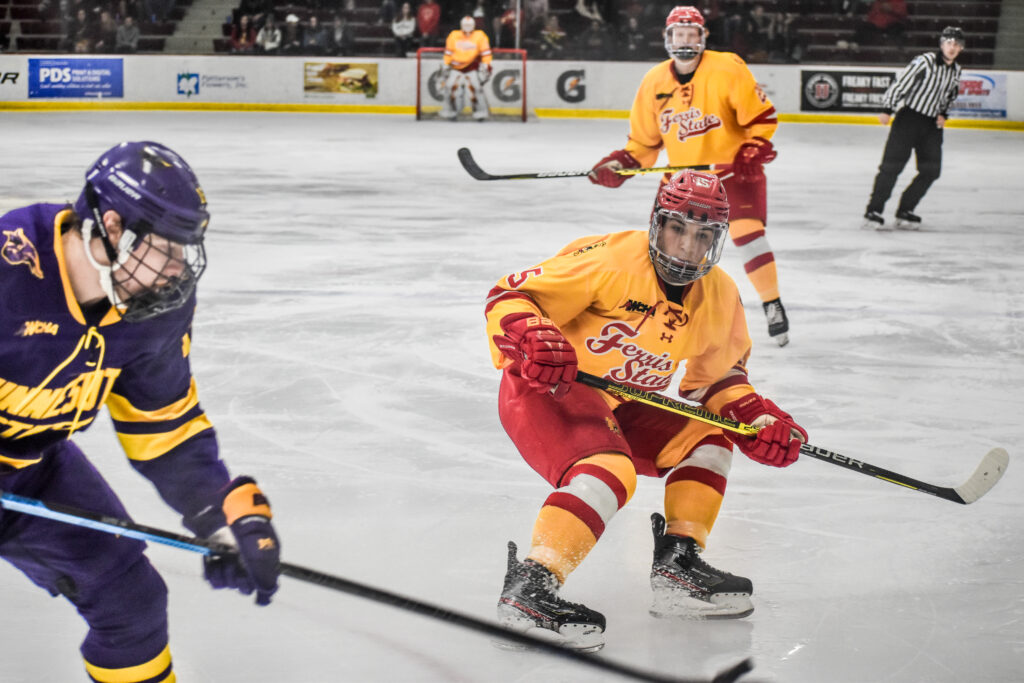 Minnesota State proved to be a difficult team to defend, quick on the transition and they really never struggled to get out of their zone. They could gain possession behind their own net and be down the ice and in scoring position in seconds. It's a quality that made it all the more difficult to sustain pressure on, according to Clarke.
Daniels acknowledged the Mavericks' speed on transition and said he was pleased that at times, his team was able to slow them down by their defensemen staying up and compressing the ice.
Freshman goaltender Carter McPhail got the start Saturday despite a performance from sophomore Roni Salmenkangas on Friday that Daniels was really happy with. Daniels said he went with McPhail because he wanted to let Salmenkangas take the good game and let it build his confidence going into next week.
He categorized McPhail's performance as "OK," naming issues with technique and rebound control, which he believes led to the uptick from 25 on Friday to 42 shots on Saturday. McPhail had 37 saves, but he also let in "a real soft one" in Daniels' eyes a minute after Ferris' lone goal of the night that made the score 3-1.
"We scored to make it 3-1 and boy, we get that next one and it could be different," Daniels said. "When you grind and you work so hard, those are the ones that, you've got to have that. And he will as he learns to develop. But effort level was there, the heart was there."
With the two-loss weekend, Daniels said there's a lot to take away and build on. He "cherishes" the opportunity to play Minnesota State as he believes it makes them a better team.
"It's easy to coach a team that comes and works and they did. Now it allows us to really take a good look and get to work on Monday," Daniels said. "But when we've got the right effort level and their hearts are in the right place—which I believe they were—only good can come of it and we'll take the lessons learned and apply them. But I feel as though, there's a lot there to work with, probably more so than the guys, I know they're pretty dejected. I don't want them to be."
The Bulldogs will get their only back-to-back home weekend series of the season this week and they will face Alaska in Ewigleben Arena Friday at 7:07 p.m. and Saturday at 6:07 p.m. Ferris is still hanging on to the No. 8 spot in the WCHA after the losses, only one point ahead of Alaska Anchorage.