Harlon-Hill Finalist, Division II Defensive Player of the Year, Gene Upshaw Trophy winner, Cliff Harris Award finalist, GLIAC Player of the year, three-time All-American, three-time All-GLIAC first team.
All of these are terms you could use to describe senior defensive end Austin Edwards, but most people still call him Ace. Few outside the team know the meaning of the nickname, yet everyone accepts the truly fitting nickname for one of Ferris football's most decorated players to ever leave the program.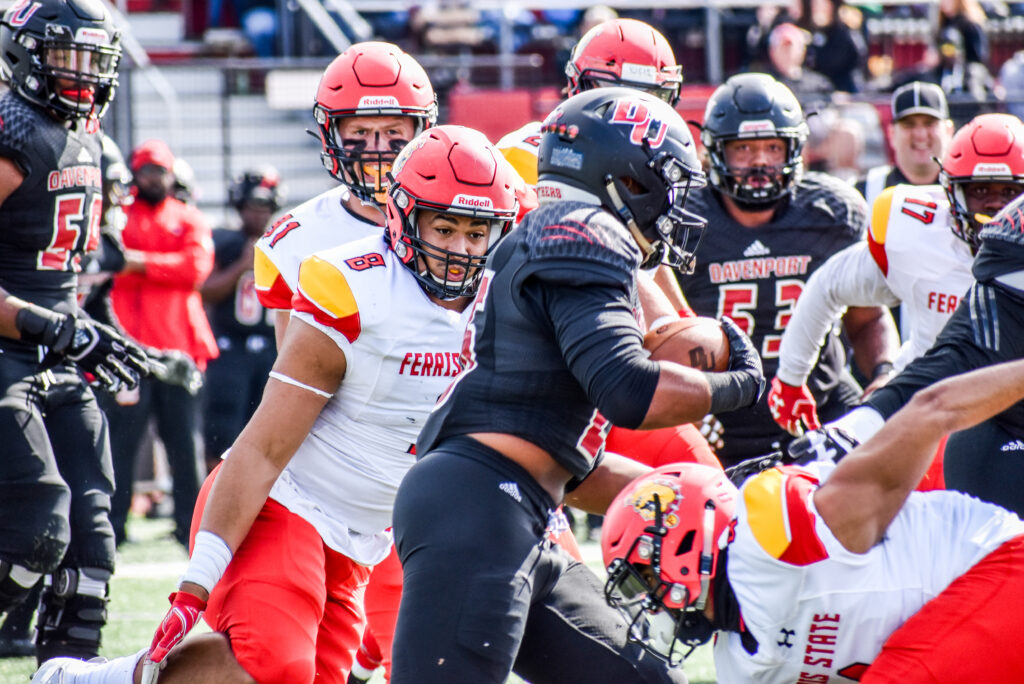 Head coach Tony Annese said despite his personal awards, it was always team first with Edwards, in the most genuine way.
"What his personal accolades are, I think he would just probably have tried to diminish them, talk them down, give credit to all of his teammates," Annese said. "Sometimes people do that just because it's the right thing to do, and then sometimes people do that based upon how they truly feel. It's authentic with him."
Looking back, Edwards called the awards a testimony to his work ethic.
"That's the biggest message I like to let people know: your hard work will get recognized but…a lot of people will look for the recognition right away," Edwards said. "No, you have to continually, consistently work hard and it'll come. It feels surreal when I look back."
Annese didn't even know the true meaning of Ace until he was asked in an interview and another coach chimed in. The meaning is quite simple, really: it's his initials. Austin Cole Edwards was first called Ace by his father and once he got to high school, it was his first reaction to someone who asked if he had a nickname.
"When I moved to Lansing, I remember the second day, this one kid asked me if I had a nickname, and I thought real fast because if I didn't think fast, they'd probably give me one. So I said 'Yeah, Ace, everybody calls me Ace,'" he said. "Then everybody in Lansing, the whole school would call me Ace. Some people probably didn't even know my name was Austin.
"It kind of became my personality now. It's like my brand now, that's who I am, is Ace. It's still the same meaning, I'm always going to be me, ain't nothing too special."
The unforgettable play
The nickname may stand for his initials, but it also became symbolic of the type of player Edwards was to his teammates and coaches. Annese, specifically, recalled a moment he said he'll never forget with the player he constantly looked to on defense.
It was the fourth quarter against Minnesota State in the National Semifinals in 2018, only five minutes left in the game. Ferris led 35-25, but a defensive stop would all but seal the game. Annese and Edwards both remember the play like a movie in their minds.
A timeout was called and Annese went to the defensive huddle, a rare sight for the players, according to Edwards. There, in the brutal cold in Mankato, Annese looked at Edwards and said "Ace, I just need one big play from you. We need you to get to the quarterback and make a sack right now."
"Yes sir," was the response from Edwards and he remembers looking at his teammate, defensive back Alex Bock, and telling him to watch him this play because he could feel something special about to happen. Minnesota State's tackle was late off the line so he couldn't make a good block on Edwards, who hit the quarterback in the blindside and forced a fumble that Ferris recovered. They went on to score the next play, securing their trip to the National Championship.
"That play right there is one I'll always remember," Edwards said. "He looked me in my eyes and said 'Hey, go make a big play, I need you to' and I did that right away."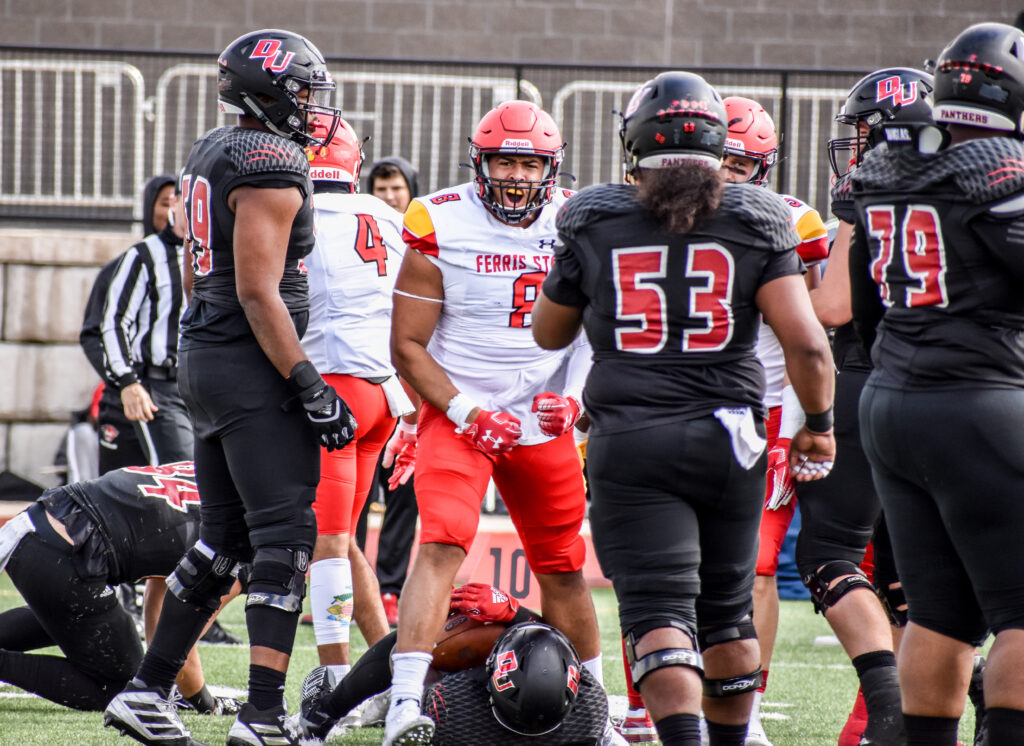 Players like that aren't made overnight. His 10.5 sacks, 17.5 tackles for loss and 64 total tackles his senior year came from a work ethic that was praised by all his coaches. Edwards is a kid you never had to tell to get in the weight room or get his grades up.
"He's just such a quality human being," Annese said. "I can't think of one single thing he did wrong. In four and a half years, people can't say very often what he can say. He's just been an unbelievable example of what you want a young person to be."
Both Annese and defensive line coach Tesfa Smith said Edwards is a quiet leader, but an impactful one all the same. He has the type of all-out work ethic that inspires others and just can't be taught.
So the question is, where did he get it from? For Edwards, the answer was easy. He got it from his mother.
Humble beginnings
Edelyne Rowe lived in Haiti until she was 16 years old, when she decided to come to America in search of a better life. Her father was against it, so she snuck out of her house and made it to the pier where she boarded an overcrowded boat bound for the United States. They didn't make it far, though, before law enforcement stopped the boat and made them dock at Guantanamo Bay in Cuba. Everyone over the age of 18 was sent back to Haiti.
However, due to immigration laws at the time, minors were sent to the U.S. and put in the foster care system. So Rowe ended up in Jackson, Michigan, knowing hardly any English and having no way to communicate to her family back in Haiti that she arrived safely.
After she turned 18, she started working multiple jobs to support herself and Edwards' older brother, Jeffrey Placide, soon after that. Funnily enough, working at McDonalds is where she met Edwards' father, who grew up and lived in Lansing. They started dating and Edwards was born in Lansing in 1997. But the family only stayed there for a year before moving to Virginia due to the rising crime rates. Edwards' parents got married in Virginia, but were divorced within the same year and his father moved back to Michigan, leaving Rowe a single mother to two boys.
That meant back to two jobs, working 5 a.m. to 5 p.m., ensuring her boys never went without food or clothing. At the same time, little did she know, she had two little boys watching and learning.
"Me and [my brother], at a young age saw, her work ethic was ridiculous," Edwards said. "And she was doing that with a smile on her face, taking care of us, getting everything we needed. That's from someone who didn't have a high school education, literally worked two jobs just to keep us afloat and she never complained, there wasn't a day where she was like 'I need a day off.'"
Growing up, Edwards said he knew whatever he did, it would be to make her proud. To bring a smile to her face, while emulating the same attitude and work ethic he watched his whole life.
"Seeing her smile is my biggest thing and I know she's so happy with the men me and my brother have become," Edwards said. "It's funny, because…you can see, she's not shocked, but I don't think she realized how good of a parent she was. Some parents are able to be more active, but her, because she wasn't always. She would be working and stuff like that, maybe she felt like she couldn't do stuff, but her parenting was just so great."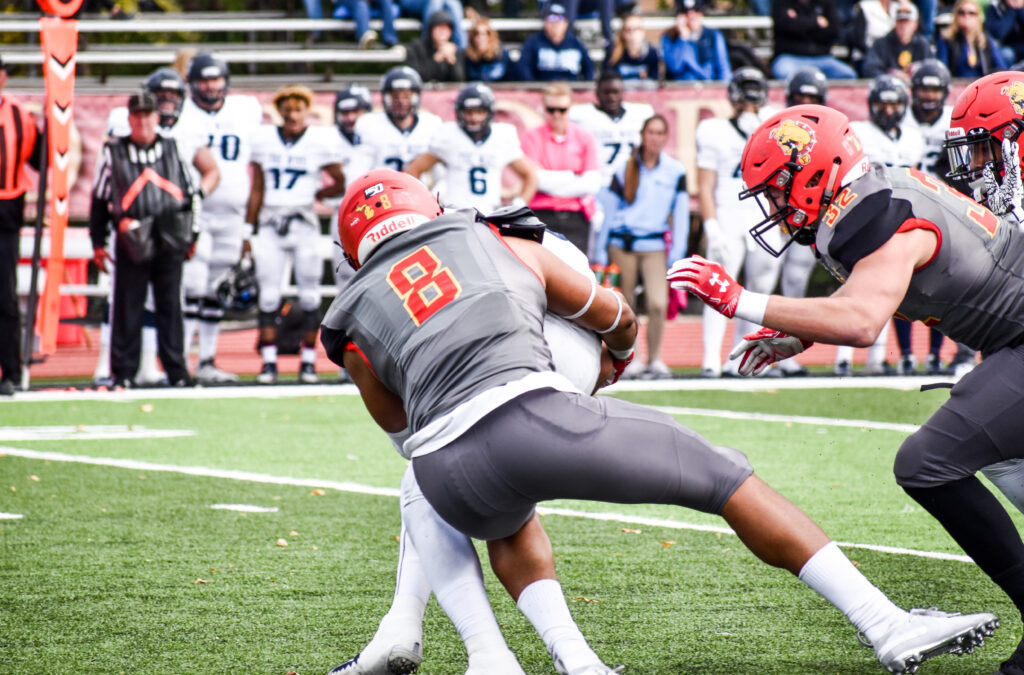 The beginning of a dream
When Edwards was 13, the family packed up their bags and moved to Texas, the place he would discover his talent for the game. He wasn't even thinking about playing college football until his high school coach told him teams were getting interested in him. His sophomore season, he started and was first team all-conference. Then he learned the news that his family was once again moving, this time back to Lansing.
"I was so hurt because I felt like I was leaving my family, everybody down there I was close with," Edwards said. "But that was my biggest worry, I just found out I'm getting college looks and now I'm leaving and I have to start all over."
But as one door closes, another opens and it wasn't long before Annese began recruiting the junior at Waverly High School. After only receiving walk-on offers from Division I schools, Edwards committed to Ferris and became the first in his family to go to college.
"We knew he was gifted but he came from Texas…so you felt like you were getting a steal but you never know that for sure," Annese said.
The freshman who walked onto campus in 2015 did not necessarily stand out at 6-foot-2 and 225 pounds. But between Smith's coaching and the standard set by former linemen Zach Sieler and Justin Zimmer, Edwards measured at 6-foot-5 and 280 pounds at the East West Shrine Bowl after his senior season. Besides Sieler and Zimmer, Chris Okoye was another mentor for Edwards in regard to what he needed to do to get to the NFL. The two spent the entire summer before Edwards' senior year training together.
"They set such a high standard," Annese said of his players now in the NFL. "It's really part of our culture that people don't really analyze, is what impact all those guys had."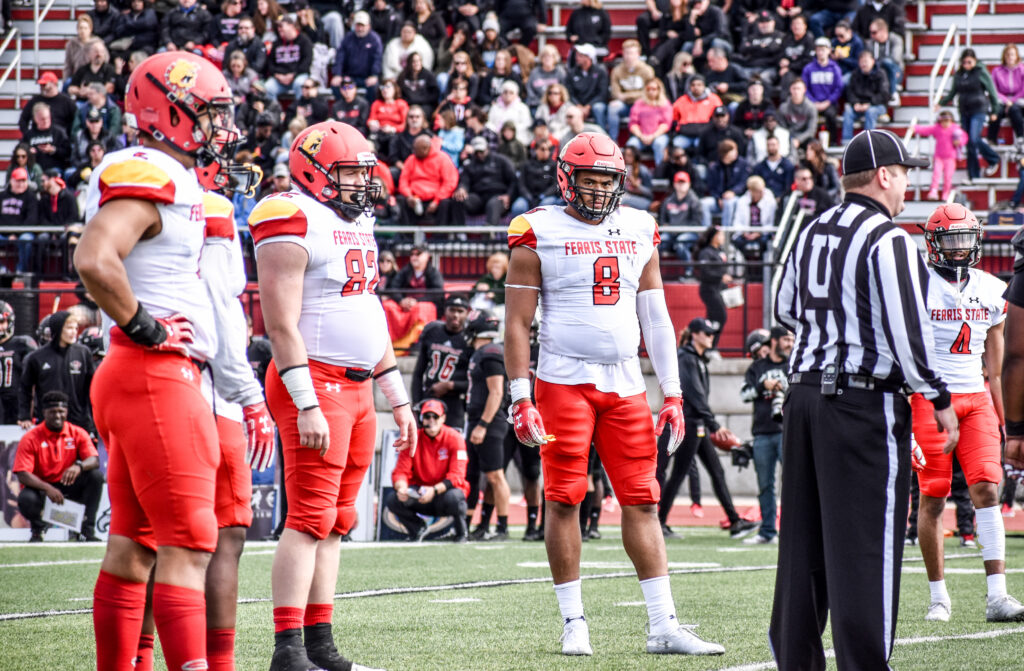 Now an NFL prospect himself, Edwards believes his odds of getting drafted increased after his week of exposure at the East West Shrine Bowl in January. Before the first practice, no one took much notice of him, one of the four Division II players present. But all it took was that first day of practice and Edwards began to be approached by scouts and the rest of the week he was kept after practices for interviews every day.
"The game itself, the practices and everything was everything I needed to be able to raise my stock and get on people's paper, so they know who I am," Edwards said. "In my mind, I definitely think my chances rose, of getting drafted. Now I'm focused on making sure I'm training hard so when I have a pro day I'll be in the best shape."
Edwards' impressive senior year and the fact that he has a real chance of being drafted exceeded most people's expectations, but not Edwards'. If there was one person who always bet on Edwards, it was himself.
"After last season I remember saying to myself, I was actually watching the draft and I had recorded a video of me basically saying that—because I'm a big fan of manifestation, speaking things into existence—and that's exactly what I said, I said 'I'm going to get drafted,'" Edwards said. "Me saying that then, there's not one time I didn't believe that myself. Just me believing in myself since then, that's definitely helped my confidence with everything."
At the end of the day, though, the thing that makes him tick, where Edwards finds his motivation is the sacrifices his mother made for him. It's something he said he'll never forget and he can't wait for the day when he can tell her she doesn't have to work anymore.
"Definitely a lot of my mom's sacrifices, because her story is crazy coming here and it's rare that, based off of statistics, that I'm in the position I'm in," Edwards said. "Knowing I'm able to do what I love and be able to build wealth for my family, generational wealth. It's just a change from how we lived and stuff like that and that's all from doing what I love. It's so motivating.
"They know how much I love football and the fact that it can bring me a check one of these days, it's hard to stop going. I don't have a day, no matter how I feel, that I'm like 'let me just relax today,' like no, I just want to keep growing, every day."