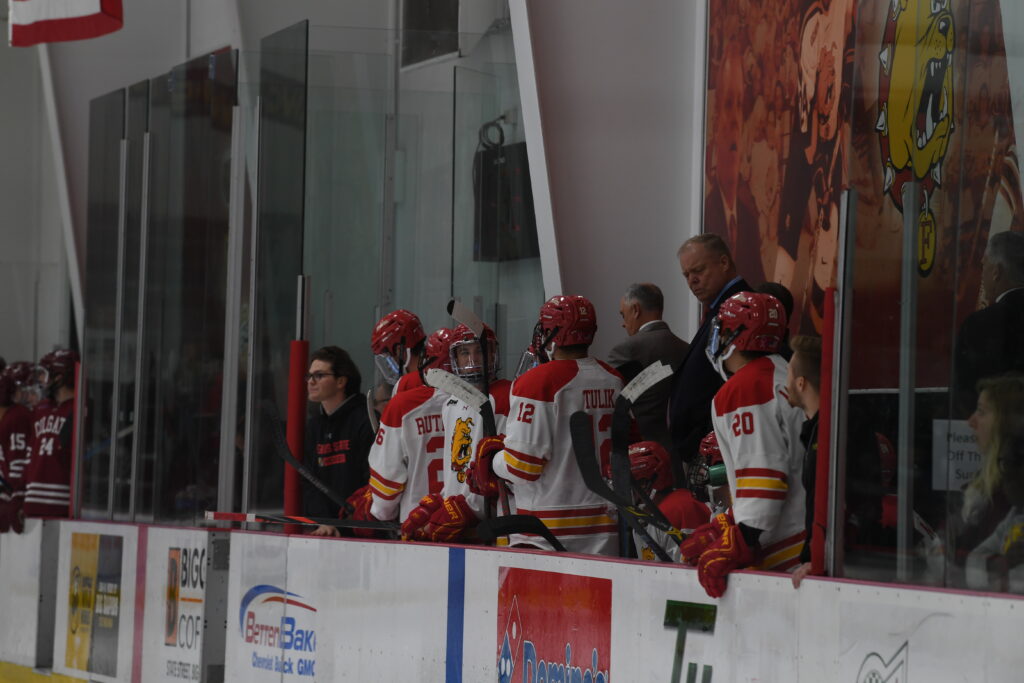 It was another defensive slugfest against the Huskies of Michigan Tech, but the Bulldogs fell 2-0.
The first score of the game came with 8:22 left in the contest, where the Huskies were able to find a crack in the Bulldog defense and score on a three-on-two breakaway to go up 1-0. Even with a multitude of opportunities in the final minutes, the Bulldogs were unable to get an equalizer. Senior goaltender Austin Shaw described what would be the game clinching goal.
"There was a three-on-two and the guy shot it and it deflected off of someone, because it wasn't a clean rebound off me. It kicked out to the side and the guy was wide open." Shaw said.
The Bulldogs were swept for the 8th time this season as the offense could not get enough going on the ice. They were in it until the very end, but none of the 36 shots could find the back of the net, and that was the downfall for the Bulldogs.
Ferris played two perfect periods defensively, shutting out the Huskies. Senior goaltender Austin Shaw played a large part in the shutout, holding the Huskies scoreless off of 23 shots on goal going into the 3rd period and recorded 30 saves on the night.
"I thought Austin Shaw played very well, I thought he looked comfortable in the net, he looked calm, he wasn't sprawled out. I was very pleased with his performance" Coach Bob Daniels said.
It was a rather clean game through two periods as there was only four penalties between both teams in the duration of the contest with two on each side.
"I thought the officials did a great job, there were a few big hits thrown in the final two minutes and I thought they were good no calls, they got a one, we got a one. The refs let the players kind of decide it and I appreciate that." Daniels said.
An empty netter would put the Huskies up 2-0, and that is how the night would end.