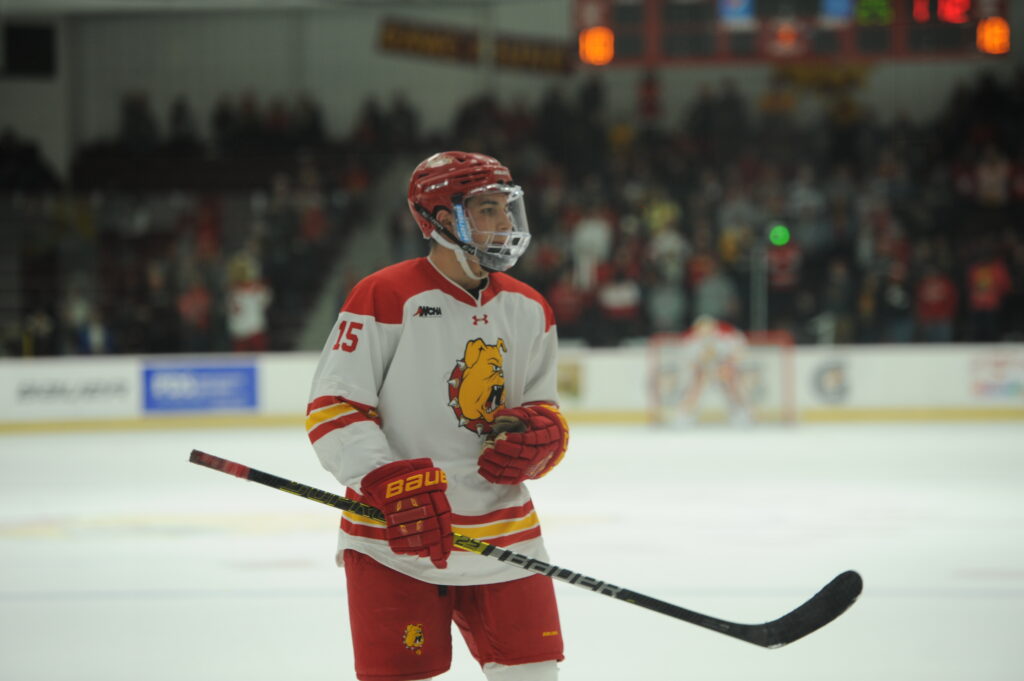 Once again, the Bulldogs came up just short on the ice as the Huskies of Michigan Tech took game one of the series 3-2.
A dramatic final 3 minutes saw the Bulldogs pull within one goal after junior forward Marshall Moise put in a wrist shot with 2:46 left in the game. Earning an advantage, the Bulldogs would get off multiple shots on goal in the closing minute but could not get the tying shot. Coach Bob Daniels commented on the final minute.
"We pulled the goalie with around 1:15 left in the game, we had two good times where the puck was right on the goal line so I thought mission accomplished by the guys that were out there, they really dug in and had some nice opportunities." Daniels said.
Ferris put in one of its best defensive periods of the season after only allowing two shots on goal in the first 15 minutes of the contest. The Bulldogs outshot the Huskies 13–4 in the first period of the contest yet were unable to get a goal in the process. The Bulldogs would finish the night outshooting the Huskies 33-18.
The Bulldogs were able to kill three penalties, but the fourth time was the charm for the Huskies as they would be able to put the puck in off a slapshot by Huskies defenseman Keegan Ford. This put the score at 1-0 Huskies.
Freshman defenseman Connor Fedorek would not let the game be a shutout, with a one timer from the left side of the ice with assists from senior forwards Cameron Clarke and Jason Tackett. It was his first goal of his collegiate career. Thus, the score stood at one a piece after two periods.
Sophomore goalie Salmenkangas didn't need to make many saves through the first two periods as the Bulldogs defense stifled the opposing offense holding them to nine shots. Yet as the third period rolled around, the defense weakened, the shot on goal total doubled, and the Huskies took control with two straight goals to go up 3-1. Salmenkangas would have 15 saves on 18 shots.