Seven members have now been immortalized as Bulldogs legends after being announced as the latest inductees to the Bulldog Athletics Hall of Fame.
In an announcement made by Ferris State athletics on Monday, seven individuals representing six different sports were inducted into the Ferris State Athletics Hall of Fame Class of 2020. The class is headlined by current Detroit Red Wings Head Coach Jeff Blashill, who played for the Bulldogs from 1994-1998.
Accompanying Blashill in the class are Lucy (DeMartin) Prior (Women's Basketball, 2000-04), Dannie Hayes (Men's Basketball, 1991-95), Tianna Kirkland (Women's Basketball/Track & Field, 1997-01), Chris Kunitz (Hockey, 1999-03), Brad Morris (Wrestling, 1985-89) and the late Gideon Smith (Football, 1910-11). Smith is likely to be represented by his grandson John Belcher at the ceremony.
The class includes four individuals who earned All-American honors at Ferris. This including Prior, Kirkland, Kunitz and Morris. Also inlcuded is one of the top men's basketball scorers in school history in Hayes, the current head coach of the Detroit Red Wings in Blashill, a four-time Stanley Cup Champion and Olympic Gold Medalist in Kunitz.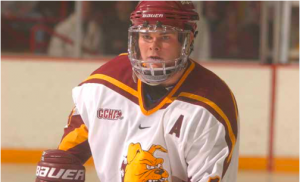 In addition to these names is Smith, who was an early college football pioneer and one of the school's first African-American players, is also currently on the ballot for the College Football Hall of Fame.
All members of the classes are expected to be enshrined in the Hall of Fame in a ceremony that is expected to take place this fall. This is subject to change as navigating the COVID-19 crisis continues to be a fluid process.
Along with those expected to be inducted this fall was the announcement that two-time Harlon Hill winning QB Jason Vander Laan was also inducted into the Hall of Fame after the mandatory 10-year waiting period was waived.
Despite this, Vander Laan decided to forego this year's induction for another year in the future, citing the want to be in attendance in the future for the induction ceremony as he continues his professional career.
The Bulldog Athletics Hall of Fame, which inducted its Charter Class in 2000, was established to honor those student-athletes and coaches who have distinguished themselves in their sport or honorary members who made truly exceptional contributions to athletics. A 13-member selection committee comprised of faculty, staff, alumni and community members selected the 2020 inductees from a large group of initial nominees.
One final person being recognized was Carma Burcham, who was awarded the Athletics Special Service award. She was a longtime supporter of Bulldog Athletics and a dedicated employee at Ferris. Burcham served as the school's coordinator of records and NCAA eligibility for more than 30 years.
Burcham is the fifth person to receive the Bulldog Athletics Hall of Fame Special Service Award and the first since 2011.