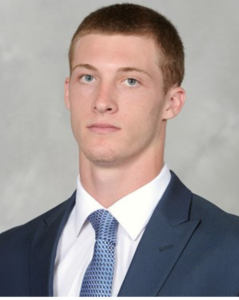 Ferris football has picked up a new commit for the 2020 season in Jared Bernhardt, an All-American lacrosse player from the University of Maryland.
Bernhardt entered the transfer portal back in August 2019 with the intent to play football before eventually announcing his plans Sunday in an interview with NCAA Digital's Jenny Fischer on NCAA.com.
Bernhardt leaves Maryland after an illustrious career in which he scored 131 goals, which puts him fifth in Maryland history to go along with 60 assists in 60 career starts. His time in College Park also included a national championship back in 2017. In addition, he is a three-time United States Intercollegiate Lacrosse Association All-American and a two-time All-Big Ten honoree.
Although Bernhardt arrived at Maryland as a big-time lacrosse recruit, he also left his mark on the gridiron in high school at Lake Brantley (Fla.). In his final two seasons at Lake Brantley, Bernhardt accounted for over 4,000 all-purpose yards of offense and 30 touchdowns as a triple-option quarterback. This showing allowed him to pick up an offer to play Division I football at Navy before eventually choosing lacrosse.
While it's unclear where exactly Bernhardt fits into the puzzle for the Bulldogs at the moment, it's presumed he will join a loaded quarterback room as the team tries to replace the duo of Jayru Campbell and Travis Russell, who both depart via graduation.