Even while a global pandemic has the world engulfed in worry, athletes hold on to hope to play their respective sports.
Back in July, the six-time defending GLIAC champions, the Ferris State women's volleyball team recently received the American Volleyball Coaches Association (AVCA) Team Academic Award honors for the 2019-2020 school year.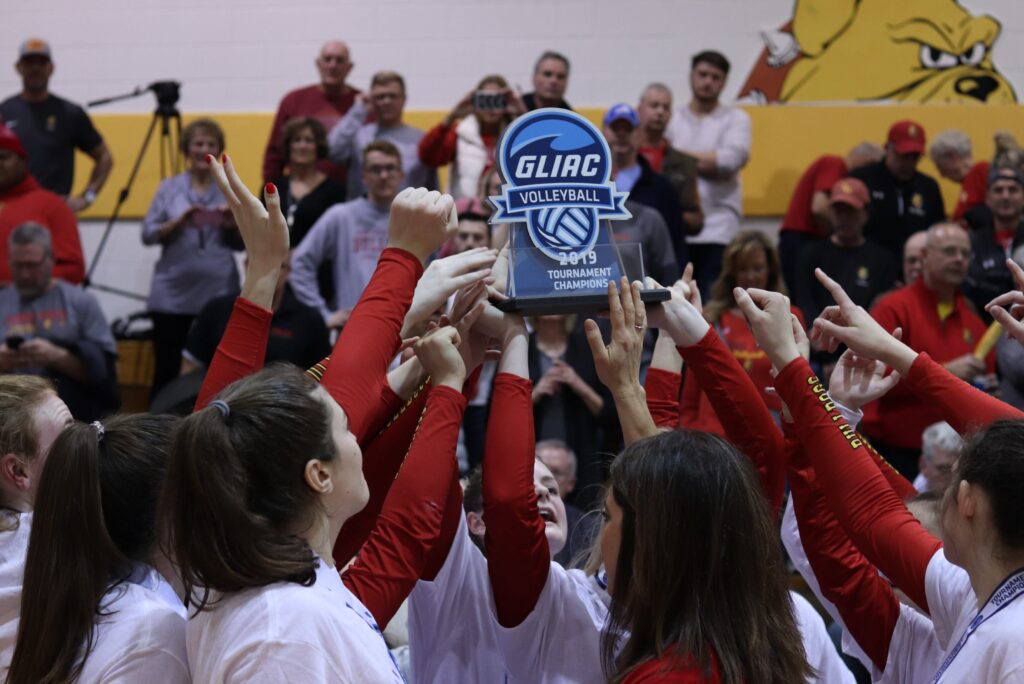 The team is focused on what they can control while they adapt to the continuous changes that arise while bonding more than they ever have. As the COVID-19 pandemic rages on, Ferris head volleyball coach Tia Brandel-Wilhelm keeps her team ready to compete and keep morale up. Brandel-Wilhelm said that this group of Bulldogs are a close-knit team that has been intentional about staying goal-oriented during the entire pandemic.
"Right now, we are spending our time doing what we can – leadership development, team building, goal focusing, building relationships with the new players, practicing our academic skills, and having a few Life Skills 101 sessions," Brandel-Wilhelm said. "Throughout everything, we have kept our number one priority on building our team relationships and taking care of each other. We have kept our team values at the forefront and have worked to live by those values no matter what the situation in front of us was."
Back in March, as the world started to shut down, the Bulldogs were just getting ready to start the competitive portion of their spring season. Sadly, these hopes were crushed with the cancellation of spring sports. The team decided to shift their focus to the fall season. They spent May, June, and most of July in limbo, not knowing if they would have a fall season.
"There were tough days and we reminded each other all of our preparations would help us whenever we are able to start playing," Brandel-Wilhelm said. "It was amazing to see the players work to stay ready just in case."
With no new information on how sports will look when they come back, the Ferris volleyball team will continue to stay ready and focus both on and off the court while they remain safe and healthy.
Most recently five members of the women's volleyball team were recognized as recipients of the Division II Athletic Directors Association (D2ADA) Academic Achievement Awards. The five upperclassmen honored with this award were Jackie Beaver, Courtney Brewer, Allyson Cappel, Lauren Helsen, and Katie O'Connell.
While the hope is to start a somewhat normal season soon, the Bulldogs will continue to work on their sets, develop new leaders to take the reins, come together as one team, make the newcomers feel at home, and be true Bulldogs at the center of it all. Fall sports were canceled for the GLIAC until Jan 1, 2021, as of now, but all student-athletes maintained scholarships.
"I am grateful we are all safe and healthy. I am really grateful for the challenges and the opportunity to apply our personal and team values in an uncertain, complex situation," Brandel-Wilhelm said. "My goal for all of us is that when we look back and tell our kids how we handled it. We are really proud of how we not just came through the experience but grew in ways we could never have without the COVID-ness."
Now, the team is looking forward to new information as they are hopeful for a season to come at the start of the new year.