Former Bulldog golfer Ben Cook may be only 26 years old, but he has already competed alongside Tiger Woods twice.
Cook, a 2017 graduate of Ferris State University, was a standout golfer for the Bulldogs during his collegiate career. Now, he is making a name for himself at the professional level.
His first appearance in the PGA Championship was in 2019 at Bethpage Black. He shot scores of 74 and 73 and missed the cut by just three strokes.
Cook's second PGA Championship appearance occurred just a month ago at TPC Harding Park in San Francisco. He shot a 146 through two rounds and again missed the cut.
The two time All-American at Ferris was thankful for the experience he garnered from golfing alongside players like Tiger Woods, Jason Day and Rickie Fowler.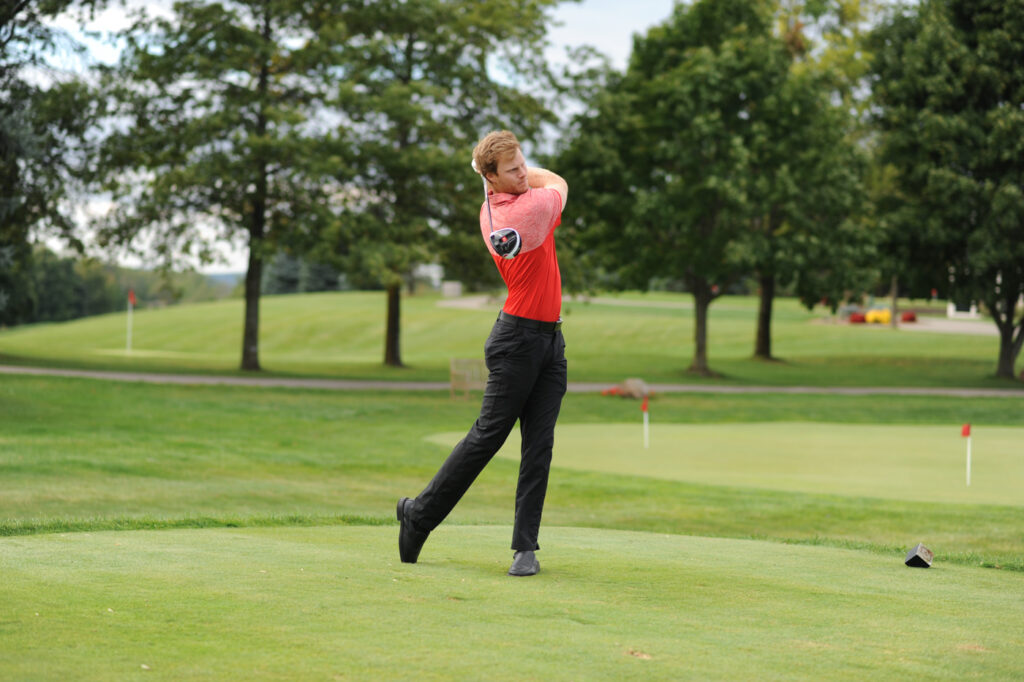 "It's eye-opening," Cook said. "You idolize all these guys growing up and now all of a sudden I'm on the range hitting balls next to them. It's crazy. It's about knowing that I do belong and that I earned the right to be there just like they did and any given week, any of us can win."
Going forward, Cook will look to continue competing at the highest level and play four full rounds to make the cut at the tournament. To do so, he will have to play to the best of his ability.
"I've got to do the little things like making sure I put in my work with my instructor, make sure I'm working out and my body is in the best shape it can be to play at the next level," Cook said. "Playing in as many tournaments as I can is big too, and then being able to play well at the right time. When a break comes, I have to make the most of it and be ready for those moments. It's a grind for sure."
Looking back at his time in college, Cook appreciated the tough competition he faced. He credited the "really, really good" players he competed against with helping him reach the level of success he has found professionally. He also understood the value of getting on the course as much as possible.
"The more tournaments you play and more game-like situations you get, the better your game is going to get," Cook said. "The more under the gun you are, the better you will get, the more comfortable you'll be. Getting those reps under my belt has helped my professional game a ton."
In his senior season at Ferris, Cook led the Bulldogs to a GLIAC second-place finish and a national top-ten ranking throughout the season. For the second time in his collegiate career (the other being 2015), Cook also won the GLIAC Player of the Year.
The Bulldogs reached the national quarterfinals in Cook's final season. In the super regional round, Cook set an all-time school record by shooting a 64 in the final round of 18, breaking the record of 65 set by John Hagemeier and repeated by Jim Lusk and Eric Lilleboe.
Outside of golfing professionally, Cook is the golf pro and instructor at Yankee Springs Golf Course in Wayland, Michigan. This season is his second at the course. He teaches children as young as four and adults in their 80's.
"It's a very wide range, so it's kind of fun in that way," Cook said as he thought about teaching people of all different ages. "I get the broad spectrum because I've also got a couple of kids that are trying to play in college and some high school players."
Golf was not always Cook's top sport. Growing up, he competed in both soccer and golf and never knew which sport he would end up pursuing in college. It was not until high school that he realized his golf potential and decided to focus his efforts on golfing. Looking back, he believes he "100 percent" made the right decision by choosing golf.
Cook loves golf because it is a sport that anyone can play even after their time in organized competition finishes.
"One of the luxuries of golf is that you can play it for a lifetime," Cook said. "With golf, even if you don't play professionally, you can still play."
Cook's love for the game of golf drove him to compete at the highest level and to the best of his ability. So far, that has translated to success at the highest level. Now, Cook will look to climb all the way to the top and continue representing the Bulldogs in the PGA.