Walking through the North quad on a Tuesday evening around 7 p.m. you may find a group of people gathered.
The Real Life is a Christian based RSO that aims to lead young adults in spiritual growth. The atmosphere of their meetings is very welcoming, and they always are encouraging more people to come and worship with them.
Ferris Dental Hygiene major Sara Springstead is the president of Real Life. Springstead said that her position entails making sure that events are planned for Real Life and that they go smoothly for the RSO.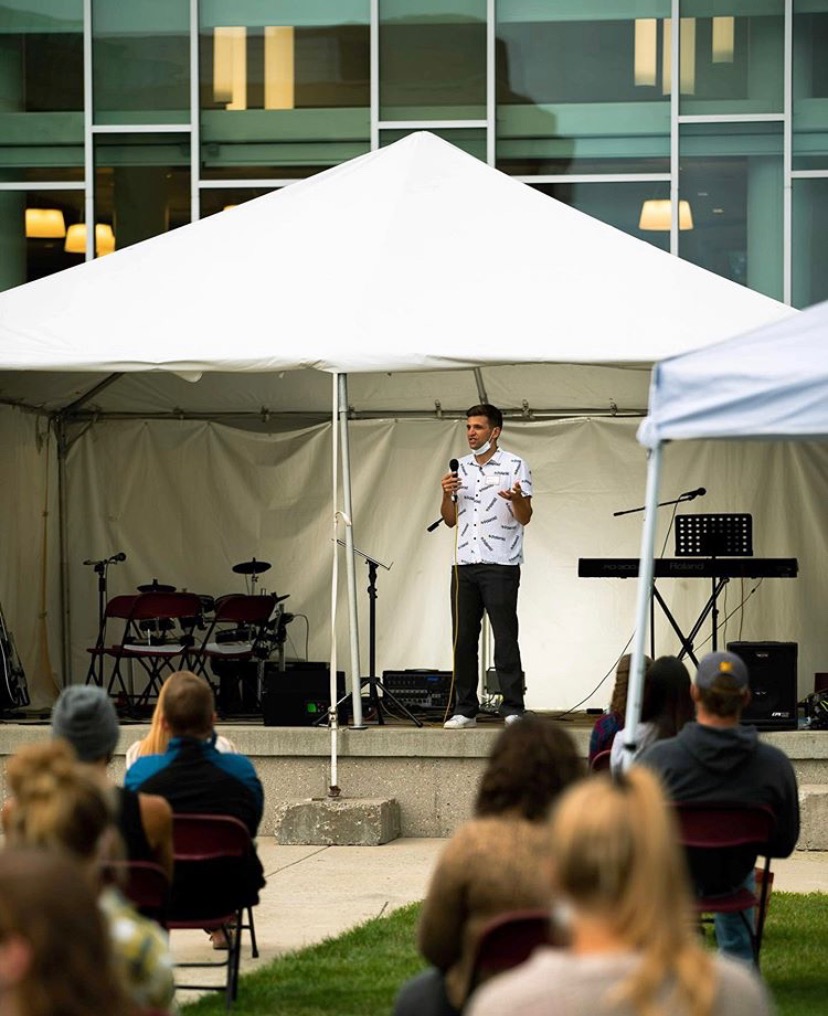 "I would say that my most memorable moment with Real Life is last year when we went on the fall retreat," Springstead said. "It was just such an amazing experience to have everyone there for the weekend for a lot of worship and we were able to get to know each other more."
Springstead said that she has made great connections through Real Life. She was able to find her best friend and current roommates within the organization. She wants everyone to know that Real Life is open to anyone. All are welcome to join.
Real life's goal is to travel with you on a walk with the Lord. They don't care if you are a beginner or if you have been walking with him your entire life. Their belief is that a community is one of the strongest parts of spiritual growth.
Ferris Sports Communications major Kaleb Essink joined Real Life last fall. Essink said that he has many great friends and that his journey towards faith has taken off since coming to Real Life. In Essink's opinion, Real Life doesn't need to be a major time commitment. You get out of it what you put in.
"It doesn't have to be a big commitment, it just all depends on what you decide to do," Essink said. "For me I decide to do a lot of things with Real Life, but it doesn't have to be. The more you go through the better it is."
Essink wasn't a born-again Christian until last year. His most memorable moment with Real Life so far was on the fall retreat when he had an encounter with the Lord, and it changed his life. According to Essink, it was the greatest day of his life.
There are quite a few upcoming events planned for Real Life. First, on Wednesday, Sept. 16, they're having a Real Life picnic starting at 6 p.m. They are encouraging everyone who is curious to come out. If you can't make it, they are hosting a hike on Saturday, Sept. 19.
If you are interested in attending, they ask that you please follow them on social media for more information and to bring a mask to follow CDC guidelines. You can find Real Life at Real Life Ferris State on Facebook and @reallifefsu on Instagram.
Ferris Alumnus Christopher Pointer is one of the leaders of Real Life. Pointer works with the ministry to put on weekly community groups that allow the RSO to practice social distancing. He said that the weekly meetings are on Tuesdays and Thursdays at 7 p.m. In the North Quad and they run for about two hours. On Sept. 8, the meeting was led by Pastor Nick Loveberry.
Pointer runs the social media and takes the pictures for Real Life. He said being a part of this community has been a blessing in his life. He believes the community is open and loving to anyone and encourages all those who may have even the slightest urge to join to try it out.
"We are a group of Christians who are seeking to grow in our own faith, but at the same time we want anyone who is seeking God in whatever stage they are at. We want to meet them there," said Pointer.