Even with the season being delayed, hockey is still making sure to give their top players important accolades.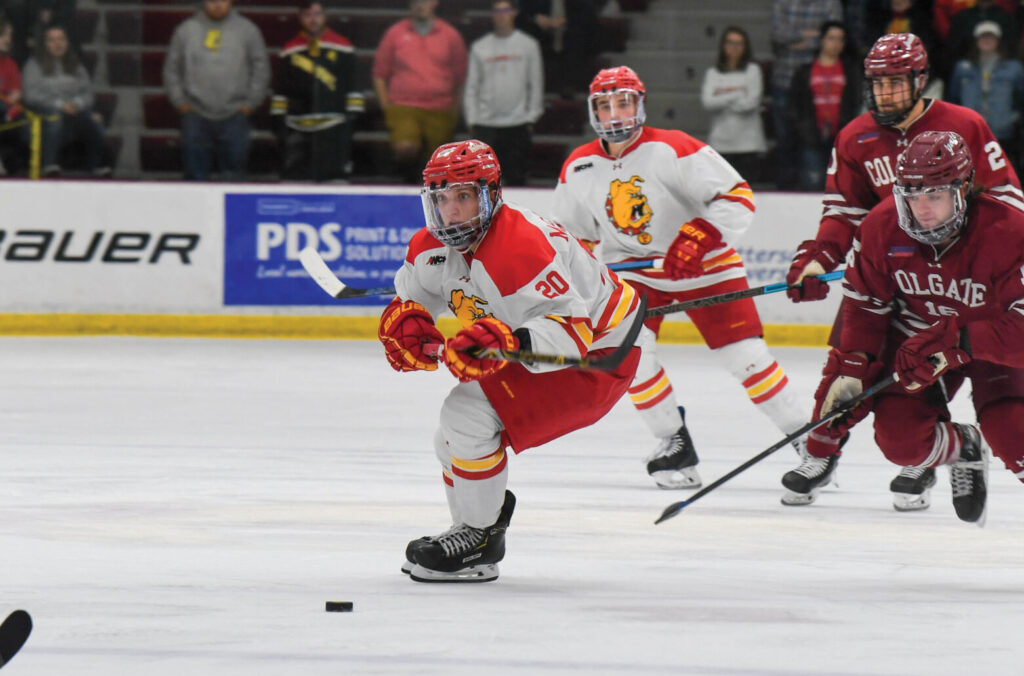 Senior forward Liam MacDougall was named team captain for the 2020-21 season, with a press release coming out Sept. 11. making MacDougall one in a long line of Ferris hockey team captains.
Ferris head hockey coach Bob Daniels had many reasons for naming MacDougall team captain for the season.
"We spoke to a lot of our returning players and graduating seniors from last year and kind of picked their brains," Daniels said. "Then as a staff, we got together and talked about what we were seeing in the development of Liam. He's come a long way from being a wide-eyed freshman. We've seen the maturity in Liam. One of the things we look for is the willingness to speak out when they see something, bringing things to the attention of coaches, things that we could do differently."
MacDougall was excited to find out about his appointment.
"It's just a really huge honor to be the captain," MacDougall said. "Hopefully, I can lead by example and we can accomplish a lot this year."
It's been a wild year for MacDougall. Born and raised in Ontario, Canada, he had been visiting home when the border closed between the United States and Canada. This left him unable to retrieve much of his hockey gear. Instead, he had to focus on rollerblading as a way to practice while all the rinks were closed.
Last season, MacDougall finished tied for fourth on the team in points and third in assists behind Jake Willets, Marshall Moise, Nate Kallen, and Blake Evennou. He is one of four seniors, along with forwards Marshall Moise, Coale Norris and Lucas Finner.
The previous captain for the Bulldogs was Nate Kallen, who has gone on to join the Maine Mariners of the ECHL after being named to the Ferris State Hockey All-Decade team.
MacDougall has a list of goals that he wants to achieve in his final year as a Bulldog.
"We definitely want to improve from the last two seasons, which have not been what Ferris State hockey has been used to," MacDougall said. "We want to compete in the WCHA playoffs in what is its last year of existence. I'm one of four seniors so we want to be good in our last season in town. We're focusing on one thing at a time, but we have our eye on the playoffs."
With the season being delayed, there is little known about what the season will entail or when it will begin. With MacDougall as the team leader, the Bulldogs can hopefully take the next step and compete for the WCHA.