Life is different now, but that does not mean it has to be worse.
Ferris cross country and track sophomore Brandon Wirth knows this to be true. Despite not having track or cross country to compete in, Wirth enjoyed his time during the COVID-19 shutdown.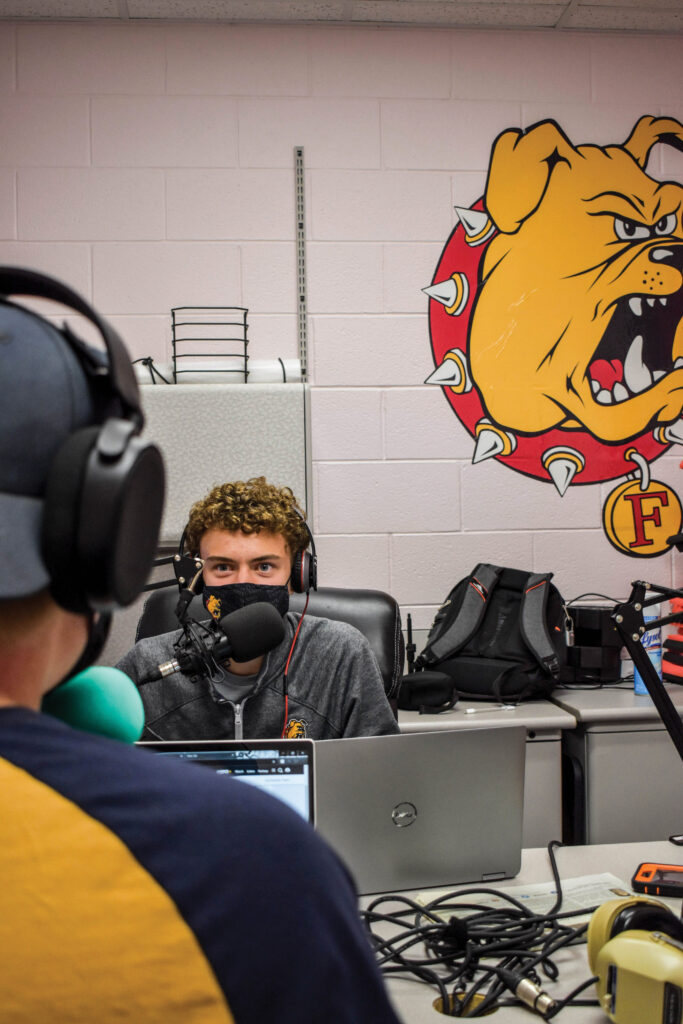 "Running is my favorite sport and I really miss competing. I miss being out on the course or track and competing with my teammates," Wirth said. "It's really just trying to keep a positive mindset."
That positive mindset was exactly what the sophomore runner had through the difficult months without competition.
It would have been easy for Wirth to focus on the negatives of not running competitively during the lockdown, but instead, he chose to make the most of his time and seize an opportunity.
"I have that competitive nature when it comes to athletics," Wirth said. "Once that was taken away, it gave me a chance to do something else. Why would I mope about this time or wish sports were still there when I could use it as an opportunity to take time and focus on my career path?"
Intending to become a play-by-play broadcaster, Wirth thought about ways he could prepare himself for a career as an announcer. It happened that Wirth and his friend, Joe Nagy, found an opportunity through Bulldog Radio to start a sports podcast.
"Joe and I wanted to start our own sports podcast," Wirth said. "It's a really cool experience to do some of the things that I've always wanted to try out. The podcast allows me to analyze sports and helps me talk about sports. These are the skills I'll have to learn to be successful to do play-by-play. The podcast helps me learn the basic skills to be a good broadcaster, how to edit my own audio, and Joe and I have a blast."
Wirth loved that he could give people content during the stay-at-home order. Despite the difficulties of producing content away from Bulldog Radio's recording studio at Ferris, Wirth and Nagy persevered, putting out weekly content on their podcast.
Wirth also teamed up with his best friend from high school, Hunter Morrison, to start a YouTube channel, creating family-friendly sports content. Inspired by the popular sports videos produced by Dude Perfect on YouTube, Wirth and Morrison went to work creating sports content of their own.
"Around winter break last year, we decided to try it out," Wirth said. "We wanted to see what we could do with it, so we made a couple of videos snowboarding and some trick shot stuff. People liked it, so we wanted to keep going. We've gotten over 100 subscribers in the past seven months which has been sweet."
The team amped up their production efforts during the lockdown, spending more time putting out content. Wirth was thankful for the support his videos received, but he was more excited to know that he provided entertainment for people during the difficult months of quarantine.
"We saw a really good opportunity to have fun and give everybody something to watch because a lot of sports were shut down," Wirth said. "We figured we could really help ourselves and other people by giving them something to watch."
Podcasting and making YouTube videos are time-consuming activities, but Wirth is a smart, determined, and passionate person. He finds a way to balance his school and athletic commitment with his career-focused podcasting and YouTube video creation.
"We're not in the position where we need to force ourselves to make content and have it take over our schoolwork or our training," Wirth said. "I feel like it's a really good thing how we utilize our time. We're not worrying about content so much that that's coming first. We know that being a student-athlete is why we're in college and that's most important."
While podcasting and making YouTube videos are great, Wirth does not believe that his career lies with either of those activities. He uses both as entertainment and enjoyment for himself and a way to train for his goal of being a broadcaster.
A three-sport athlete in high school, Wirth often longed for competition during the lockdown. However, he was thankful for both YouTube and podcasting as ways to help him get through the difficult months where he was stuck at home.
"I had something to look forward to every week," Wirth said. "It's really been a blessing. It's a new experience that I've learned through and I've been able to capitalize on the opportunities I've been given and help myself and other people. I've been able to make the best of what I had."
Wirth continued to train in his downtime but also found enjoyment on the golf course and spending time with friends in a socially distanced setting. Over lockdown, he started fishing, disc golfing, and biking.
"Surrounding yourself with your hobbies is big so you have enjoyment so you're not thinking about just running all the time. That way, you'll have things to look forward to," Wirth said.
It was very easy for many people to focus on the negative during the months in lockdown. Life was different, the world changed, and things still are not back to normal. But change can be a good thing. It presents opportunities; those opportunities need to be seized. Brandon Wirth seized his and will forever be thankful.