With campus remaining open for approximately four weeks now, some students are wondering if Ferris will make it to the Thanksgiving break.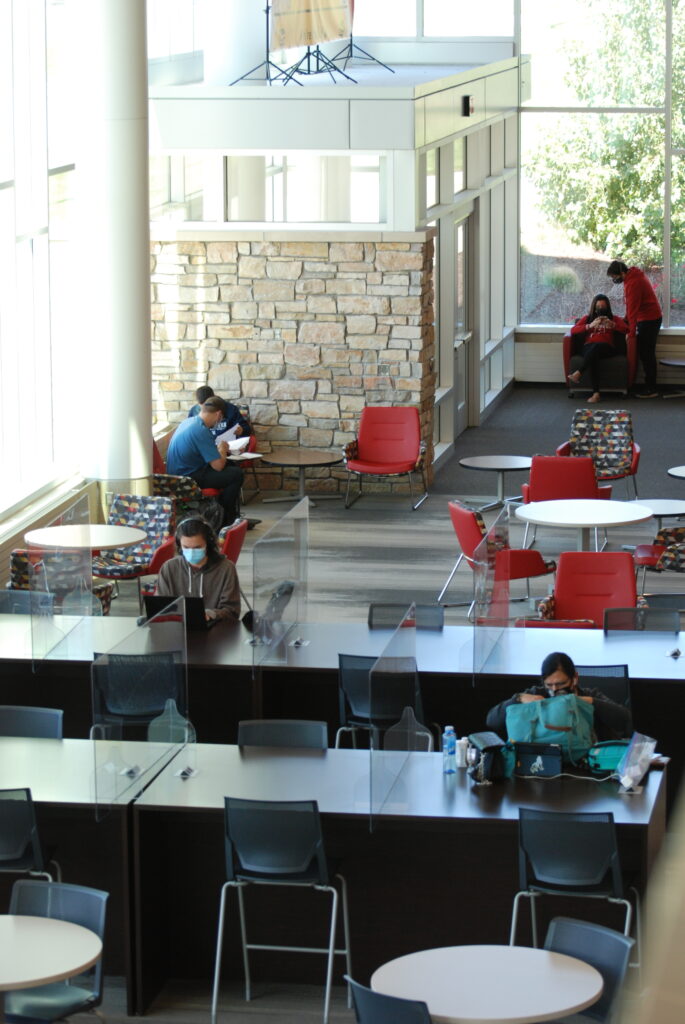 Ferris computer information systems senior Justice Higgins is a student questioning it, based on what she's seen from other universities.
"I honestly am really surprised we haven't closed yet," Higgins said. "My sister goes to Grand Valley and with it currently on quarantine and everything going so downhill I can see the same thing happening at Ferris. I wouldn't be surprised if we closed before the thanksgiving break. I think we'll be lucky if we make it that far."
What exactly would cause Ferris to close its campus again? Communications officer, Michelle Rasmussen, who is on the university's Re-entry Committee, talked about the different factors that would go into making this decision.
"A decision like this would be based on a variety of factors, including our positive COVID-19 cases and clusters, and the growth of those two factors; the availability of our quarantine and isolation space on campus; case management capabilities; the capacity in our community for testing and hospital space; and any and all guidance/actions taken by the health department and our governor," said Rasmussen.
Based off of the different factors, Rasmussen also covered the plan that Ferris has set in place in case the university closes again.
"We are ready and prepared to pivot back to remote instruction, as we did last March, should conditions warrant," said Rasmussen. "The university has already planned to pivot to remote instruction where possible after the Thanksgiving break and will continue this method of course delivery through finals week."
A few programs would be heavily affected by this since a big portion of their programs rely on in-person classes such as Nursing and Dental Hygiene students.
Associate Vice President for External Relations, Jeremy Mishler, who is also on the universities Re-entry Committee stressed that this should not be an issue as they are working hard on providing proper alternatives for students.
"The college has a backup plan in the event we have to move to advanced simulation technologies and other alternative deliveries. We are committed to seeing our students through graduation," said Mishler.
A big thing that Ferris cannot promise based on the current executive orders is having an in-person graduation ceremony for December.
"As it stands right now, we are still operating under Executive Orders that limit our ability to host large, indoor, in-person events. If those orders are still in place, we will not be able to host an in-person graduation ceremony in December," said Rasmussen.
As of now Ferris plans to continue with delivery in-person, online, and HyFlex course deliveries in the spring.
"The guidelines we have now may or may not be in place, depending on what the situation warrants," said Mishler. "We would continue to follow all local, state and national guidance and directives."
With the news of returning back to campus next semester ,students are glad that they will receive the chance to learn in person, but many would like to see a change in the way testing for COVID-19 is being conducted.
Higgins disliked that only a percentage of the student body were tested during the move in week.
"I don't feel like the number of confirmed cases at Ferris is super accurate especially towards the beginning because they only tested students living on campus and not commuters which is a huge part of Ferris's student base," Higgins said. So, I feel like it's probably half of what the number probably actually is."
Mishler said that the way they are conducting COVID-19 testing is changing as they gather new information.
"Our testing and surveillance monitoring strategy is ongoing and does include both on- and off-campus. It continues to evolve as we move forward, depending on what we know now and the availability of tests," said Mishler.
Rasmussen closed off with a final message for students in regard to everything surrounding COVID-19.
"As we navigate through this pandemic, our plan is to provide the best living/learning environment possible for our students as long we are able to manage and mitigate the risks related to COVID-19. We are monitoring our situation carefully, working alongside public health experts, and continually making adjustments and decisions that put the health and safety of our campus community at the forefront. Thank you to all of our students, faculty and staff for taking the COVID-19 directives seriously. You are making a difference on our campus, and not only keeping yourself safe, but those around you as well," said Rasmussen.
Students can find updates regarding COVID-19 at ferris.edu/coronavirus or check the amount of cases on campus at https://www.ferris.edu/HTMLS/news/coronavirus/covid-19-dashboard.htm